One Comment
The Weekend's Best Matchups: Prefontaine Classic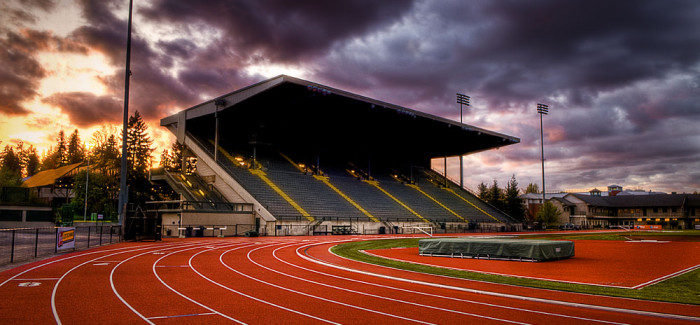 Jesse Squire | On 27, May 2016
As always, this year's Prefontaine Classic will be one of the best meets on the Diamond League circuit. It has gradually expanded into a two-day meet, with a great two-hour block of competition on both Friday and Saturday.
The Pre Classic is to the Diamond League as The Masters is to the PGA Tour. Its setting, the University of Oregon's Hayward Field, is comparable to Augusta National Golf Club. Its fans are just as intense and respectful. It is the first meet of the season where nearly everyone who is anyone shows up to compete. Below are the thirteen matchups to watch in a meet that truly earns the "Classic" moniker.
Your key links:
Diamond League website (schedule, start lists, Diamond Race standings, and live results)
Meet website
Local newspaper coverage: Portland Oregonian | Eugene Register-Guard
How to watch:
Live webcast from 11:20pm ET at USATF.tv (subscription required)
Live TV coverage from 3:30pm-5:00pm ET on NBCSN and 5:00pm-6:00pm on NBC
The single best matchup of the entire Prefontaine Classic…
DeGrasse vs veterans
Men's 100 meters
Saturday, 2:13pm local time / 4:13pm ET
A year ago, Canada's Andre DeGrasse had just begun to show his tremendous talent with a 9.97/20.05 double at the Pac-12 Championships. He went on to run a stunning 9.75/19.58 double at the NCAA Championships (albeit wind-aided) and took bronze at the World Championships. Still just 21 years old, he barely has four full years of sprinting under his belt.
His main competition comes in the form of 33-year old Tyson Gay and 34-year-old Justin Gatlin. Their very presence in a Diamond League meet comes with controversy, and they've been doing this longer than Obama has been in the White House (or even campaigning for it). You're not alone if you think it's time for a fresh face at the top levels of men's sprinting, and DeGrasse could start that right here.
The best of the rest, in chronological order…
Fajdek vs Pars vs Nazarov
Men's hammer throw
Friday, 6:55pm local time/9:55pm ET
The hammer throw is not part of the Diamond League competition, and the Pre Classic will be the only meet on the circuit this year to add it as an extra event. Pawel Fajdek (Poland) is the two-time defending world champion and already has two wins under his belt. Krisztian Pars (Hungary) is the event's elder statesman and reigning Olympic champion, and will try to stop his streak of eight straight losses to Fajdek. Add in Worlds silver medalist Dilshod Nazarov (Tajikstan) and this is the best hammer throw competition in the USA since the 1996 Olympics.
Bartoletta vs Reese vs Spanovic
Women's long jump
Friday, 8:03pm local time/11:03pm ET
Brittney "The Beast" Reese won every important meet between 2009 and 2013. She wasn't terribly consistent but always managed to get one monster jump out of every competition. She struggled with injuries over the last two years, and in 2015 Tianna Bartoletta (nee Madison) reclaimed the Worlds gold that she last won in 2005. Reese is healthy again, and again won gold at this year's World Indoor Championships. Ivana Spanovic (Serbia) is #1 in the All-Athletic.com world rankings and won the first Diamond League competition of the year in Shanghai.
Taylor vs Dong
Men's triple jump
Saturday, 12:15pm local time/3:15pm ET
Christian Taylor has won all but one World or Olympic triple jump gold medals since 2011 and is recognized as the world's best in the event. A new challenger has emerged in the form of China's Dong Bin, who won the World Indoor Championships this year and was second to Taylor at the Diamond League meet in Shanghai.
Lavillenie vs Barber vs Kendricks
Men's pole vault
Saturday, 12:18pm local time/3:18pm ET
Renaud Lavillenie (France) holds the world record and has won all six Diamond Race titles in the men's pole vault since the circuit began in 2010, but has yet to win gold at the World Championships. The fast-rising challengers are Shawn Barber (Canada), who won the Worlds last summer, and Sam Kendricks (USA), who beat both of the other two at the Diamond League meet in Shanghai.
McLeod vs Martinot-Lagarde
Men's 110m hurdles
Saturday, 12:33pm local time/3:33pm ET
Pascal Martinot-Lagarde (France) may be the defending World Champion, but he's going to have his hands full with Omar McLeod (Jamaica). McLeod won the World Indoor Championships this year, and great indoor form means more in this event than any other. He also recently became just the fourth man ever to run under 13.00 in May.
Cunningham vs veterans
Women's high jump
Saturday, 1:09pm local time/4:09pm ET
High school senior Vashti Cunningham beat most of the world's best to win gold at this year's World Indoor Championships. But that was indoors and she still has a long way to go before she becomes a favorite for Olympic gold. Here she will face most of the athletes who currently rate as favorites, including Ruth Beitia (Spain) and Kamila Licwinko (Poland).
James vs Merritt
Men's 400 meters
Saturday, 1:35pm local time/4:35pm ET
Kirani James (Grenada) and LaShawn Merritt (USA) have one of the great rivalries in track and field today. They don't just race, they fight to the death. Two years ago at this meet they recorded identical times of 43.97, with James winning by an eyelash.
Everybody vs everybody
Men's 5000 meters
Saturday, 1:43pm local time/4:43pm ET
Every top 5000 runner on the planet is in this race, with the exception of Britain's Mo Farah (who is running Friday's 10k). The top Kenyans are here: Thomas Longosiwa, Caleb Ndiku, Edwin Soi, Isiah Koech, and a wild card in marathon superstar Geoffrey Kamworwor. The top Ethiopians are here: Yomif Kejelcha, Hagos Gebrhiwet, Yenew Alamirew. The top Americans are here: Ryan Hill, Ben True, Bernard Lagat, Hassan Mead.
Schippers vs Thompson vs Bowie
Women's 200 meters
Saturday, 2:04pm local time/5:04pm ET
Dafne Schippers (Holland) has neatly made the transition from a heptathlete to a sprinter, winning 200m gold and 100m silver at last year's Worlds. An even newer star in women's sprints is Elaine Thompson (Jamaica), who has a couple of big wins under her belt this year (Kingston and Rabat). Tori Bowie (USA) had her breakout moment at the 2014 Pre Classic when she got into the 200 meter field as a late subsitution and proceeded to win it.
Kipyegon vs Seyaum vs Simpson vs Rowbury
Women's 1500 meters
Saturday, 2:22pm local time/5:22pm ET
The first Diamond League race of the year in this event was two weeks ago in Shanghai and the times were surprisingly fast. Faith Kipyegon (Kenya) and Dawit Seyaum (Ethiopia) ran 3:56.82 and 3:59.87. Jenny Simpson (USA), a Worlds gold and silver medalist, was left back in sixth. Shannon Rowbury (USA) had a good indoor season and is capable of fighting for the win as well.
Everyone vs everyone
Women's 100m hurdles
Saturday, 2:33pm local time/5:33pm ET
This is another race where nearly every top runner in the world is in the lineup. It's hard to say who's the #1 hurdler right now since results have been mixed and this is the first Diamond League race of the year in the event. But by my estimation, eight of the top ten are in the race: Americans Brianna Rollins, Sharika Nelvis, Dawn Harper-Nelson, Jasmin Stowers, Keni Harrison and Nia Ali; Britain's Tiffany Porter, and Belarus' Alina Talay.
Kiprop vs Souleiman vs Kiplagat vs Makhloufi
Men's Bowerman Mile
Saturday, 2:51pm local time/5:51pm ET
The meet always concludes with the Bowerman Mile. Asbel Kiprop (Kenya) is the event's only three-time champion (2009, '10, '12) and looked awesome in the Diamond League opener in Doha. Two-time defending champion and meet record holder Ayanleh Souleiman (Djibouti) has raced very little this year and is a big question mark right now. Silas Kiplagat (Kenya) won in 2013 and could contend as well, and reigning Olympic champion Taoufik Makhloufi (Algeria) is also expected to be at the front.
One more thing to watch in that Bowerman Mile is likely to come further back in the field. High school star Andrew Hunter is facing off against the pros and could challenge the national high school record of 3:53.43, set in this very same race fifteen years ago by Alan Webb.