No Comments
The Weekend's Best Matchups for October 4-6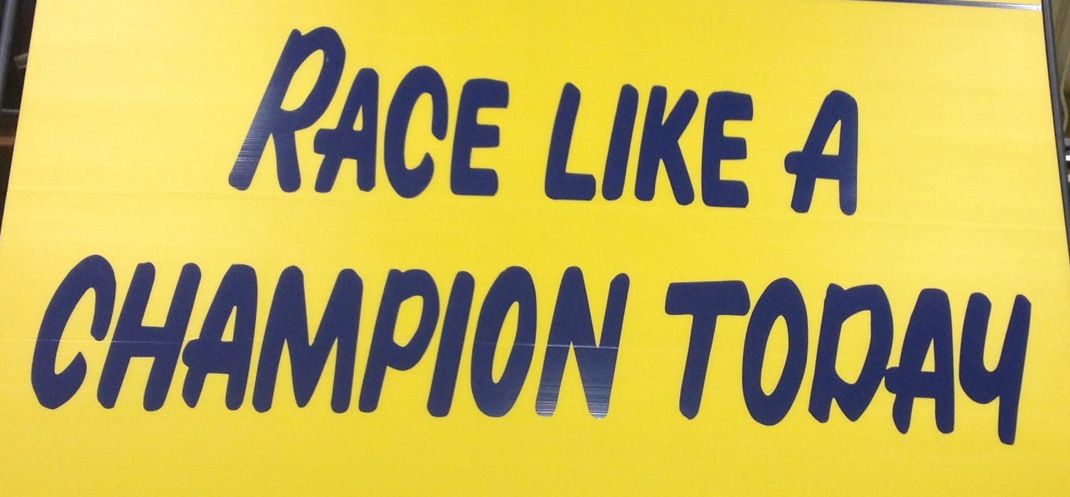 Jesse Squire | On 03, Oct 2013
The Notre Dame Invitational is the top college cross country meet of the weekend. (Photo by Jesse Squire)
The marathon and cross country seasons are still ramping up. The list of top matchups for the weekend is lean but strong, just like the athletes who will contest them. What should you be keeping tabs on this weekend?
1. Florida State vs Duke
Women's blue race, Notre Dame Invitational
Notre Dame golf course, South Bend IN
Friday, 2:00pm
Meet website | Flotrack coverage | Runnerspace page
The Seminoles are the #2 team in the latest coaches' poll and the Blue Devils are #4, but that's still a bit of guesswork this early in the season. This is like a midseason matchup of top basketball teams: an important and interesting contest to be sure, but only tournament time counts for real. Both teams have runners that should be at or near the lead of this race, former NCAA 10k champ Juliet Bottorf for Duke and UK transfer Hannah Walker for Florida State.
Where the real drama takes place in a race like this is not between the top teams, for whom winning is a confidence builder and little more, but in the teams placing third, fourth, fifth and sixth. Those are the "bubble" teams who need to beat quality competition in order to garner points for at-large qualifying to the NCAA Championships. In this women's race those bubble teams are likely to be New Mexico (#15), Notre Dame (#19), San Francisco (#24), BYU (#28) and Princeton (#30). The team on the top of this heap will have given themselves a huge leg up, and the team on the bottom may be in trouble.
The men's race is similarly deep, led by #7 Tulsa and #9 Princeton battling for top honors, along with seven more ranked teams battling for at-large points. Tulsa miler Chris O'Hare, who was a World Championships finalist, makes his cross country season debut. The possible dark horse in this competition is New Mexico, a team highly ranked by the experts at LetsRun.com if not the coaches who vote in the national poll.
2. Oregon vs Portland
Men's race, Bill Dellinger Invitational
Springfield Country Club, Springfield OR
Saturday, 10:30am local time (1:30pm ET)
Meet website | Live results | Runnerspace page
Oregon's men are ranked #4 in the latest coaches' poll and Portland is #8, but the Ducks don't appear to be laying out their best team in this meet in part because they raced last week (and very well). Superstar transfer Eric Jenkins still has not raced in an Oregon singlet and won't do it this weekend either. Regardless, this is a first-class matchup because of the local rivalry angle. Bragging rights alone are enough to make this a first-class showdown.
3. Oregon vs Washington
Women's race, Bill Dellinger Invitational
Springfield Country Club, Springfield OR
Saturday, 11:15am local time (2:15pm ET)
Much like the Men of Oregon, the Duck women aren't running the full A squad at their lone home meet of the year, but Washington probably will as they have been off of racing for a few weeks. This is another local rivalry between a pair of top ten teams, with Oregon at #5 and Washington at #7.
4. CIS vs NCAA
It's always fun to see how strong teams from other divisions compare to the NCAA's D-I. Last week we saw how D-II Adams State measures up to D-I competition (very well). This week, a number of top Canadian university teams will come south of the border to take on US colleges.
Guelph, the umpteen-time defending CIS champions and undisputed #1 team in the nation, goes to the Greater Louisville Classic. The Gryphon women in particular have a fighting chance at winning over the top D-1 teams entered, #26 Vanderbilt and Texas A&M. Western Ontario's #2-ranked women will also be in attendance in Louisville.
Windsor, the #3 men's team in Canada, will be running in the Notre Dame Invitational's gold division (B-race) against second-tier D-I teams and several ranked D-II, D-III and NAIA teams and could come out very well.
5. Meghan Peyton vs the marathon
USA Championships Marathon, St Paul MN
Sunday, 8:00am local time (9:00am ET)
Runnerspace coverage
Peyton just came off a big win at the USA 20k Championships and enters the USA Championships race (hosted by the Twin Cities Marathon) as the favorite, despite the fact that she has yet to finish a 26.2-miler. She's the favorite of the host city too, as she trains with Team USA Minnesota in the Twin Cities area. She has good competition in a trio of second-tier US marathoners (Atalech Asfaw, Wendy Thomas, Esther Erb) but the biggest challenge is the distance itself. Her first marathon attempt was the 2012 Olympic Trials, where she got to 24 miles before being unable to finish.
That she is a realistic contender to win the major race in her adopted hometown is a testament to the success that these various training groups are experiencing. Whether or not she wins is secondary; she's someone the local sports media and fans can see as "their" athlete. Developing international stars is important but developing many locally and regionally competitive athletes is, in the big picture, nearly as important.