One Comment
Weekend College Recap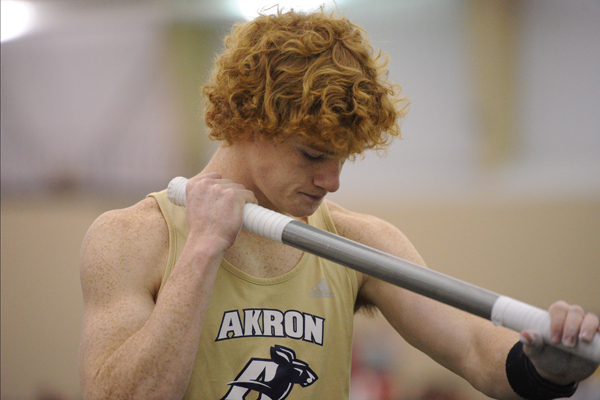 Jesse Squire | On 13, Jan 2014
Canadian record holder Shawn Barber led his Akron Zips to victory over the Cincinnati Bearcats. (Photo courtesy Zips Athletics)
This weekend was the first real weekend of competition after Christmas break–some teams didn't even compete this weekend–and as such it was mostly low-key. My recap will reflect that and be rather bare-bones.
Another issue that kept the weekend's action subdued was a rough few days of weather for parts of the country. Campuses closed (no big deal as classes were usually not yet in session) and that meant lost practice days for many teams. Some teams had more problems than missed practice.
One of the few meets last weekend was a Sunday afternoon dual meet between Toledo and Western Michigan. Sunday afternoon saw the worst of the snow hit southern Michigan and northern Ohio, and at the conclusion of the meet Toledo's AD called new head coach Ling Nguyen and told him his team would be staying overnight in Kalamazoo because all public roads in Toledo had been closed. The team wasn't prepared for an overnight stay ("we cleaned the hotel out of every toothbrush and tube of toothpaste they had") and the weather even made an adventure out of getting dinner for the team. The trip back the next day was on a highway described as "a sheet of ice". Everyone made it safe but it was a nerve-wracking experience.
Weekly Awards
In the style of pro hockey, here are my three stars of the weekend…
MEN
The First Star: Sam Kendricks, Ole Miss. The junior won the pole vault at the UAB Blazer Invitational with a clearance of 5.61 meters (18′ 4¾")–and did it without a single miss, bowing out after that height. It breaks his own school and facility records.
The Second Star: Demoye Bogle, Ohio State. The senior won the 60 meter hurdles at the Buckeye Classic in a time of 7.65 seconds, a new school record and new French Field House record.
The third star: Leshon Collins, Houston. The sophomore won the 60 meters at the Houston Indoor Opener in a time of 6.60 seconds, a new meet and school record.
WOMEN
The First Stars: Penn State 4×200 relay team of Mahogany Jones, Dynasty McGee, Megan Osborne, and Kiah Seymore. The foursome set a new collegiate record of 1:35.65 at the Penn State Relays.
The Second Star: Jade Riebold, Eastern Illinois. Riebold won the pole vault at the Illini Open with a height of 4.30 meters (14′ 1¼"), which will almost certainly be good enough to qualify her to the NCAA Championships.
The Third Star: Robin Reynolds, Florida. The sophomore won the long jump at the UAB Blazer Invitational with a distance of 6.38 meters (20′ 11¼"), also good enough to get to the NCAAs and a meet record.
Other awards for the weekend…
Men's Team of the Week: Florida Gators. At the UAB Blazer Invitational, the Gators won both sections of the 60 meters, the 200 meters, both sections of the 60 hurdles, and beat rival Florida State in a tough race to win the 4×400 relay.
Women's Team of the Week: Penn State Nittany Lions. Besides breaking the collegiate 4×200 record at the Penn State Relays, the Nittany Lions won every relay event they entered and won the 60, 200, 60 hurdles, pole vault, long jump and weight throw.
D-II Athlete of the Week: Quanera Hayes, Livingstone. Hayes did triple duty at the Wake Forest Invitational. She won the 400 in 55.93, good enough for second in the nation across all divisions, but also ran the 200 (24.42) and 800 (2:34.25).
CIS Athlete of the Week: Caroline Ehrhardt, Western Ontario. Ehrhardt won the triple jump at the Windsor Can-Am Meet with a distance of 12.60 meters (41′ 4¼"), the sixth-best of all North American collegians. She also won the long jump and led off the 4th-place 4×200 relay team.
Dual Meet Rankings
Tomorrow afternoon, the preseason national dual meet team rankings will be released at Track and Field News' website. Today I'm releasing regional rankings.
In order to be ranked, a team must compete in at least one indoor scored meet between four or fewer teams. Criteria include quality, depth, and breadth of marks, and quality and depth of schedule. Of primary importance, though, is actually winning.
These are the nine regions we know from cross country season, but I've combined some adjacent regions due to the scarceness of dual meets in certain parts of the country.
Northeast/Mid-Atlantic
MEN
WOMEN
1. Navy
1. Columbia
2. Princeton
2. Dartmouth
3. Harvard
3. Princeton
4. Buffalo
4. Harvard
5. Dartmouth
5. Monmouth
Great Lakes
MEN
WOMEN
1. Eastern Michigan
1. Notre Dame
2. Akron
2. Akron
3. Kent State
3. Purdue
4. Purdue
4. Kent State
5. Indiana State
5. Michigan
Midwest/Mountain/West
MEN
WOMEN
1. Texas Tech
1. Nebraska
2. Nebraska
2. Kansas State
3. Kansas State
3. Texas Tech
4. Air Force
4. Southern Illinois
5. Colorado State
5. Iowa
South/South Central/Southeast
MEN
WOMEN
1. Arkansas
1. Texas A&M
2. Texas
2. Texas
3. Texas A&M
3. LSU
4. LSU
4. Arkansas
5. Duke
5. North Carolina
Scoreboard
All of a sudden, more college meets are keeping score. For example, Western Michigan's first five meets this season will all be scored, "virtually unheard of in this day and age" according to Bronco head coach Kelly Lycan. What's that all about?
I have been told the following:
The NCAA has placed a greater emphasis on enforcing Division I Bylaws 17 and 20, pertaining to scheduling contests, sponsorship of sport, and its effects on being a DI member. These are not new regulations, but an increased measure to get programs in compliance of existing NCAA legislation. How those bylaws are supposed to be enforced for track & field and cross country is still in dispute, but efforts are being made to have them clarified.
So in the meantime, meets are being scored when appropriate. If a meet includes teams from multiple divisions, often the D-I teams are scored separately from the non-D-I teams. Below are the team scores from this weekend that included multiple D-I teams.
MEN
Arkansas 141, Tulsa 65, SE Missouri 12
Kansas 251½, Kansas State 166, UMKC 83, Oral Roberts 73½
Purdue 89, Louisville 42, IUPUI 4
Akron 93½, Cincinnati 55½
Eastern Michigan 155, Detroit 69, Oakland 42
Southern Illinois 256, Belmont 65
Army 213.9, Rider 165, Manhattan 145.9, Lehigh 103.19
Monmouth, 217, Wagner 81, Rutgers-Camden 21
Navy 290, Hampton 88, UMES 66, Mt. St. Mary's 26, American 12
Dartmouth Relays: Dartmouth 120, So. Conn. St. 113, Harvard 74, UMass Lowell 44, Williams 32, Boston College 25, Worcester State 17, Bridgewater St. 14
WOMEN
Arkansas 136, Missouri State 50, Tulsa 41
Kansas 208½, Kansas State 159½, UMKC 127½, Oral Roberts 70½
Purdue 77, Louisville 59
Princeton 161, St. Joseph's 88, St. John's 85
Akron 85½, Cincinnati 65½
Eastern Michigan 119, Detroit 82, Oakland 31
Western Michigan 171, Ball State 111, Toledo 90, Bowling Green 89, IPFW 27
Southern Illinois 248, Austin Peay 137, Belmont 49
Lehigh 199, Rider 182, Army 116, Manhattan 108
Monmouth 121½, Wagner 48½
Dartmouth Relays: Dartmouth 140.5, Harvard 123, UMass Lowell 47, Williams 44, So. Conn. St. 29, Middlebury 19, Tufts 18, Brandeis 12