One Comment
US Worlds Team Performance Analysis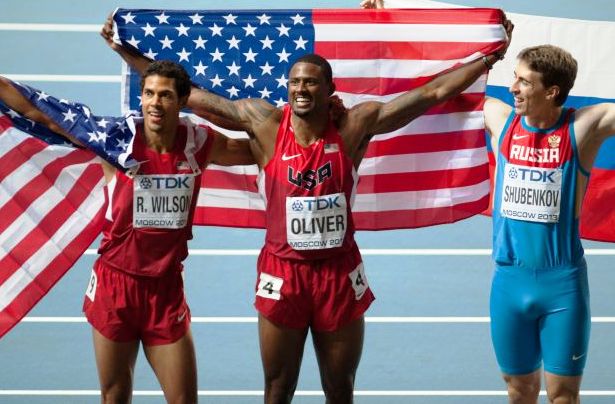 Jesse Squire | On 20, Aug 2013
The hurdles remain the USA's greatest strength.
Five years ago the US track and field team performance at the Beijing Olympics was perceived as a flop, underscored by the abject failure of the men's and women's 4×100 relays. In the wake of that performance, USATF's then-CEO Doug Logan convened a review of the organization's high-performance programs. The result was the ambitious Project 30, a goal of 30 medals at the 2012 Olympics and a report which recommended many structural changes at USATF. 30 medals was seen as an insanely high goal, but the 2012 Olympic team came up only one medal short of it.
So how did the 2013 team do? What went well, and where are the shortcomings? This is not a simple questiom.
What is the criteria for success?
USATF and USOC (and the Amateur Sports Act of 1978 that created both) look foremost at the raw number of medals won. In an Olympic year that has a very real effect on USATF and track and field in the USA, since medal counts partly determine how USOC monies are divvied up among the various sports' national governing bodies. When track wins more medals, track gets more USOC money. So that's one way to determine success, but not the only way.
As far as the mainstream sports press is concerned, only a gold medal means anything. Winning is necessary to get a mention on SportsCenter or a headline on a sports page. That's another way to look at it, and kind of an important one these days.
I don't think either of these is the best way to assess things, though. You may have noticed the points totals we posted in our "Moscow Daily" writeups, scored using the American 10-8-6-5-4-3-2-1 system for the top eight places. The reason I think this is most descriptive is because it shows overall team strength. It combines winning, podium finishes, and medal contenders into a single number–and it's those medal contenders who are important for television. When an event is covered live, no one knows who is going to win a medal, but if the US has one or more athletes in place who might win a medal then that event is going to get attention on the tube.
So how did Team USA do this year?
Gold Medals: Poor
Team USA won six gold medals, the second-worst US team performance ever at a Worlds or Olympics. Only the 2001 Worlds team won fewer gold medals (5), due to a large number of BALCO-related drug disqualifications and medal take-backs.
Total Medals: Average
Team USA won 25 medals overall. From 1983 to present, the average for a Worlds or Olympics is 23.3 and the median is 24.5.
Points: Outstanding
Team USA scored 306 points, the third-highest in national team history. The highest is 446½ at the boycotted 1984 Olympics, which ought to be thrown out like a wind-aided time, and the 336 scored at last year's Olympics.
Year-by-year US team totals…
| | | | |
| --- | --- | --- | --- |
| Year | Golds | Medals | Points |
| 2013 | 6 | 25 | 306 |
| 2012 | 9 | 29 | 336 |
| 2011 | 12 | 25 | 283 |
| 2009 | 10 | 22 | 264.5 |
| 2008 | 7 | 23 | 230 |
| 2007 | 14 | 26 | 281 |
| 2005 | 14 | 25 | 286 |
| 2004 | 9 | 25 | 264.5 |
| 2003 | 8 | 16 | 183 |
| 2001 | 5 | 13 | 161 |
| 2000 | 7 | 16 | 171 |
| 1999 | 10 | 17 | 218 |
| 1997 | 6 | 17 | 194 |
| 1996 | 13 | 23 | 276 |
| 1995 | 12 | 19 | 231 |
| 1993 | 13 | 25 | 289 |
| 1992 | 12 | 30 | 305.5 |
| 1991 | 10 | 26 | 277 |
| 1988 | 13 | 26 | 304 |
| 1987 | 10 | 20 | 234 |
| 1984 | 16 | 40 | 446.5 |
| 1983 | 8 | 24 | 250 |
| Average | 10.2 | 23.3 | 263.3 |
| Median | 10 | 24.5 | 270.25 |
Comparison to 2012
To make any comparison to the 2012 team performance requires a recognition that last year's Olympic team was the strongest squad since 1968 or earlier. 29 medals is an amazing feat; the only World or Olympics teams since 1956 that have won more were in 1984 (against incomplete competition) and 1992 (when much of eastern Europe was in disarray), and the depth of performance was even better. This was partly due to an unusually low injury rate (LaShawn Merritt, Jeremy Wariner and Manteo Mitchell were among the few) and partly to an unusual number of athletes doing better than expected (Ryan Bailey, Erik Kynard, Brigetta Barrett, Leo Manzano, Meb Keflezighi).
2013 saw "regression to the mean", or coming back to the average. This year's team was hit with many injuries, some during the Worlds (Allyson Felix, Trey Hardee, Bershawn Jackson, and possibly Sharon Day) and more before (Ryan Bailey, Doc Patton, Sanya Richards-Ross, Kori Carter, Jesse Williams, Carmelita Jeter, Jillian Camarena-Williams, Christian Cantwell). There was the Tyson Gay fiasco, there was some plain bad luck (Georgeanne Moline tripping and failing to get out of the 400 hurdle heats) and some bad execution (English Gardner taking off far too soon at the second 4×100 exchange). These things are all normal occurrences in track and field, but it seemed like there was extra in 2013 to make up for 2012.
Comparison to expectations
The pre-Worlds predictions posted by Track and Field News called for 28 US medals, which I thought was going to be hard to live up to. Athletics Weekly called for 33, which was just nuts. The TFN projections totaled up to 344 points, an improvement on 2012 and basically impossible. Why did the performance come up short of these?
Track teams at every level have some events where you do better than expected and some where you do worse than expected. That's just how it goes. But when you have many athletes expected to win or come close to it, there's just a lot more room to underachieve than overachieve and it's very hard to keep up with expectations. Which brings us to the…
Overachiever Awards
The men's award goes to Curtis Mitchell, the former Texas A&M sprinter who was picked for 9th in the 200 meters by Track and Field News but who ended up with bronze. He left the Aggies for a pro contract early in 2011 and ran like crap from the next two years before rising from his ashes in 2013. Honorable mention goes to LaShawn Merritt, who left Kirani James in a smoking heap.
The women's award goes to Brenda Martinez, the 800 meter runner who won bronze and tied the USA's best achievement in this event since 1968. This is sort of a season-long award for her. Honorable mention goes to 400 hurdler LaShinda Demus, who dropped her season's best time by 0.42 to win bronze after a truly bad (for her) summer season.
Underachiever Awards
The men's award goes to triple jumper Christian Taylor, who had his worst outing at a major championship since 2010. The women's award goes to Shalane Flanagan, who was never competitive in the women's 10,000 meters once the racing got real.
Areas of excellence and of concern
Team USA's performance in the distance events was notable. The men scored a top-8 finish in every track event of 800 meters or more, something they've matched only in 2012 and 1964. The women were nearly as good, with a top-eight finish in four of the five distance events. The men and women both won medals in the 800 and 1500, a first for this country. What was an embarrassment just twelve years ago is now a strength.
The areas of greatest concern continue to be the field events in general and the long throws in particular. The only men's long jump finalist can compete in Masters meets, the women didn't have a qualifier in the triple jump, and the men's and women's discus/javelin/hammer netted a grand total of four points. The solution here is the same as what worked with distance running: create enough training groups that give enough talented athletes enough coaching and support and enough time to improve, and some will eventually become world-class. Finding the funding, facilities and coaching has been a pretty tough nut to crack, though–there is less money to go around in field events, and the monetary needs are greater.
Searching for a Metaphor
The 2008 team performance was summed up by the 4×100 relays. The men and women both suffered embarrassing baton drops and the national team staffs looked like bumbling fools. The 2012 team performance was also summed up by the 4×100 relays; the women broke the world record and the men tied it, albeit in a loss to Jamaica's new world record.
The 2013 team performance could be summed up by the women's relay. Depending on how you see it, it's either the 4×100 or 4×400. The 4×100 relay had no one back from last year's world record squad, and third leg English Gardner took off way early, while the incoming runner was at least ten yards short of the "go" mark. She had to come to a complete stop to avoid running out of the exchange zone and handed off to anchor Octavious Freeman, who ran a furious straightaway to pull the team into third (upgraded to silver after a France DQ). Even Usain Bolt noted Freeman's run, but it was only necessitated by the same old stupid mistakes that happen year after year. You could say it was another case of great talent held back by systematic inefficiencies.
Or you could say the metaphor was the women's 4×400 relay, where the Russians had the vocal crowd behind them and the US team was shorted by injury, yet still stayed in the race. Third leg Ashley Spencer was right there at the exchange, but had the inside lane and was forced to veer outside the Russian to make the pass. Her lost half-step was the difference between Russia's gold and the USA's silver. It wasn't bad strategy or poor running, but the team had injury problems and was up against home advantage. And sometimes s**t happens.
Team Canada Performance Analysis
You could argue that this was Team Canada's greatest performance. If it's not the best, it's close to it. The team won five medals, scored 42 points, and had eleven top-12 finishes.
The biggest medal hauls and point totals since World War II were in 1984, but this team shouldn't be compared to that. Of course there was the boycott that reduced the level of competition and inflated achievement levels, but that was also in the early years of the Scarborough Optimists club. That group was coached by Charlie Francis and fueled by Dr. Jamie Astephan's drugs, and they pumped up the national team from 1983 through the famous Ben Johnson bust in 1988 and subsequent Dubin Inquiry. I don't think anyone would be comfortable comparing current teams to those from that era.
The 1995 Worlds team was full of legends in Canadian track: Donovan Bailey, Bruny Surin, Mike Smith, and Kevin Sullivan. They won four medals and scored 42 points, but there wasn't much depth to that team. They only had seven top-12 finishes.
It's a bit early to make any pronouncements, but this years' team might have some legends in the making in Damian Warner, Brianne Theisen-Eaton and Derek Drouin. Certainly Dylan Armstrong is already a legend. There was depth to this team; the men's and women's 4×100 had no stars but both qualified to the finals and the men won bronze. There were youngsters–relay leadoff Khamica Bingham is only 19–and veterans–Armstrong, Nate Brannen and Angela Whyte all represented Canada at the Edmonton Worlds twelve years ago.
The overachiever award has to go to steeplechaser Matt Hughes, who ran two PRs in the heats and finals. He broke the Canadian record in the finals and his sixth-place finish is the highest in Worlds history for Canada.
Has the National Track League made a difference? I don't think it did for the medal winners, but it wasn't made for them. It was made for the B-level talent that can't get into the Diamond League meets. That's the majority of the Canadian team, and in several cases NTL regulars ended up making the finals at the Worlds. The biggest plus was for the sprint relays and especially men's anchor Justyn Warner, who was able to use the NTL competition to bring himself back into top form after early-season setbacks.