No Comments
The Weekend's Best Matchups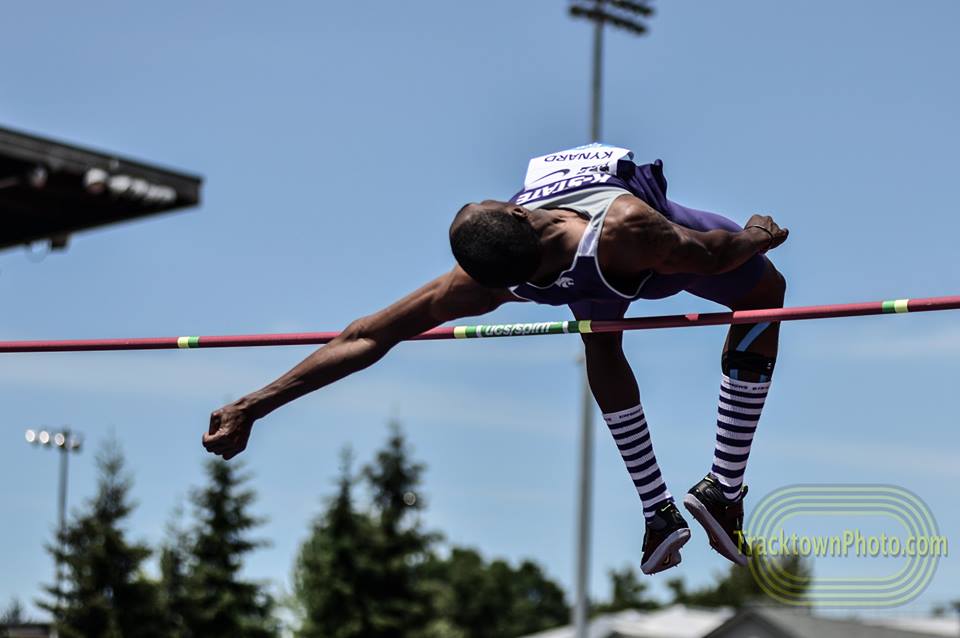 Jesse Squire | On 05, Jun 2014
Erik Kynard is one of just a half-dozen combatants in a high jump showdown. (Photo: TrackTown Photo)
This week's Diamond League meet, Rome's Golden Gala, brings the Weekend's Best Matchups a day earlier than usual. I have a dandy dozen showdowns for you, and there is no doubt at all as to which one is the best.
Battle Royale
Men's high jump, Golden Gala
Stadio Olimpico, Rome, ITA
Thursday, 7:50pm local time (1:50pm ET)
Meet website | IAAF preview
Live TV coverage on Universal Sports TV
Webcast links: WatchAthletics | Trackie
In pro wrestling parlance, a "Battle Royale" is an elimination competition between anywhere from four to sixty combatants (the most famous of which was held at WrestleMania 2). I can think of no better metaphor for the men's high jump at the Rome stop on the Diamond League tour. In all of track and field history, just fifteen men have ever cleared 2.40 meters (7′ 10½") and five of them are here.
Russia's Olympic champion, Ivan Ukhov, jumped so high during this year's indoor season–2.41 and 2.42–that serious talk of the world record (2.45) was entertained. Even so, Ukhov didn't have a major win under his belt in the entire 2013 season. He finally broke that streak with at the Diamond League opener in Doha, where he jumped another 2.41–and four men went over 2.37 for the first time in history.
Last year's superstar was Ukrainian Bohdan Bondarenko, who won the World Championships and five Diamond League meets. He also cleared 2.41 last year, and this year he dealt Ukhov a defeat just a few days after the Russian's win in Doha.
This year's World Indoor title went to Qatar's Mutaz Essa Barshim, the man who won last year's two Diamond League meets that were not won by Bondarenko. He won silver at last year's Worlds and also cleared the rare height of 2.40 meters. In the Diamond League opener in his home nation, he became the first man ever to jump 2.37 in a meet and finish fourth.
Canadian Derek Drouin won bronze at the 2012 Olympics and 2013 Worlds, but his height at the latter would have won gold at every Worlds from 1995 to 2011. He cleared 2.40 meters at the Drake Relays, the highest jump ever recorded in April.
Another Russian, Aleksey Dmitrik, cleared 2.40 during the indoor season, but it's a bit of a freak one-off occurrence. On the other hand, that's the norm for someone jumping 2.40 meters. The really shocking thing about Ukhov, Bondarenko and Barshim is that they are doing it over and over again.
American Erik Kynard doesn't have the flashy heights–his PR is "just" 2.37 meters (7′ 9¼")–but has been tremendously consistent. He's competed in six Diamond League meets in his lifetime and finished second in each of the last five.
Anyone who tells you they know who will win is lying. Literally any one of the above six could win, and it will take a huge height to do it. It's going to be no less epic than that 1986 rumble that included Big John Studd, the Hart Foundation, the Iron Sheik, and André the Giant.
The rest of the weekend's best matchups, in chronological order…
Harting vs Malachowski
Men's discus throw, Golden Gala
Thursday, 5:30pm local time (11:30am ET)
From late 2010 through the 2011 and 2012 seasons, Germany's Robert Harting never lost a discus throw final. Piotr Malachowski finished second to him eight times during that streak, and finally beat Harting early last year. Malachowski did it again three weeks ago at the Halle Wefertage, and this is the rematch. If this isn't enough, the two will go head-to-head yet again on Sunday at the World Challenge meet in Hengelo, the Fanny Blankers-Koen Games.
Kiprop vs Souleiman
Men's 1500 meters, Golden Gala
Thursday, 8:13pm local time (2:13pm ET)
Kenya's Asbel Kiprop is the reigning world champion and has the fastest PR of any active miler, but Djibouti's Ayanleh Souleiman beat him in last week's Bowerman Mile and with the fastest mile time ever recorded on the Diamond League circuit. This is the rematch, and it should be great.
Souleiman's win was no fluke. He was last year's Diamond Race champion, with three wins to his credit, and he won this year's World Indoor title. Kiprop won two Diamond League meets last year plus this year's opener in Doha, and holds the Diamond League 1500 meter record.
There's a whole lot more to this race than those two, though. Silas Kiplagat is in it, the runner-up in both of this year's Diamond League meets. So is Aman Wote, the World Indoor silver medalist and third-place finisher at last week's Bowerman Mile. So is Taoufik Makhloufi, the surprise 2012 Olympic champion and heel of middle-distance running. So is Abdelaati Iguider, the 2012 Olympic bronze medalist and World Indoor champion who finished fourth in last week's epic Bowerman Mile. These guys might be a bit tired from Saturday's big race plus traveling halfway around the world, but it just makes the outcome that much less predictable.
And if this tasty race isn't enough for you middle-distance fans, there's another one on Sunday in the World Challenge meet in Marrakech. Kiplagat, Wote and Moroccan home favorite Iguider will all go head-to-head yet again.
Adams vs Claye
Men's triple jump, Golden Gala
Thursday, 8:20pm local time (2:20pm ET)
Russia's Lyukman Adams and the USA's Will Claye split the three biggest triple jump competitions of the 2014 season. Adams won the World Indoor Championships and the first Diamond League competition in Shanghai, and Claye won at last week's Prefontaine Classic. Lurking in the background is Christian Taylor, the 2012 Olympic champion who finished second to Claye last week and bumped Adams to third.
Pearson vs Rollins
Women's 100 meter hurdles, Golden Gala
Thursday, 8:35pm local time (2:35pm ET)
This is not an official Diamond League event but you couldn't tell by looking at the lineup. Australia's Sally Pearson dominated this event in 2011 and 2012 and came very close to breaking the world record. America's Brianna Rollins came on the scene last year, ripped through an undefeated season, and ran even faster than Pearson did.
The race doesn't necessarily belong to these two. Also entered is Dawn Harper-Nelson, the two-time defending Diamond Race winner, and Nia Ali, this year's World Indoor champion.
Dibaba vs Cherono
Women's 5000 meters, Golden Gala
Thursday, 8:45pm local time (2:45pm ET)
Genzebe Dibaba was on a record-breaking tear during the indoor season, setting three new marks. At the Diamond League opener in Doha, however, she finished just sixth. Which athlete will we see? She faces Mercy Cherono, who took silver at last year's World Championships and won last week's special 2-mile race at the Prefontaine Classic in a new Kenyan national record. All in all, four of the top six from last year's World Championships are in the race.
Sum vs B-Mart
Women's 800 meters, Golden Gala
Thursday, 9:20pm local time (3:20pm ET)
Kenya's Eunice Sum is probably the world's best 800 meter runner right now. She won last year's World Championships and Diamond Race, and picked up right where she left off and won the first Diamond League race of 2014 in Doha. The USA's Brenda Martinez might be the second-best; she won bronze at last year's Worlds and held off Sum on the anchor leg of the 4×800 at the World Relays two weeks ago. The two raced last week over 1500 meters at the Prefontaine Classic, with Sum coming out ahead by less than a second.
Another interesting entrant is Cuba's Sahily Diago Mesa, an 18-year-old Cuban who ran 1:57.74 two weeks ago, the world leader and the #6 time ever run by a U20 athlete.
Amos vs Aman
Men's 800 meters, Golden Gala
Thursday, 10:15pm local time (4:15pm ET)
This is not an official Diamond League race, and it appears to be outside of the TV broadcast time period. It should get on TV, though, because this is a race we all want to see. It's a rematch of the top three from last week's great Prefontaine Classic meet. 2012 Olympic silver medalist Nijel Amos came back from a year of obscurity to win (and break the Pre Classic meet record) over Mo Aman, the 2013 World Champion and Diamond Race winner. Two-time World Indoor champion Abubaker Kaki was once the up-and-coming star, and he finished third at Pre in his first race after a year-and-a-half layoff.
High Schoolers vs dreams
Various state high school championships
Friday and Saturday
I don't write about high school track very much, because all high school sports are local. There is no better expression of this than a state championship meet. Twelve states and the province of Ontario are all holding their high school championships this weekend. They will be heavily attended and they will be awesome. And if you don't go to one of them, you're missing out.
I first fell in love with track and field at the age of 16 at the Ohio high school championships. At these meets you will see joy and pain, and selfless sportsmanship that is virtually absent from the upper levels of sport. These are the last true amateurs, competing solely because they love what they do. They run, jump and/or throw this weekend to achieve their dreams.
Heidler vs Zhang
Women's hammer throw, Fränkisch-Crumbach Hammwerwurf
Werferplatz in der Ortsmitte, Fränkisch-Crumbach GER
Sunday, 3:30pm local time (9:30am ET)
Meet website
Tireless hammer throw supporter Martin Bingisser calls the Fränkisch-Crumbach hammer throw event the the greatest little meeting in the world. What could be better than a bunch of Germans sitting around in a park drinking beer and watching large men and women throwing heavy things?
This is what Bingisser told me about this matchup:
Last weekend in Germany Heidler was 2nd and Zhang 3rd about 2 meters behind. But Zhang won in Halle [Werfertag]. Could be good and is the best matchup of the meet. There is also a backstory: in London Zhang thought she had won bronze and did a victory lap until Heidler's protest was upheld, mark reinstated and moved up to 3rd place.
While it's hard to beat the atmosphere in Fränkisch-Crumbach, Bingisser identifies Sunday's World Challenge meet in Marrakesh as a better competition. It matches up Canada's Sultana Frizell, the 2014 North American leader, against Germany's Kathrin Klaas, the European leader. Also present is two-time defending world champion Tatyana Lysenko, "but Lysenko isn't usually in form this earlier and took a longer break in the offseason," according to Bingisser.
Eaton vs Culson
Men's 400 meter hurdles, Fanny Blankers-Koen Games
Fanny Blankers-Koen Stadion, Hengelo NED
Sunday, 4:43pm local time (10:43pm ET)
The FBK Games is part of the second-tier World Challenge tour and it has a lot of interesting races. Bernard Lagat and Mekkonen Gebremedhin will lock horns over 3000 meters, top discus throwers Robert Harting and Piotr Malachowski will go head-to-head again, and Pre Classic winner Thomas Martinot-Lagarde will run the hurdles against 2011 World Champion Jason Richardson. There will be yet another great men's high jump competition. But maybe the most interesting of them all is this one, the men's 400 hurdles.
Puerto Rico's Javier Culson has won three medals in World and Olympic competition and is currently #3 in the All-Athletics ranking for the event. There is no guarantee that he can win this race, though, because decathlon star Ashton Eaton is running. In case you haven't heard, Eaton is taking a year away from the decathlon and trying out the 400 hurdles. He's already run 49.84 in just his third serious attempt at the race, and last week he tied his PR in the high hurdles.
Tarabin vs Abdelrahman
Men's javelin throw, Meeting Mohammed VI d'Athletisme
Stade de Marrakech, Marrakesh MAR
Sunday, 8:25pm local time (3:25pm ET)
Meet website
The Meeting Mohammed VI d'Athletisme is another stop on the World Challenge tour and includes a number of good competitions I already mentioned: Frizell vs Klaas in the women's hammer, Wote and Iguider and Kiplagat in the men's 1500 meters, and Ukhov against Bondarenko in the high jump.
One event that stands out to me is the men's javelin because there is no other great javelin competition this weekend. Russia's Dmitry Tarabin is an established thrower, a bronze medalist at last year's World Championships. Egypt's Ihab Al Sayed Abdelrahman seemingly came out of nowhere to win the Shanghai Diamond League meet with a PR of more than five meters. His winning distance, 89.21, is not only an African record but the furthest anyone has thrown since 2011. He hurt his knee and had to pull out of last week's Prefontaine Classic, but apparently he's ready to go again this week.