No Comments
The Monday Morning Run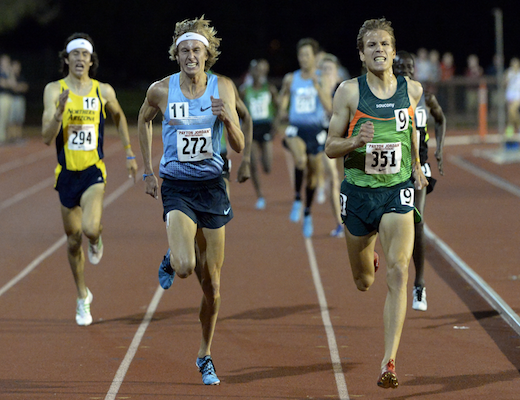 Kevin Sully | On 29, Apr 2013
Photo Courtesy of TrackandFieldPhoto.com
Welcome to the first installment of the Monday Morning Run.  Each week, I'll recap the news and results in the professional world of track and field.  For a look at the NCAA goings on, check out Jesse Squire's College Weekend Wrap.
This weekend was Christmas in April for track and field fans with huge prize purses in Des Moines for the Drake Relays, international relay action at the Penn Relays and the Payton Jordan Invitational offering big American distance names.
Drake Relays
Perhaps it was pent up aggression from a disappointing 2012 or maybe she wanted to leave nothing to chance with $25,000 on the line, but Jenny Simpson torn the 1,500 field to pieces inside Drake Stadium.   Simpson, who is being coached by Mark Wetmore, won the race in 4:03.45.  Shannon Rowbury was 4th in 4:09.05 and Morgan Uceny was ninth in 4:17.71.
Uceny aside, it has been a great start to the season for American women in the 1,500.  All of last year, there were only six American performances under 4:05 in the event.  With Brenda Martinez's 4:04.86 from Mt. SAC, there are already two for the United States this season before May.  Simpson's run on Friday bettered her best time from 2012.  What accounts for the quick start?
One possibility: rabbiting or lack thereof.  Last season the pacesetting in the Diamond League meets was particularly horrendous.   When the rabbit hit the correct pace, which was rare, nobody seemed interested in following.  Often times there was a 20-plus meter gap between the pacesetter and the rest of the field.  At Drake, Simpson benefitted from terrific pacing from Renee Tomlin who led off with two 65-second laps.   For Martinez, there was no rabbit at Mt. SAC, but perhaps that was addition by subtraction with no one to inhibit her desired pace.
Pacesetting is also why I wouldn't immediately give the U.S. title to Jenny Simpson.  Is there a race where a rabbit has a greater impact on the outcome?  Sure, they are out there longer in the 5,000 and 10,000, but those races also allow more time and distance for the cream to rise to the top.
Mary Cain, in her first race since running the fastest 5:05 mile in history at the US Indoor Championships, finished 6th in 4:10.77.  The time was a new US high school record.  She was over seven seconds behind Simpson, but before discounting her remember she was less than two seconds from Rowbury and beat Uceny by seven seconds.  If that doesn't make sense that is because it is too early to read too much into any of these results.
Continuing the 'it's only April' theme, Andrew Riley of Jamaica upset the three London medalists and won the men's 110 hurdles in 13.43.  Aries Merritt finished second in his first race against an elite field this season.  I know hurdlers don't mind a headwind, but -3.2 is pretty rough.
In women's high hurdles, Queen Harrison ran 12.81 and beat Dawn Harper, Kellie Wells and Lolo Jones.  After the race Jones questioned whether she would return to her hometown meet.  Before we even consider next year, she does know that Drake is hosting USA Championships this June, right?
The rest of results from Drake can be found here.
Penn Relays
Now to Penn where the crowd was loud, the track oddly shape and the celebrations were multifaceted.
One more time, Tevin-Lloyd Thompson of Kingston College dances at Penn Relays vine.co/v/bxegF7utl6r

— House of Run (@HouseofRun) April 28, 2013
NBC debuted new track play-by-play guy, Leigh Diffey.  I learned the following from his Wikipedia page.
-He is an auto-racing commentator    
-Formerly, he worked as a teacher
-His nickname is Stiffey 
Welcome Stiffey!
This professional part of the schedule is promoted as "United States vs. The World."  The final score of that competition was US: 4, The World: 2.  Proving unequivocally that United States is twice as good as the rest of the world at track.
The most thrilling race of the meet came in the women's 4 x 400 where nobody apparently told the USA Red team and Great Britain that they were just racing for pride.  Francena McCorory held off Perri Shakes-Drayton on the anchor leg to win by .02, 3:22.66 to 3:22.68.
Races like this make me want to see more relays.   Sanya Richards-Ross did not run.
The US was also down a key runner in the women's 4 x 100 with Carmelita Jeter sitting out after cramping up during the 100 at Mt. SAC.  Jamaica, using ¾ of their Olympic team, got by both American squads.  Shelly-Ann Fraser-Pryce looked sharp coming off her first ever indoor season this winter.
In the men's 4 x 100, Mike Rodgers, Justin Gatlin, Doc Patton and Ryan Bailey combined for an easy win over a watered down Jamaican squad.
Without LaShawn Merrit, the United States was still able to get some Olympic revenge in the men's 4 x 400 winning in 3:00.91.  Tony McQuay's 44.8 anchor leg was enough to hold off Jamaica and Bahamas.  Kirani James, running for the Caribbean All-Stars, split a 44.1.
This was the first year that the 4 x 800 was part of the "United States vs. The World" program.  This was also the first year that someone decided to look up the national records for the 4 x 800.
NR for w4x8:7:57.08 (RUS), 8:17.91 (USA), 8:19.9 (GBR), 8:28.55 (CAN), 8:39.5 (AUS)

— Jesse Squire (@tracksuperfan) April 27, 2013
The American quartet of Lea Wallace, Brenda Martinez, Ajee Wilson and Alysia Montano ran 8:04.31, beating the old record by over 13 seconds. That makes two obscure American records for Montano in 2013 (she set the indoor 600 mark) by a combined 16 seconds.
Aman Wote kicked past Caleb Ndiku to lead Ethiopia to a win over Kenya in the men's distance medley relay.  USA Red got a strong lead-off leg from Andrew Wheating and finished third.  Bernard Lagat split a 3:54 for the fourth place USA Blue.
Great Britain did not finish the race after Martyn Rooney collided with another runner during the 400-meter leg.  It appeared that Rooney threw the baton in frustration after he fell on the final curve.  The general rule is if teammates have flow over an ocean to compete, you should probably do your best to get up and finish your leg.  Also, there was over a mile and a half left of racing left.
Great Britain's fall also sent Morocco tumbling to the track, not Ethiopia as was reported on the broadcast.
Payton Jordan Invitational
It was a relatively subdued Payton Jordan Invitational last night in Palo Alto.  Ben True and Evan Jager hit the "A" standard in the men's 5,000.  In his first outdoor race this year, Chris Solinsky finished 11th in 13:23.  Alan Webb finished 21st in 13:37.
Kim Conley won the women's race in 15:22.
But we know that most people come to Stanford for the sprints:

Full results here.
Miscellany
The San Francisco 49ers reportedly signed British Olympian Lawrence Okoye to a three-year contract.  Three years…pretty convenient.
In other NFL news, the Buffalo Bills selected long jumper Marquis Goodwin in the third round of the NFL Draft.  No word yet on the length of his contract or if it will correspond perfectly with the 2016 Olympics.
Japanese teen Yoshihide Kiryu tied the World Junior record in the 100 with 10.01.
On Saturday, Zhang Peimeng of China ran 10.04.  These two men give Japan and China two of the top three performances in the 100 this year.  It is only April, but still.