One Comment
Athletech: Stuart McMillan - Sprint Coach, Performance Director at World Athletics Center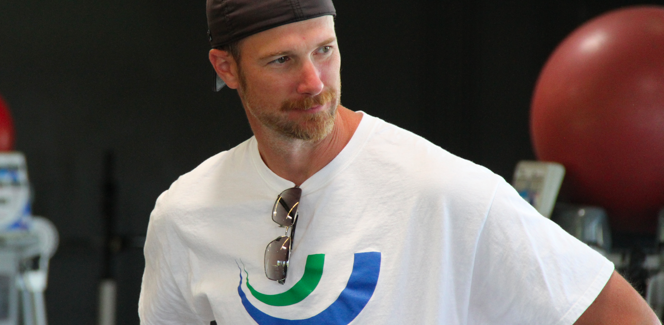 Welcome to Athletech, where we discover the gear and technology the running and track & field community uses to get stuff done. If there is someone who you'd like us to feature, tweet their name to us @DailyRelay with the tag #Athletech.
1) Who are you and what do you do?
I am Stuart McMillan (@StuartMcMillan1) sprint coach and Performance Director for the World Athletics Center in Phoenix, Arizona. I have also attended 4 Winter Olympic Games as a bobsled & skeleton start coach for both the Canadian and American Teams. I write in my spare time, and have a blog, where I write about success in high-performance sport.

2) What hardware do you use?
I use a 13" MacBook Air for program-writing, an iPad and an iPad mini for video review, my iPhone at the track to make and/or record quick notes and times, and a Casio Exilim Hi-Speed Camera for more detailed video review.
We often have multiple athletes and groups on the track at the same time. For longer repetitions, it becomes very difficult to time runs and recoveries efficiently. So this year, we have began using the Freelap system. It gives us very accurate repletion times, and allows us to time multiple athletes at the same time. We also use it with some of our hurdlers to time hurdle segments.

3) What software do you use?
For quick film study, I like UberSense. Their platform is pretty clean, user-friendly, and gives 'good enough' frame-by-frame feedback for at-the-track review. I use Blogger as my blog-site host, and Recorder Pro on my iPhone to record my thoughts. I also download much of the video I take to my YouTube Channel.

4) What would be your dream setup?
I worked for UK Athletics in London for almost three years, and we had daily access to Deborah Sides – a PhD student who's supervisor was athletics biomechanist Dr. Paul Brice. Her research was based mainly around taking high-speed video of our athletes, calculating stride-lengths, stride-rate, etc. with a 22m stretch of Optojump, tracking velocity with a Laveg, and measuring various force characteristics with a Kistler Force Platform. The Platforms were portable, and allowed us to even measure ground-reaction forces during a sprint at close to 11m/s – the first time that these measurements have ever been taken. This was about as close to a dream set-up as one could wish for. It is important to understand though, that this was highly regulated, and planned to fit effectively within the training program. I think we need to be careful with arbitrary technology use: just because something is interesting does not mean it is effective. There are plenty of cool and interesting tools out there, but if you can't use it to positively affect your training, then it is just getting in the way. The human factor – how the coach interacts with the athlete on a day-to-day basis is still the number one determining factor for success – and no amount of technology can replace this.

For more hardware, software and gear tips check out our Athletech archives