2 Comments
NCAA Championships: Thoughts on Day 3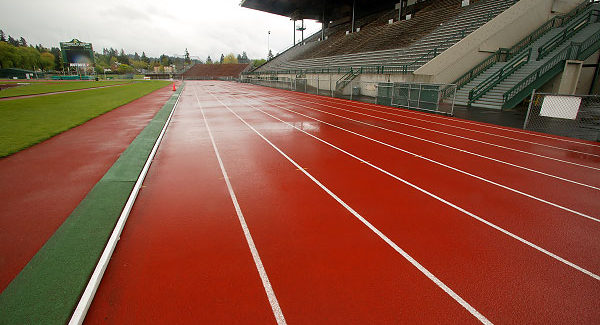 Jesse Squire | On 11, Jun 2016
Yesterday's action at the NCAA Championships was wild and wooly, one of the most exciting championships in college history. Now that we have a split schedule, it was the conclusion of the men's competition.
Your complete results are here.
Complete recapts are available via the USTFCCCA, the Oregonian, the Eugene Register-Guard, and Let's Run.
Here are some of my thoughts and observations.
Brazier defies words
Like many people, I thought the men's 800 was going to be the race of the day. We were correct. The main combatants figured to be Mississippi State senior Brandon McBride, the multi-time NCAA champion who appeared to be in the shape of his life, and Texas A&M freshman Donavan Brazier, who ran a stunning 1:45.08 in the semifinals and made it look easy.
The two are good quarter-milers (they raced again later in the day on the 3rd leg of the 4×400) so of course it went out fast, 24.10 at 200 meters and 50.35 at 400 meters. McBride held the lead at 600 meters (1:16.37) but faded ever so slightly around the turn and even more on the homestretch, while Brazier did not.

I was watching the clock as Brazier approached the finish line, and soon realized he was moving incredibly fast. The final clocking was 1:43.55. How fast is that?
Depending on whose record book you follow, it either broke a 50-year-old collegiate record by 0.75 seconds, or a 20-year-old record by 1.00 seconds. OK, impressive enough, but remember that this kid just finished his freshman year of college and is still barely 19 years old.
Announcers Larry Rawson and Dwight Stones incorrectly identified this as a world junior record; it's just a US junior record. Well, a North American junior record. Western hemisphere junior record. In fact, the only U20 runners who have ever gone fasters are all from Africa, and specifically places where birth records are not always as detailed as they are here. Brazier is now #7 on the all-time world junior list, but I suspect at least some of those ahead of him were not the age they claimed to be.
Anyway, Brazier is not African, he's American. He's come through the American high school system and, at least for the moment, competes in the American college system. What's more important is to compare him to Americans. And in that regard, there is no comparison. He and Jim Ryun are the only Americans to ever break 1:45 as juniors, and Brazier is now the #8 American of all time, at just 19 years of age.
Brazier is now the 17th American to run under 1:44.00, but what's notable is that only four others did it before turning 23 years old: Earl Jones, John Marshall, Jose Parilla, and Boris Berian.
Team championship was a roller coaster
Going into yesterday's finals, I thought LSU was in the driver's seat. They had lots of finalists and they all appeared highly competitive. They got off to a great start with a win in the 4×100 relay, but anchor leg Nethaneel Mitchell-Blake was hopping after the finish. I thought he was celebrating the close win, but it turns out he was injured. He tried the 100 but barely finished, withdrew from the 200, and the Bayou Bengals' chances went down the tubes.
The team that looked ready to pounce was Arkansas. They got a surprise second-place finish in the steeplechase out of Frankline Tonui, a man who wasn't even expected to make it to the finals, and then Jarrion Lawson unexpectedly won the 100. But…
Over on the triple jump runway, things got weird. The Hogs were hoping for a win and ten big points out of Clive Pullen, who had swept the SEC indoor, NCAA indoor, and SEC outdoor titles this year. But he was either hurt or just plain jumped like crap and finished 22nd. At the same time he bombed, Florida's KeAndre Bates miracled his ass up into 2nd place; he'd only been 7th at the SEC Championships and didn't even make it to the NCAA indoors, and yesterday he exceeded his 2016 best by more than two feet.
Florida proceeded to grab another 12 points in the 400, led by Arman Hall finally equalling a three-year-old PR, and another 18 points in the 400 hurdles. That plus ten points earned in Wednesday's field events and five points in the 4×100 relay meant the Gators only had to finish in the top six in the 4×400 to win the title.
Murphy is the real deal
Since I'm based in Ohio and do a good bit of work with Mid-American Conference programs, I've seen Clayton Murphy race quite a bit over the last few years. I think he's the best middle-distance runner to come out of Ohio since Dave Wottle. He's got the same uncanny sense of where he belongs, the same finishing speed and willingness to trust it, and the same broad range of racing ability that comes from having your team depend on you for both the 4×400 relay and as a contributing member of the cross country program.
Everybody else in last night's 1500 meters also knew this, and figured the only way to beat him would be to press the pace and leave a gap too large for him to close with a kick. That's how they ran; the split at the bell was 2:39.76 (roughly 3:53 mile pace), and Washington's Izaic Yorks and Virginia's Henry Wynne gapped Murphy on the backstretch.
Murphy was kept calm and waited, then struck when the time was right. He ended up winning by 1.68 seconds, which is huge considering he looked out of it with 200 to go. His last lap was 55.84 and he made it look easy. The time of 3:36.38 was very good (#8 on the all-time collegiate list) but the manner in which it was run was more impressive.
Turn pro, or no?
As a freshman and a junior respectively, both Brazier and Murphy have eligibility remaining. Yesterday both appeared to be ready to be professionals. Should they make the jump and renounce their collegiate eligibility?
I'm not so sure. One reason is that it's a decision that cannot be reversed. It seemed an obvious no-brainer choice for Mary Cain just a few years ago, but I'd be shocked if she was not having second thoughts now. I mean, Brazier had one tremendous race which showed massive potential, but so far it's just one race.
The other reason I think it may be worthwhile for a star runner to remain in college is for certain kinds of racing opportunities not available to professionals. What I mean by this is lots of racing in relatively low-pressure situations, and lots of different kinds of races. There are lots of chances to learn about how to race, since most college races do not have pacemakers, and college athletes are asked to do a much broader range of distances. Pros race much less often, almost always against fierce competition, and your typical miler isn't going to be racing 8ks and 10ks in the fall and 4x400s in the spring.
Think about this: Brazier ran 1:51 for a non-scoring fifth place in Texas A&M's dual meet at UCLA back in April. In the context of running 1:43 just two months later, it looks like failure — but did you remember he ran that? I didn't. College racing allows for races like this, and provides a deep social and coaching support structure that puts them in their proper perspective.
I think what I'm trying to say is that Alan Webb could have used a few more years of lots of low-pressure racing against inferior talent. Going pro early did not serve him well, and he was at least as good of a runner when he did it as Murphy and Brazier are now.
Lawson and Owens
Jarrion Lawson swept the 100, 200 and long jump over the weekend. The last man to do that at the NCAA Championships was Jesse Owens in 1936. The sprint times were less than stellar, 10.22 (into a stiff headwind) and 20.19, but again I think it makes a point about the benefits of the college system for a developing athlete. Sprinting has been good for Lawson's jumping, and jumping has been good for Lawson's sprinting.
Cunningham in Reggie Miller territory
There was a good bit of time in Reggie Miller's life that he was less famous than his sister, Cheryl. After all, she was one of the best, if not the best, women's players of all time. Randall Cunningham just won an NCAA high jump title, but in the same week that his younger sister got a feature article in Sports Illustrated.