No Comments
Moscow Daily for August 10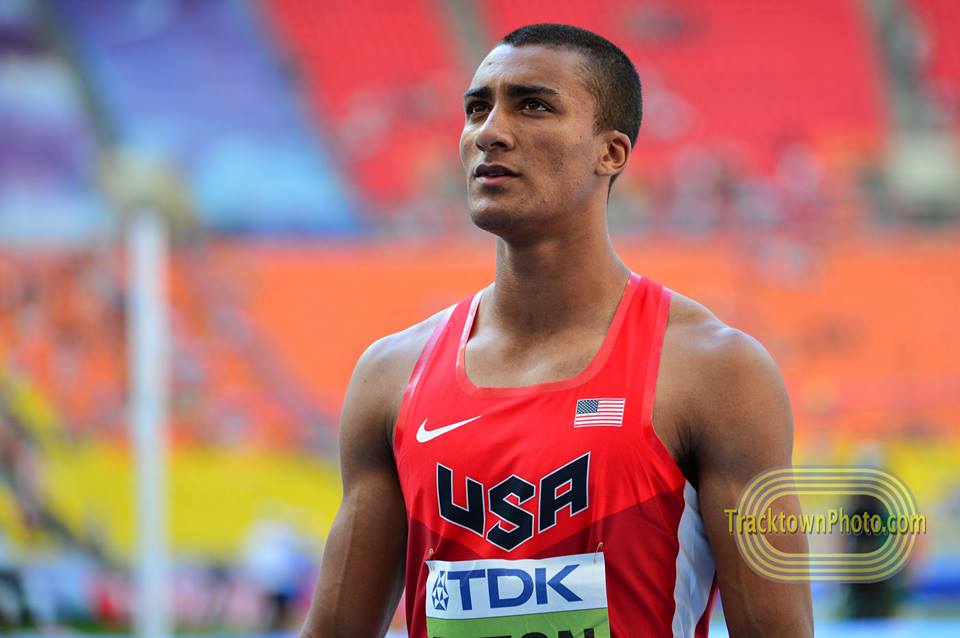 Jesse Squire | On 10, Aug 2013
Ashton Eaton leads the decathlon after the first day. (Photo courtesy TrackTownPhoto.)
Our Moscow Daily recaps the day's action at the IAAF World Championships, offers up some analysis, and tells you what (and how) to watch the following day. Come back for all nine days of action from Russia.
Scoreboard
| | | | | |
| --- | --- | --- | --- | --- |
| Nation | Gold | Silver | Bronze | Top 8 finishes |
| Kenya | 1 | 0 | 1 | 4 |
| Great Britain | 1 | 0 | 0 | 1 |
| Ethiopia | 0 | 1 | 0 | 2 |
| Italy | 0 | 1 | 0 | 2 |
| Japan | 0 | 0 | 1 | 2 |
| USA | 0 | 0 | 0 | 1 |
| Canada | 0 | 0 | 0 | 0 |
There were two and a half finals today: the women's marathon, the men's 10,000 meters, and the first day of the decathlon.
Women's Marathon
Kenya's Edna Kiplagat won the women's marathon for a second time in a row, the first ever back-to-back World Championship gold medalist in this event. The race began at 2:00pm in hot (30° C/85° F) and humid conditions and Italy's Valeria Straneo took the lead at about 600 meters in. Much to her surprise, she stayed in the lead for nearly 40 kilometers (25 miles) while Kiplagat ran conservatively for the first part of the race. In the end, Kiplagat surged ahead and won in 2:25:44 to Straneo's 2:25:58.
An even more conservative race strategy was employed by Kayoko Fukushi, who took bronze in 2:27:45. She passed Ethiopia's Meselech Melkamu late in the race, who so overextended herself in the heat that she was forced to walk. Complete results are at IAAF.org and a deeper race report is at Runnersworld.com.
Men's 10,000 meters
As expected, Great Britain's Mo Farah won the 10,000 meters, the first UK man to ever win Worlds gold in this event. In a replay of the last Worlds 10k, it came down to a sprint between Farah and Ethiopia's Ibrahim Jeilan. In 2011 Jelian won that sprint finish but this time the tables were reversed, and Paul Tanui came up for bronze.
The times were not terribly fast (27:21.71 for Farah with the next two less than a second behind) and there was surprisingly little surging or teamwork by the Kenyan and Ethiopian runners. The USA's Galen Rupp was fourth, about as good as could have been expected given that his entire 2013 campaign hasn't been comparable to that of 2012.
IAAF.org has the results and a longer story is available at BBC.co.uk.
Decathlon Day 1
Olympic champion and World Record holder Ashton Eaton leads after the first day by a scant 7 points, but looks good to win his first Worlds gold after tomorrow's action. He struggled in the long jump and high jump, went mostly to form in the 100 meters, had a good shot put, and capped the day with the fastest decathlon 400 ever run (besides a significantly altitude-aided mark at the '68 Olympics).
The big surprise in second place is Gunnar Nixon, the reigning World Junior champion. Like most young decathletes, he's more competitive in the speed/power-oriented events on the first day than he is in the strength/skill-oriented events on the second day, so it's unlikely that he'll hang around at the top of the leader board through the end of tomorrow's competition.
There is a cool little forecasting page that even allows you to plug in your own projections. It says that silver and bronze will come down to Germany's Michael Schrader and Pascal Behrenbruch and the Netherlands' Eelco Sintnicolaas (yes that's really his name).
Other notes
Kelly-Ann Baptiste, a sprinter from Trinidad and Tobago, has tested positive for a banned substance and come home from Moscow. No word on what substance or when she returned the positive. She won bronze at the last Worlds and was expected to be in the medal hunt again in Moscow…
Ukrainian discus thrower Natalya Semenova ended up with a concussion and broken nose when Poland's Zaneta Glanc accidentally hit her in the face with a discus while doing a "mime throw" right before the qualifying round began. Semenova, known as the "Iron Lady", threw anyway but failed to advance to the final…
The opening ceremonies took place after the conclusion of the first day's action (so I suppose they weren't really the opening ceremonies). They sounded truly bizarre, including a dancing periodic table, inflated spaceships, a synthed-up version of Swan Lake, and an ode to Moscow's subway system…
US Team Performance Analysis
Last year's US Olympic team won 29 medals, possibly the best team performance at a Worlds or Olympics in over 50 years. (The USA won more medals in 1984 and 1992, but the eastern European sports machines were absent at one and in disarray at the other). Various medal predictions for these Worlds have the US with anywhere from 28 to 33.
One predicted medal is out the window, as defending decathlon champion Trey Hardee cramped up during the high jump, was unable to make a height, and withdrew. The USA's fourth decathlete, Jeremy Taiwo, also withdrew with a knee injury. Eaton looks good for gold–he's the rare decathlete who can literally run the 1500 as fast as he has to in order to win–and Nixon is still probably a long shot to medal.
I didn't think Galen Rupp was a serious threat to medal in the 10,000 meters and did very well to end up fourth today. Last year was a career year for him and the competition was down some too. This year things have regressed to the norm a bit, Rupp slowing down a little and the Ethiopians and Kenyans speeding up. Dathan Ritzenhein finished tenth and Chris Derrick 18th, respectable results in a field of 32.
The trio of women's marathoners did well. Deena Kastor was ninth, Dot McMahan was 18th, and Jeanette Faber was 23rd. Kastor had hoped for a top-five finish but she's still doing amazing running for a forty-year-old who has been a highly competitive runner for twenty years. If the now-discontinued Worlds marathon team competition was still on the books, the US would have won silver.
In qualifying action, defending long jump champion Brittney Reese had a horrible outing and just barely scraped through to the final. Three of the four US jumpers will be in the final, with Tori Polk a surprise qualifier with a PR.
In the 800 meter heats, all three US men qualified to the semis without trouble, as did all three Americans in the women's 400. NCAA 100 meter champion Charles Silmon did not make it out of the heats but Mike Rodgers and Justin Gatlin did, recording the fastest times of the day. None of the women's steeplechasers made it out of the heats to the final; both Ashley Higginson and Shalaya Kipp missed by less than four seconds.
Gia Lewis-Smallwood made it to the finals of the women's discus, and so did Brad Walker for the men's pole vault. A.G. Kruger did not qualify to the men's hammer final but that was expected.
Canadian Team Performance Analysis
Mo Ahmed, formerly at Wisconsin, finished ninth in the men's 10,000. That's the best Worlds 10k finish in Canadian history, and he nearly broke his PR even though championship distance races are notoriously PR-unfriendly. Cam Levins finished 14th with his best time of the year but cut off his famous 'fro in order to deal with the heat.
Decathlete Damian Warner sits in fourth place in the decathlon. Picked for bronze by decathlon expert Frank Zarnowski, the projections now say he'll be out of the medals. He's performed almost exactly to predictions but a few others have well exceeded theirs. Still, he's far from out of it and remains one of Canada's best hopes for hardware.
Two of the three men in the 100, Aaron Brown and Gavin Smellie, qualified to the semifinals. The third, Sam Effah, was the fastest non-qualifier. This bodes well for the 4×100 relay where the Canadian team has unfinished business.
Tomorrow
Here's how to watch tomorrow's action. All times are Eastern.
U.S. Television
Universal Sports, 1:00-5:00am (live)
NBC, 12:30-2:00pm (live)
Universal Sports, 7:00-8:30pm (re-air of NBC)
Canadian Television
Daily highlight shows will air on Sportsnet. Visit Athletics.ca for broadcast times in your area.
Webcasts
UniversalSports.com will webcast whenever the TV channel is running a live broadcast, but you can only watch it if you're in the minority of Americans whose cable provider carries Universal Sports.
A better bet is WatchAthletics.com which will have a collection of foreign feeds for the morning session and evening session.
Yet another option is IAAF Radio, which is quite good and will offer live play-by-play from 1:00 to 5:00 AM and 9:00 AM to 2:00 PM.
How to Follow
The main hub of information is the IAAF website. Schedules, results, news, athlete info, whatever you need. You might want their smartphone app, too.
If you're cheering for a particular team–and who isn't?–both USA Track and Field and Athletics Canada have microsites for their Worlds teams. You can follow the exploits of US collegians with the USTFCCA.
What to Watch
All day: Decathlon day 2
Ashton Eaton struggled at times during the first day but still looks like a lock for gold. Canada's Damian Warner and the USA's Gunnar Nixon are in the hunt for medals.
2:15am: Women's 1500 heats
Lost of hope for Americans here, but the big story is Mary Cain.
11:00am: Women's long jump
There are three US finalists and two of them, Brittney Reese and Janay DeLoach-Soukup, are medal favorites. Both struggled in today's qualifying, so we might want to temper expectations. All three Russians are in the final too, so this could be an old-fashioned Cold War battle.
11:05am: Men's 100 meters semis
Also known as The Usain Bolt Show. Two each from the USA and Canada are looking to get to the final.
12:15am: Women's discus
Gia Lewis-Smallwood has a chance at a medal. The overwhelming favorite is Croatia's Sandra Perkovic, who is not only undefeated this year but has barely ever not led from the first throw of the competition.
1:05pm: Women's 10,000 meters
Ethiopia's Tirunesh Dibaba is expected to win with ease. Shalane Flanagan is the USA's best hope for a medal and she just might be able to do it.
1:50pm: Men's 100 meters final
The Usain Bolt Show, part 2.
Qualifying rounds
Americans are looking for three finalists in both the men's 800 and women's 400. The first rounds of the women's 100 and men's high hurdles should be little more than formalities for the US competitors. The women's shot put should see Michelle Carter get through to the final, and Tia Brooks just might make it too.