One Comment
Kristi Castlin upsets Brianna Rollins: 5 World Bests set during Saturday of Drake Relays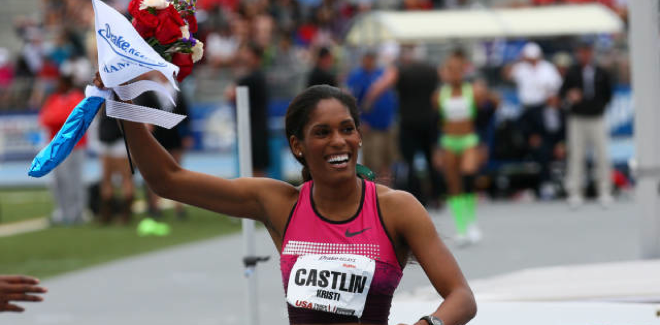 Mike Mahon | On 27, Apr 2014
DES MOINES, IOWA — The weather continued to cooperate and the best athletes in the world as well as top collegians around the country responded by putting on another dazzling display around the blue oval at Drake Stadium Saturday.
Five more world outdoor bests were either set or equaled Saturday, pushing the total to 11 during the 105th running of the Drake Relays before a sellout crowd of 14,504.
The biggest noise came in the Women's 100 Hurdles Moscow Games Rematch where reigning 2013 World Champion Brianna Rollins was upset in a photo finish by Kristi Castlin.
Castlin, running in lane eight, made a strong push at the end to clip Rollins by five thousandths of a second: 12.571 to 12.576 while setting a meet record.
"This was my first race of the season, " said Castlin. "I had a little bit of a chip on my shoulder being in lane eight. I had to execute my best race since I was out there on my own.
"It's hard to be in the U.S. because we are so deep. I want to establish myself and hopefully one day win a gold medal."
Rollins had won 19 straight races in the women's 100 hurdles en route to setting an American record in her last appearance at Drake Stadium of 12.26 at the USA Championships last June 22. Rollins' last loss in the 100 hurdles came in the finals of the 2012 U.S. Olympic Trials in Eugene, Ore., where she finished sixth.
"This was a great opener," said Rollins. "I just wanted to run a relaxed race and tried focusing on myself. Someone beat to the line, but that's okay it was all in God's plan."
Kellie Wells, the 2012 Olympic bronze medalist, was third in 12.68.Dawn Harper-Nelson, the 2008 Olympic champion and 2012 Olympic silver medalist, struggled out of the blocks, finishing a disappointing seventh in 12.87.
Chaunte Lowe enjoyed a better return to Drake Stadium, where she set an American record in the women's high jump in 2010.
Lowe, a two-time Olympian, won the Women's High Jump Moscow Games Rematch tying a world best by soaring 1.96m/6-5 to beat two-time U.S. Indoor champ Inika McPherson on fewer misses.
"I really didn't know what to expect," said Lowe coming off maternity following the birth of her third child. "It was a coin toss. I have been training really, really hard, but I hadn't had any great competitions up to this point. I had two small ones just to see where my steps were.
"To come out here and take the win made me feel like I still have the juice."
Lowe cleared six different heights on her first attempt before missing three times at 1.99m/6-6.25.
Brigetta Barrett, the 2012 Olympic silver medalist and 2013 World Champion silver medalist, was fourth at 1.93m/6-4.
Running out of lane seven, Tiffany Williams captured the Women's 400 Hurdles Moscow Games Rematch in 55.53, beating a field that included Lashinda Demus, the 2012 Olympic silver medalist and 2011 World Championship gold medalist.
The race produced three of the top five times in the world so far. Williams' time ranks second. Jamaican Nickiesha Wilson, who won the NCAA championship in Des Moines in 2008, was second in 55.68, which ranks fourth on the world list. Demus placed third in 55.97 for the fifth best time in the world.
"For me to come out and win this race is a big stepping stone," said Williams. "These last three years have been a real struggle for me…So to be back to be on top feels great. I finally had my race together."
The USA White team consisting of Jeff Porter, Dominic Berger, world outdoor record holder Aries Merritt and Ty Akins won the invitational men's shuttle hurdle relay in a world leading 53.77 seconds. Jamaica was second, while the USA Red team was in contention before Spencer Adams crashed through a hurdle running the third leg.
Renaud Lavillenie from France and Steve Lewis of adidas each equalled the 2014 world outdoor best performance in the men's pole vault at 5.70m/18-8.25.
Lavillenie, the 2012 Olympic gold medalist and world indoor record holder, won on fewer misses, clearing 5.70m/18-8.25 on his second attempt. Both vaulters passed at 5.76m/18-10.75 before missing on all three attempts at 5.82m/19-1.
Ethiopia's Aman Wote, the 2014 World Indoor champion in the 1,500, coasted to victory in the men's invitational mile in a world leading time of 3:53.39. Patrick Casey from the Oregon Track Club was the top American, finishing third in 4:00.86.
Arkansas and Illinois tied for the Drake Relays HyVee Cup in the men's division with 34 points based on finishes in five relays: 4×100, 4×400, 4×800, sprint and distance medley relays.
Wisconsin-Milwaukee ran the nation's fastest collegiate time in winning the men's university-college shuttle hurdle relay in 56.39. That's the fifth fastest time in Drake Relays history and the Panthers' second straight victory in the event.
Baylor freshman Trayvon Bromell, the co-junior world record holder in the 100, won the men's university-college 100 in 10.19. One hour later he came back to anchor Baylor to victory in the men's university 4×100 relay in 39.14.
Arkansas and Illinois tied for the Drake Relays HyVee Cup in the men's division with 34 points based on finishes in five relays: 4×100, 4×400, 4×800, sprint and distance medley relays.
Baylor won the Drake Relays HyVee Cup in the women's division with 38 points. Arkansas was second with 20 followed by Iowa with 18.
A total of 11 Drake Relays records were set with the three-day affair drawing 40,795 fans, while enjoying the 49th straight sellout crowd for the Saturday session.
Katie Flood returned to her hometown where she captured the NCAA women's outdoor 1,500 title in 2012 by anchoring Washington to a pair of Drake Relays titles in the 4×1600 on Thursday (19:09.31) and the distance medley relay (11:09.59) on Saturday. Flood ran a 4:39.0 anchor in the distance medley relay to remain undefeated in college on the Blue Oval at Drake Stadium.
Earlier, the Washington men won the 4×1600 and 4×800 relays behind anchor legs by freshman Izaic Yorks.
Kansas junior Michael Stigler added another 400-meter hurdle victory to his list of 2014 accolades as he claimed the event title at the Drake Relays in 49.47. He has yet to lose a 400 hurdle race this season and has won nine of his last 13 hurdle races versus collegians dating back to last season.
Stigler also notched a prestigious accolade that has been a rare feat in recent years, completing the Texas-Kansas-Drake Triple Crown in the 400 hurdles with his wins at the Texas Relays, Kansas Relays and the Drake Relays, all in the same season.
He was coming off a stellar performance in the event at the Kansas Relays, one that saw home post the NCAA's leading time of 49.35, which was also fifth in the world at the time.
By the end of the first 200 meters, Stigler had already put an end to any doubts of his victory by erecting a three-stride lead over the rest of the field.
Georgia became just the third school to win the university men's sprint medley relay three years in a row, crossing the line in 3:18.22 to nip Illinois and Purdue. Oklahoma (1976-78) and Illinois (1943-45) are the only other schools to accomplish that feat.
NCAA champion Anthony Rotich anchored Texas-El Paso to one of the fastest times of the year in the men's university distance medley relay. The Miners ran 9:35.45, which ranks No. 5 on this year's collegiate list. Rotich covered the final 1600 in a swift 3:59.4. He also anchored UTEP to a victory in last year's race.