No Comments
How Meaningful are the World Junior Championships?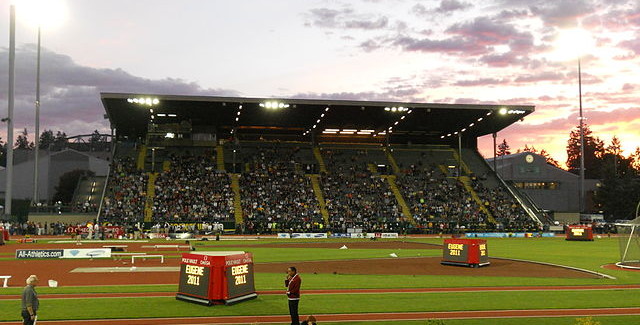 Jesse Squire | On 23, Jul 2014
The World Junior Championships are being held at Oregon's Hayward Field this week. The events that will garner the most attention tonight are the men's and women's 100 meter finals. Trayvon Bromell is the well-known name in the men's 100 after his NCAA win and World Junior Record, but he's not the only potential champion. Other finals including Americans and/or Canadians are the women's long jump, women's 5000 meters, and the conclusion of the heptathlon and decathlon.
The evening session begins at 8:30pm (ET). You can follow all the results via the IAAF Live page.
TV coverage is on Universal Sports from 10:00 to midnight, and the webcast info is summarized at Runnerspace. You can also listen via IAAF Radio, an excellent service that should be made available on mobile devices (but isn't).
A big deal?
This the USA's first IAAF World Championship of any kind in 22 years, and the first "outdoor stadium" type of IAAF championship ever held in the USA. You would think all of this would be making a big splash, even if only in the relatively small world of American track and field. Apparently not. The meet's television coverage is limited to Universal Sports, a channel available only in a minority of US households. The two-session total attendance yesterday was just 6,852, the lowest Hayward turnout for a championship's first day since Vin Lananna came to campus a decade ago. And even I, the slef-styled Track & Field Superfan, am familiar with only a very small minority of the athletes on the US and Canadian teams, let alone those from around the world.
So how important is the World Juniors? Are sports fans missing out on a meaningful event, or is this just track's version of the Triple-A World Series, just a stopover on the way to a real championship?
A lot of the interest in a championship like this depends on whether the individuals and nations that have success here are setting themselves up for success at the senior championships, the Worlds and Olympics. But are they?
Is Junior success meaningful?
Does success on the Junior championship level have any meaning? Does it predict future success?
That's a tough question to answer, because "success" has so many different meanings. For this post, I'm going to narrowly define it as "medals won by the USA" at the IAAF World Championships on both the junior and senior level. This definition makes it fairly easy to look at the numbers, but it also takes a look at the bigger picture. Some athletes who succeed on the junior level never take it up a notch–remember when Jeff Demps was supposed to be the next great sprinter?–and some who were unremarkable as U20 athletes become legends as adults. By looking at total medals won, it ignores individual success and failure and aggregates results.
As it turns out, there is some correlation between USA medals won at the World Junior Championships and the senior World Championships. Here are the medal hauls at each World Junior Championships, and the average number of medals won at the senior Worlds held five, seven and nine years later.
| | | | | | |
| --- | --- | --- | --- | --- | --- |
| Year | G | S | B | Total | 5 to 9 yrs later |
| 2012 | 9 | 4 | 7 | 20 | ? |
| 2010 | 6 | 6 | 3 | 15 | ? |
| 2008 | 11 | 4 | 2 | 17 | 25 |
| 2006 | 4 | 5 | 2 | 11 | 25.5 |
| 2004 | 13 | 3 | 3 | 19 | 24. 3 |
| 2002 | 9 | 5 | 7 | 21 | 24. 7 |
| 2000 | 0 | 0 | 1 | 1 | 24. 3 |
| 1998 | 2 | 7 | 4 | 13 | 22. 3 |
| 1996 | 6 | 4 | 2 | 12 | 18 |
| 1994 | 5 | 8 | 4 | 17 | 15. 3 |
| 1992 | 4 | 3 | 2 | 9 | 15. 7 |
| 1990 | 4 | 2 | 3 | 9 | 17. 7 |
| 1988 | 5 | 2 | 2 | 9 | 20.3 |
| 1986 | 5 | 5 | 4 | 14 | 23.3 |
(For 2006, I averaged the 2011 and '13 Worlds medal totals; for 2008, the 2013 Worlds medals are shown.)
There is a bit of a pattern here. There were some lean years at the World Juniors in 1988, 1990 and 1992, and they were followed by lean years at the senior Worlds from 1995 to 2003. The best US showings ever were in 2002 (21 medals) and 2004 (13 golds), and it's worth noting that the USA's best Olympic medal haul in more than a generation came in 2012. Twenty medals at the 2012 WJC makes it appear that the USA is well positioned for future success on the senior level.
Still, the World Junior Championships have less meaning in the USA than pretty much anywhere else. And to see why, you need only look at the 2000 WJC, where the USA won only a single medal.
It isn't our system.
Why did the USA win only a single medal at the 2000 World Junior Championships? Did we have an unusually awful team, or did issues around doping or overage athletes result in mass disqualifications? Nope, none of those things.
The meet was held in the southern hemisphere, in Santiago, Chile, in late October. All of the USA's best young athletes are full-time students–even those who turn pro, such as Mary Cain, are still enrolled in college–and few could afford to miss nearly two weeks of class. So the US sent a skeleton crew and came home with just one medal, a bronze by a pole vaulter named Rocky Danners.
More than anything else, the timing of the 2000 WJC shows how the American development system generally does not mesh with that of the rest of the world, in track and field or any other sport. Our sports are based around high school and collegiate competition and our schedules match the academic calendar. Summer competition is extra, an add-on at the end of the season and not the prime goal. Don't believe me? Well, when I spoke to local high schooler Nick Demaline, this year's national high school leader in the shot put, he knew everything there was to know about the New Balance Outdoor Nationals and other high school championships, and he knew everything he needed to know about college competition, but he knew basically nothing about how to qualify for the US team for the WJC. That meet simply wasn't on his radar until the last second.
Our development programs are also team-based, and helping the team win is paramount. Texas A&M's Shamier Little is one of the favorites for gold this week in the 400 meter hurdles, but winning it won't bring nearly the acclaim and accolades to her university as her team winning the title at the NCAA Championships or a Penn Relays Championship of America. And since those bring more positive attention to her university, the fact that her significant college expenses are covered in exchange for her athletic prowess means the team comes first and highly individual goals, like the WJC, are secondary.
Our development system gives a very large number of athletes a lot of opportunity to compete at a high level, but it's simply not geared towards international competition. Still, success in international junior competition does have some meaning.
This does not mean you shouldn't watch the World Junior Championships this week, but you should take it with a grain of salt. For most of the world's young athletes, it's the goal they've been working towards for a year or more. For most of the USA's young athletes, it's stretching their season.
Tomorrow, we take a look at the predictive power of junior success when it comes to individuals. And over the weekend I'll look at what happened to sidetrack one of America's greatest junior athletes.