One Comment
Hall Plots His Return To The Start Line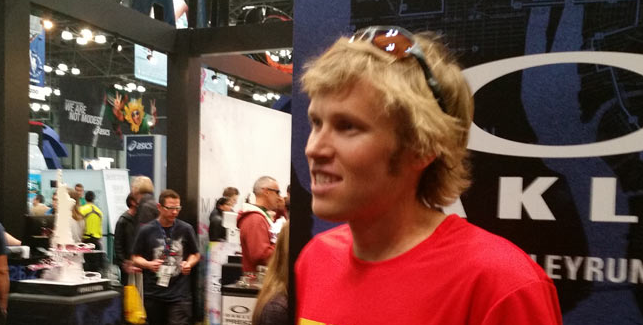 Daily Relay | On 31, Oct 2014
Almost all of the world's top marathoners have either already begun their offseasons or are soon to cap their 2014 seasons by competing in Sunday's TCS New York City Marathon.
Ryan Hall was at New York's Javits Center on Thursday, just like his fellow Americans — they were fulfilling pre-race media obligations – but he wasn't getting ready to run the race and he hadn't begun his offseason either. His season is just beginning, with a 10-mile race in Pittsburgh on Nov. 9 and a half marathon in Costa Rica two weeks later.
"It's mainly just the start of my buildup, actually, 'cause I got a little rundown during the summer," said Hall, between greeting fans and signing autographs at the Oakley booth at the marathon expo. "So I had to take a break, and now I'm kind of getting back into workouts."
There are no mai tais on a Hawaiian beach in Hall's near-future, something that veteran Deena Kastor is looking forward to in the week after Sunday's race.
Instead, it's another return from injury, something that's derailed the last two years of Hall's career, beginning with the Olympics marathon in London, in which the American marathon record-holder pulled out mid-race. Hall's only completed one marathon since finishing second in the Olympic Trials marathon in Houston in January 2012. That was April's Boston Marathon, when he finished 10th among Americans and 20th overall in 2:17:50.
Hall's new coaching relationship with Jack Daniels has helped build the confidence that often erodes amid injuries.
"It is tough, going through injuries," said Hall, who turned 32 this month. "There're definitely those times that you start to wonder, 'Is that still there?' Working with Jack has been really nice. He tells me, 'Your talent stays there and stays at the same level up until your late 30s,' and Meb certainly showed us that. It's just a matter of training right and staying healthy."
Hall is planning to run a to-be-determined spring marathon, though he understands that it's probably not realistic to make a 13-minute jump from one marathon to the next, even if his compatriot, Keflezighi, did just that.
"You don't go from running 2:17 one time out to running 2:04 your next time out," he said, and then stopped himself. "Although Meb ran 2:20 in New York and then won Boston in a personal best — it's mainly about getting training right and getting your body right."
Indeed, Keflezighi went from 2:23:47 running New York last November, when his body clearly wasn't right, to the aforementioned personal best of 2:08:37 in his Boston victory.
As he build up his strength and speed Hall, like most elite American marathoners, has his sights set on the U.S. Olympic Trials to be run Feb. 13, 2016, in Los Angeles ahead of the Rio Olympics that August.
"Certainly, when I'm out there training, that's what's in the back of my mind is going to trials and needing to be 100 percent ready to go," said Hall. "Looking to build momentum with every marathon."
He, of course, intends to run a "good" marathon before trials, with one on the agenda this spring and another perhaps early next fall.
"For me, anything under 2:10 is somewhat close to where I should be," Hall said. "Ideally, I'd consider under 2:08 a good marathon. I still believe my best stuff's in front of me. And I think that's quite a bit faster than that."
Hall peppered his answers with "patience" and "waiting" and "taking steps." It's evident that, as he's struggled to kick the injury bug, he's perhaps tried to rush his way back to fitness, something that's changed with a new coach.
"Working with Jack has been really nice," said Hall. "It's kind of made me realize how aggressive I am in my training. He's kind of scaled things back a little bit, which I think is exactly what I needed — running more conservative paces rather than treating every workout like a time trial, which is what I enjoy doing but not always the best."
"Things like that will really pay off in the long run," he added. "I'll have to be patient — I'm not expecting any big results any time soon. We'll see progress, see some pretty good stuff in a year's time, six months' time."
If we do see "some pretty good stuff" from Hall and he is toeing the starting line in Los Angeles two Februaries hence, he'll surely be favored to make the team for Rio. But there are still plenty of "ifs" between where he stood Thursday in the Javits Center, unable to race a fall marathon, to where he'll need to be by then.