3 Comments
Five Things We Learned on Day 1 of the IAAF World Relays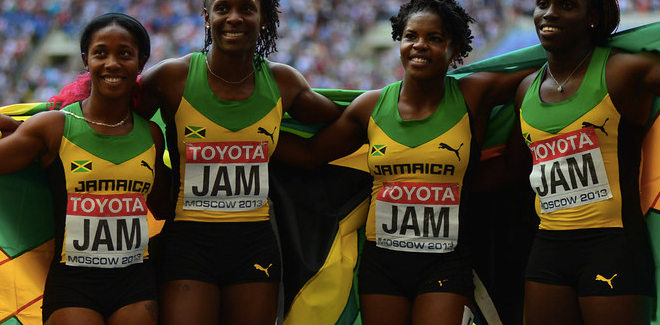 Jesse Squire | On 25, May 2014
Five thoughts about the first day of the IAAF's new World Relays…
Relays are fun.
We in the United States have known this for a long time. We more or less invented the relay race in Philadelphia, where 100,000 fans gather each April to witness a carnival of relays. The best-attended meets in the USA are the Penn, Texas and Drake Relays, and no doubt that was part of the IAAF's reason for instituting this meet. Let's Run's coverage has noted how much the athletes themselves are enjoying the competition.
Much coverage of the IAAF World Relays has noted that Usain Bolt is not present and that it's not good for track and field that the IAAF's new meet is lacking its biggest star. The whole point of the meet, though, is that stars aren't the most important part. These races are about the teams. Besides, there will come a day that Usain Bolt isn't running any more, and track and field better be ready for that day with something else to sell. This meet is doing that job.
Where could the IAAF go from here? A twitter conversation provides one possibility.
Rest of the World: "Wow, this relay carnival thing is really exciting!" USA: "No s*#%. Where you been the last 100 years?" #WorldRelays

— Dan Lilot (@Lilot1TrackMind) May 25, 2014
@Lilot1TrackMind Meanwhile Japan says "Now if the rest of you would just catch on to road relays."

— Japan Running News (@JRNHeadlines) May 25, 2014
An international road relay made up of national teams would be great fun, and in fact one already exists: the Chiba Ekiden, a mixed-gender six-leg marathon relay held in Japan every November. It would be even better if it could be expanded, and maybe the IAAF and Japanese officials could work together to make it a truly global competition.
Everyone screws up sometime.
In the 4×200 final, the US men's team had a ridiculously horrible second exchange that initially dropped them to third behind St. Kitt's and Nevis, a relay team from a two-island nation of just 51,000 people which was without the services of their best sprinter. But the pass was outside the zone and the US team was disqualified. Jamaica won with a new world record. Screw-up at about 0:53:

I was working up some righteous anger about yet another US relay cockup when I saw a couple of things that softened my stance.
The next race after the men's 4×200 final was the women's 4×100 final, and the USA won that one in part because Jamaica had handoff trouble. For once, the tables were turned. The Jamaicans were without Shelly-Ann Fraser-Pryce, who is apparently injured, meaning that the Americans had a better quartet of sprinters on the track. If the Jamaicans had any chance at winning they threw it away in the exchange zones.

And then there's this:
How did Jamaica set a world record last night when Yohan Blake was stepping all over the inner lane on final bend? DQ pic.twitter.com/WmyUB4zKNA

— Cathal Dennehy (@denners87) May 25, 2014

The Jamaicans should have been disqualified from the 4×200 too, and the champions should be St. Kitt's and Nevis.
While other countries sometime screw up exchanges too because it's part and parcel of sprint relays, it doesn't change the fact that US teams screw them up far more often than anyone else. What is it about American sprinters that makes them so vulnerable to this? I'm not sure the sprinters are the ones to blame. After all, American sprinters do just fine in high school and college, where relays are a huge part of the program. But high school and college coaches are held responsible for their teams' performances. USATF doesn't roll that way with their national coaching selections. Accountability of any kind is totally foreign to that organization, something that former CEO Doug Logan tried to change with Project 30, but it didn't take long for him to get the boot.
Much has been made over the last few days about the fact that USATF chose Dennis Mitchell as one of the team's coaches, a man who admitted to BALCO-related doping under oath. That's a bad idea in itself, both in terms of public relations and that it runs counter to part of the aims of USATF's coaching registry program. There's the fact that Mitchell coaches the USA's best sprinter, Justin Gatlin, who did not make himself available for this meet yet Mitchell was rewarded with a coaching job anyway.
The worst offense of all of this is the horrible relay exchange, and that alone should disqualify Mitchell from ever again being named a national team coach. But like I said, USATF doesn't roll that way and that's why the same mistakes get made over and over and over again.
A big lead isn't necessarily safe.
In most races, if one athlete is way out in front they're probably going to stay there. Not so in relay racing. Some of the most exciting finishes I've ever seen in track and field were when an anchor leg was desperately trying to hold onto a big lead while getting run down from behind. That's what we got in the men's 4×800, where Kenya led from the gun with gaps that stretched and compressed several times. The Kenyans had a 25 meter lead on the anchor leg with a 1:44 guy carrying the baton, which you'd figure would mean the race was over. Not so fast, my friend.

Yep, this is why relays kick ass.
Participation incentives are needed.
There's a lot of teams entered in the 4×100 and 4×400 simply because they can qualify to the Worlds from this meet. The other events don't have much depth. Despite the fact that prize money is paid out for the top eight places, only four women's teams ran in the 4×1500 relay. Other events are similarly short of teams.
I can understand why some small nations might not want to send a relay team halfway around the world, but we're really getting cheated when nations like Canada and Great Britain are skipping out on sending a 4×800 or 4×200 relay. For too many nations these days, the thinking is "if we can't finish in the top three then we're not going" for meets like this one or the World Cross Country Championships. That attitude makes the meets both less viable and less interesting.
Let's Run has raised the idea of nations earning Olympic or Worlds qualifying slots in different events based on competitive results instead of chasing marks, which tends to be a boring enterprise. If that ever happened (and I think it would be very good for track and field if it did), then the World Relays could be part of that system. For example, a top-three finish in the 4×800 would guarantee three 800 meter slots at that year's Worlds or Olympics, and a top-eight finish would guarantee two slots. Do the same for all of these relays and you suddenly make even a top-eight finish a major achievement for smaller nations.
There is some bad announcing out there.
My cable provider doesn't carry Universal Sports and I'm generally unimpressed with their TV coverage anyway, so I hunt around for foreign web feeds that don't get geoblocked. WatchAthletics.com and Trackie.ca are two good websites for that. Last night I found a webcast that I could mirror onto my Apple TV from my iPhone, one that appeared to be the Bahamian television broadcast. Besides learning about the Bahamian beer brand Kalik, I learned that even Tom Hammond looks prepared and informed compared to the pair of announcers they had. Wow, were they bad. Colour man Neville Wisdom was particularly awful. At times he didn't know what race he was calling or what teams were in it, and blamed the IAAF for not giving him the information he needed even though it was right in front of me on my computer. He called out the USA men's 4×800 for poor handoffs while looking at a replay of an incoming Kenyan runner actually running past the man he handed off to. It was the Plan 9 From Outer Space of track announcing.