4 Comments
Five Questions with Youngstown State Hurdler Chad Zallow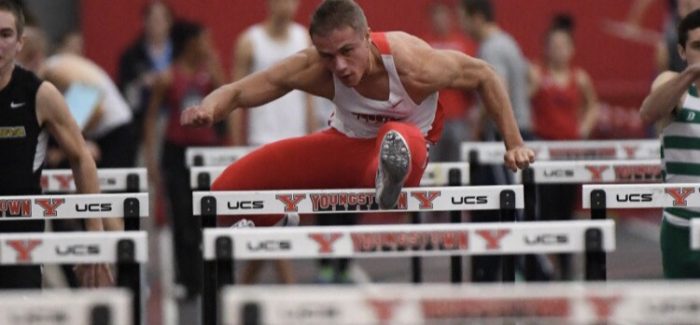 Jesse Squire | On 06, Mar 2017
Welcome back to 5 Questions, where we pick the brains of people from all areas of the running scene.
Today we're talking to Chad Zallow, a sophomore hurdler at Youngstown State University. Heading into this weekend's NCAA Indoor Championships, Zallow is the #2 seed in the men's 60 meter hurdles. He is undefeated against collegiate competition in the 2016-17 season.
Squire: There is just one week left before the NCAA Indoor Championships. How are you feeling, and what are your goals for the meet?
Zallow: I'm feeling great going into this meet. Last year I actually came down with strep throat a couple days before I left for Nationals. But this year I've been healthy all year and my body has been feeling great (knock on wood). So it's nice to finally be healthy again heading into this meet. My goals first and foremost is to make the finals and become a first team All-American. Last year I missed the finals by one spot. Once I'm in the finals i'm going for the title. I'm sure everyone else in that final is going to be aiming for the same thing and that's the mindset you have to have if you want to win it.
Squire: There haven't been many track athletes of your ability in the Horizon League. What were some of the factors in your choice of Youngstown State over other universities?
Zallow: I feel that in order to thrive academically and athletically it's crucial to pick a place where you are going to be comfortable. Staying close to home at YSU [Zallow's hometown is nearby Warren, OH] I had everything there I needed to be successful and then some. They have tremendous facilities with a brand new 300 meter indoor track and a brand new outdoor track. They had a coaching staff that I liked and being on same track team as my brother Carl close to home gives me a great support system which a lot of kids miss out on when they go away to school. The great thing about track and field is times speak for themselves. It doesn't matter where you go to school; if you're running the times you're going to get attention.
Squire: As a graduate of the Mid-American Conference, I love that answer.
You've been doing this for a long time. How did you get involved in track and how did you end up in the hurdles?
Zallow: I've always had a lot of speed as a young kid and received a lot of attention for it actually back to my baseball days running around the bases. My dad got me and my brother starting running early with the Warren Striders Track Club when I was 6 or 7. Me and my brother were both sprinters but my dad wanted me to pick a different event so we can both thrive instead of competing against each other all the time. I picked up the hurdles around 6th grade and my form came naturally. Having speed and being a good athlete helped me adapt to the hurdles so easily and it paid off big time.
Squire: What part of your race is most important for success? In other words, what are you going to be concentrating on most this coming weekend?
Zallow: My start is the best part of my race. I feel like I have one of the best starts out there. I have hardly ever been beaten to the first hurdle in my life. Getting a great start is going to be crucial for Nationals. Once I get out of the blocks the biggest thing I'm focused on is coming off the last hurdle strong because I know this race is going to be won at the end. That's something I been focusing on a lot over the past couple weeks.
Squire: Final question: Browns or Steelers?
Zallow: Browns all day! Been a big Browns fan since day 1!