One Comment
College Recap: Oregon and Texas A&M impress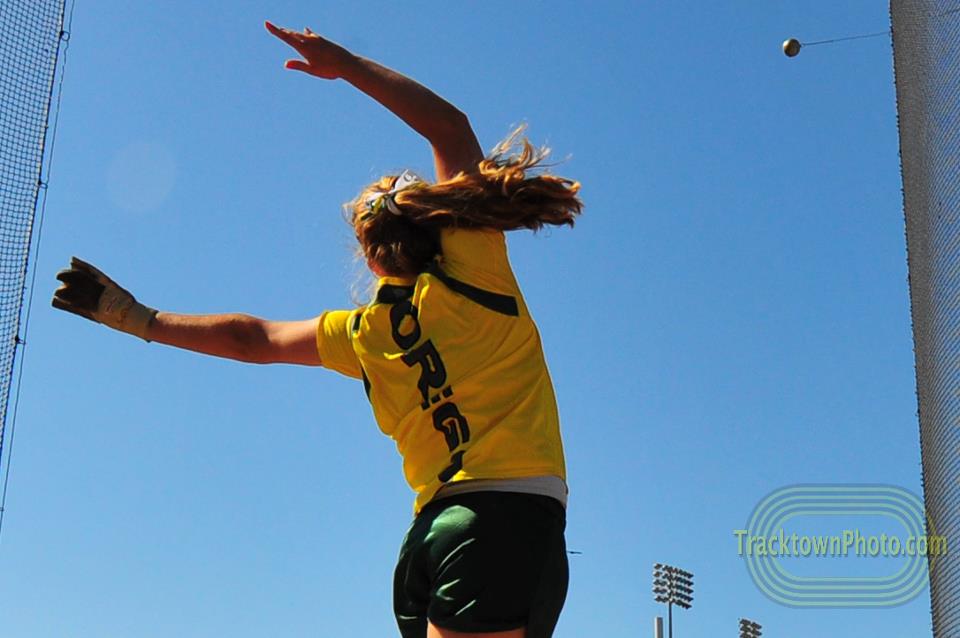 Jesse Squire | On 19, May 2014
Most of the biggest conferences had their championship meets this weekend. The SEC, Pac-12, Big Ten and Big 12 all crowned champions, plus several lower-level circuits. Who did well? I'll look at it from several points of view.
Team Awards
Best Men's Teams: Oregon and Texas A&M
Oregon's men won their eighth straight Pac-12 title and beat the living daylight out of a pretty good conference. They piled up 163¼ points to runner-up USC's 99 and could have scored more if they wished. NCAA champion miler Mac Fleet dropped down to the 800, finishing third, and NCAA XC/3k/5k champion Edward Cheserek ran only a single race, the 1500, where he was second. They scored in 18 of the 21 events–so much for coach Robert Johnson's claim that there are "definitely some holes in our team"–and is clearly the deepest, most balanced men's team in the NCAA.
Texas A&M ties for the honor of best team in part because they won the SEC title. You belong at the top when half of the conference you beat is in the national top 25. But the Aggies get extra consideration for winning by so much. They buried Arkansas by 38½ points, stopping the Hogs' bid for a third straight SEC triple crown. As you'll see below, many of their individual performances were outstanding. And I'd like to point out that I was the only one of Flotrack's experts who correctly picked the SEC title winner.
Honorable mention goes to Wisconsin for winning yet another Big Ten title.
Best Women's Teams: Oregon and Texas
It was more of the same for Oregon's women. The Ducks won their sixth straight Pac-12 title with 176 points, beating runner-up USC by 31 (and third-place Arizona State by 101) and scoring in nineteen of the twenty-one events.
Texas completed an indoor/outdoor Big 12 sweep, leaving runner-up Baylor some 35½ points in arrears while leaving quite a few points on the table. Unlike Oregon, the Longhorns are not terribly balanced but their depth in the long sprints is unreal. Example: five Texas women scored in the 200 meters. They went 1-2-3 in the 400, led by a new collegiate record (see below), even while running the defending NCAA 400 champion in other events.
Upset: Arkansas women
According to the latest USTFCCCA computer rankings, Arkansas should have been sixth at the SEC Championships. They won. Whether that was truly an upset or not is open to some debate, but they did knock off the #1-ranked team. And they did it in dramatic style.
The Hogs were trailing Florida by 6½ points going into the second-to-last event, the 5000 meters, and needed to have a strong lead coming out. That was no easy task because the Gators brought middle-distance aces Cory McGee and Agata Strausa. The Hogs managed a 1-2-3 sweep while Florida took 4th and 5th, and that all but clinched the title. A third place in the 4×400 sewed it up.
Most Improved: Purdue
For many years the Boilermakers were not a very good team, and they hit rock bottom two years ago. Both the men's and women's teams were dead last in the Big Ten, and the men barely scored at all. This year the Purdue women finished third, their best finish in thirteen years, and the men were fifth (and one point shy of fourth, which would have been their best finish in eleven years). And they've made friends on campus: sprinter Raheem Mostert, the 100 and 200 champion, also led the NCAA in kickoff returns two years ago.
Individual Awards
Kevin Sully's Monday Morning Run usually hands out medals for the weekend's best performances. This being conference championship weekend, I'm going to score it eight places deep.
10 points: Trayvon Bromell (Baylor)
The freshman won the 100 meters at the Big 12 Championships in an eye-popping time of 9.77 seconds. It was very wind-aided (+4.2 meters per second) and at Lubbock's 3250 feet of altitude (992 meters), so take it with a grain of salt. But it's still 9.77 and that's moving. This wind/altitude converter says it's worth about 9.95 at sea level in still air, or only a step behind Justin Gatlin's winning effort at Sunday's Shanghai Diamond League meet.
"Wind or no wind, you still have to set for the perfect race to end up running the times you get," Bromell said. "In an outdoor environment, you're going to get wind-aided times, but you still have to be the type of person to go out there and run it."
Times are basically a proxy competition against other foes. What really matters is how Bromell competes against those foes at the NCAA Championships. He's probably the favorite since Alabama's Diondre Batson came up injured at the SEC Championships. To me, the most meaningful thing about Bromell's time is to show how far he's come. Just under a year ago he wowed with a 9.99 time with a similar wind (+4.0) and at a similar altitude (1500 meters). Improving 0.22 seconds is massive.
8 points: Courtney Okolo (Texas)
The sophomore won the 400 meters at the Big 12 Championships with a time of 50.03. That's a new collegiate record and the current 2014 world leader. It's a remarkable improvement for Okolo; her PR entering the meet was 51.04, and she ran a meet-record 50.76 in her qualifying heat. She's a sophomore and should be rapidly improving, but you wonder how much Lubbock's altitude helped her. On the other hand, it was breezy and that never helps in the 400. In any case, it sets up a great NCAA showdown with Oregon's Phyllis Francis, who set the collegiate indoor record at the NCAA indoor championships (also with some help from Albuquerque's thin air).
And don't forget Ashley Spencer, Okolo's teammate and defending NCAA champion. Spencer's career best time of 50.28, run at last year's NCAAs, isn't that much slower than Okolo's scorcher (especially considering the altitude) and she's mostly run relays and sprints so far this outdoor season. The women's 400 at the NCAAs looks like it will be an awesome race.
6 points: Lawi Lalang (Arizona)
Lalang won a single-day distance double for Arizona on Sunday at the Pac-12 Championships. In the 1500 meters he beat Oregon's Edward Cheserek, the first loss in a college championship for the precocious freshman. Lalang ran from the front and held off a late charge from Cheserek, and both destroyed the old meet record (3:38.53, set by Lalang last year), going 3:36.34 and 3:36.50. Time is incidental in a race like this but they do happen to be the two fastest of the year. Lalang came back and won the 5000 in a relatively easy fashion over Oregon's Trevor Dunbar and Eric Jenkins; Cheserek had been entered but withdrew, at least in part to keep Oregon from running up the score.
5 points: Olivia Ekpone (Texas A&M)
Ekpone won four events at the SEC Championships (100, 200, 4×100 and 4×400), an impressive weekend's work considering that the SEC has most of the nation's top sprinters and sprint relays. She was most impressive in the 200, where she buried the field and ran 22.23 to go to #3 on the all-time collegiate list.
4 points: Deon Lendore (Texas A&M)
Lendore won the 400 at the SEC Championships and ran on winning 4×100 and 4×400 relays. Not only did he help his relays defeat archrivals Florida and LSU and pile up the points to win the team title, but his winning time in the 400, 44.36, is the fastest in college track since 2005. He's now #7 on the all-time collegiate list.
3 points: Ryan Crouser (Texas)
Crouser also won a double, in the throws at the Big 12 Championships. He joined the shot put's 70-foot club with a 21.39 meter (70′ 2¼") heave, the first collegian to do so since Arizona State's Ryan Whiting in 2010. He won the discus with 63.90 meters (209′ 8″), which makes him the first collegian over both 70 and 200 feet in a season since Whiting in 2008 and the first to do it in a single meet since SMU's Janus Robberts in 2002. Both are PRs, which is no small matter for a man as accomplished as he is. Crouser is the overwhelming NCAA favorite in the shot and has become a contender in the discus.
2 points: Shelbi Vaughan (Texas A&M)
Vaughan had a dismal freshman year for someone so highly touted out of high school (she was 4th in the discus at the 2012 Olympic Trials) but has come back strong this year and improved significantly. She won the discus at the SEC Championships with 63.60 meters (208′ 8″), a PR by more than nine feet and the furthest thrown by a collegian in this century.
1 point: Wayne Davis II (Texas A&M)
Davis won the 110 hurdles at the SEC Championships over tough competition which included the last two NCAA indoor champions, Omar McLeod (Arkansas) and Eddie Lovett (Florida). His winning time of 13.23 is exactly the same as the winning times in the year's first two Diamond League meets.