No Comments
Bracketology: Cutting Down to the Elite Eight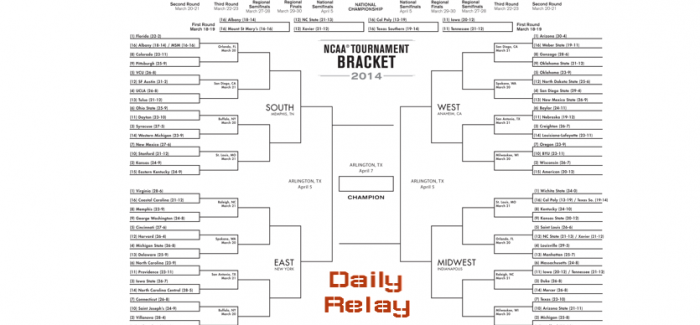 Beginning during last week's NCAA basketball tournament, I came up with a simple idea: what if this matched up great track athletes from each university? I've now gone through two rounds and have a sweet sixteen.
This is how it workds: I started with the bracket for this year's basketball tournament. Each "game" matches up great track and field athletes in each university's history, with the winner decided by career accomplishments and a subjective decision of who was "better".
But the key is that once an athlete has been used, he or she cannot be used again. So, for example, Ohio State will keep Jesse Owens in reserve until he's really needed. Thus the "best" athlete in each school's history might not come up until later rounds–-but they might have to be used in early rounds to get past a tough opponent, leaving the team vulnerable in later rounds.
The sweet sixteen…
Pittsburgh vs UCLA
Pittsburgh got to the Sweet Sixteen using 30s half-miler John Woodruff and 80s hurdler Roger Kingdom. UCLA got here using 80s and 90s sprinter/hurdler Gail Devers and 80s sprinter Florence Griffith Joyner.
In this round, Pittsburgh brings Trecia-Kaye Smith, who won seven NCAA championships in the long jump and triple jump between 1996 and 1999, and was named to the NCAA's Silver Anniversary team in 2006. She competed for Jamaica on the international level for more than a decade and won the triple jump gold medal at the 2005 World Championships.
UCLA brings Kevin Young, who won two NCAA titles in the 400 hurdles and went on to win gold at the 1992 Olympics and 1993 Worlds in the same event. His world record, set at the '92 games, still stands.
Winner: UCLA
Ohio State vs Kansas
Ohio State has already used 30s high jumper Mel Walker and 80s-90s quarter-miler Butch Reynolds. Kansas has used 30s decathlete Jim Bausch and Al Oerter, the greatest discus thrower of all time.
Kansas has produced some great distance runners–Wes Santee, Glenn Cunningham, Billy Mills–but none greater than Jim Ryun, who dominated the mile in 1966 and 1967 like few athletes ever have.
Ohio State answers with Glenn "Jeep" Davis, one of the most versatile athletes in track history. He set world records in three different events: the 200 meter low hurdles, the 400 meter hurdles, and the flat 440 yards (the only man to ever set world records in the latter two distances). He won four US championships in the 400 hurdles and two Olympic gold medals.
Winner: Ohio State
Virginia vs Harvard
Virginia has already used 80s half-miler Paul Ereng and 80s long distance runner Margaret Groos. Harvard has used turn-of-the-century sprinter Bill Schick and 20s long jumper Ned Gourdin.
Virginia brings two-time NCAA 800 meter champion Robby Andrews, one of the most electrifying middle-distance runners in recent college history. He won both of his collegiate titles, indoors in 2010 and outdoors in 2011, by mere inches with mad come-from-behind rushes on the homestretch, and anchored relays for Virginia in much the same way. Since leaving college early, he's struggled through injury and has yet to make a US team for the Worlds or Olympics.
Harvard brings Meredith Rainey-Valmon, who has much in common with Andrews: she won two NCAA championships, both in the 800 meters, one indoors and one outdoors. But she did a lot more after college, winning three outdoor and two indoor US national championships between 1990 and 1996, and placing as high as fifth at the World Championships.
Winner: Harvard
North Carolina vs Villanova
North Carolina already used hurdler Allen Johnson and long-distance runner Shalane Flanagan. Villanova has used 80s miler Sydney Maree and 50s miler Ronnie Delaney.
North Carolina is represented by miler Jim Beatty, who made his biggest impact after college. Running with the early-60s Los Angeles Track Club, Beatty was the first to run an indoor mile in under 4 minutes, and later in that same year (1962) he set American records in five different events in the span of sixteen days. He won four US national championships in the mile, but failed to make the 1964 Olympic team.
Villanova is represented by miler Marcus O'Sullivan, who is also best known for his indoor exploits: he held the world indoor record for the 1500 meters, won the World Indoor Championships three times, and won the Millrose Games' Wanamaker Mile six times. He also won two NCAA championships and ran on four Irish Olympic teams.
Winner: Villanova
Arizona vs San Diego State
Arizona has already used current Wildcat Lawi Lalang and 60s/70s distance runner George Young. San Diego State has used 30s pole vaulter Jack Rand and 70s long jumper Arnie Robinson.
Arizona is represented here by Brigetta Barrett, the greatest collegiate women's high jumper of all time. Besides her six NCAA titles and collegiate records, she won Olympic and World Championships silver medals in the summers after her junior and senior year.
San Diego State is represented by Willie Steele, the 1948 Olympic long jump champion. His collegiate years were interrupted by World War II, and he only won two NCAA championships. He was the world's #1 long jumper in 1947 and '48, as determined by Track and Field News, and probably would have been in 1942 and '46 if TFN's world rankings had been in existence. His career best jump was the closest anyone had come to Jesse Owens' world record in twelve years–and it still stands as an SDSU school record, not even beaten by 1976 Olympic champion Arnie Robinson.
Winner: San Diego State
Baylor vs Oregon
To get this far, Baylor had to use two of the greatest quarter-milers of all time, Michael Johnson and Jeremy Wariner. Oregon used 70s thrower Mac Wilkins and distance legend Steve Prefontaine.
Baylor doesn't have much firepower left, and will call on Michael Blackwood, a 400 meter runner whose career highlight is a bronze medal at the 2003 World Championships. Oregon has plenty and is represented by Harry Jerome, the two-time NCAA sprint champion who won Olympic 100 meter bronze in 1964. Jerome held world records at both 100 yards and 100 meters.
Winner: Oregon
Kansas State vs North Carolina State
Kansas State got here with high jumper Erik Kynard and 50s sprinter Thane Baker. NC State got here with 90s distance runner Laurie Gomez-Henes and Joan Benoit, America's greatest ever woman marathoner.
Kansas State is represented in this round by shot putter Elmer Hackney, who won the 1938 and 1939 NCAA shot put titles and broke the US record. He might have made a serious impact on the 1940 Olympics had they been held. He went on to play seven NFL seasons as a running back.
North Carolina State's best remaining athlete is Betty Springs (Geiger). She won a pair of NCAA championships in 1983, the 5k and 10k, plus the very first NCAA championship ever held for women, the 1981 cross country title, and the 1983 championship as well. She won the 1986 USA title at 5000 meters.
Winner: Kansas State
Tennessee vs Michigan
Starting in the "first four", Tennessee has used up three athletes so far: hurdles world record holder Aries Merritt, 90s pole vaulter Tim Mack, and 80s/90s hurdler Lavonna Martin (Floreal). Michigan got here with 80s long-distance runner Lisa Rainsberger and 20s long jumper DeHart Hubbard.
Each of these two teams will use the greatest in their school history in this round. Tennessee will be represented by Justin Gatlin, who has won Olympic and World Championships gold in distances ranging from 60 meters to 200 meters, and has come back to being one of the world's best after a four year doping suspension.
Michigan is represented by Ralph Rose, who set the shot put world record in 1909 and held is for 16 years. He won two Olympic shot put gold medals plus a silver, and won Olympic medals in the discus and hammer as well. He won seven US national titles across three events (shot put, discus, javelin) and might have won more but was struck down by typhoid fever at the age of 28.
Winner: Michigan