2 Comments
Best (and Worst) of the Year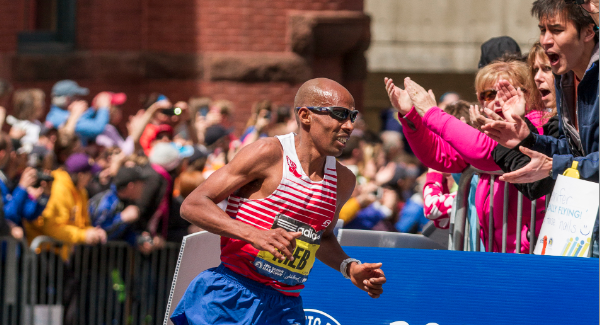 Jesse Squire | On 30, Dec 2014
Yesterday I published our picks for the best athletes of the year in each of the US states and Canadian provinces. What about the best and the worst of 2014 in other categories? I've got a whole bunch for you.
Best Race
The nominees…
NCAA Indoor Championships Women's 4×400
The women's team championship came down to Texas and Oregon, who had the two best entries in the 4×400 relay. Whoever won the race would win the title. Texas had the lead at the final exchange, but Oregon's Phyllis Francis just edged past at the finish for a win of just 0.02 seconds. Both teams broke the collegiate record.
Boston Marathon
Two hopes come every spring: a horse will win the Triple Crown and an American will win the Boston Marathon. Sports fans have been waiting a long time for both. One year after the horrific events of the 2013 Patriot's Day classic was a day we had extra hope. If an American was going to win, we all figured it was going to be Shalane Flanagan. That hope went down the tubes in the Newton Hills. If an American man was going to win, it was going to be Ryan Hall. No way did Meb Keflezighi have a chance; he was less than six months removed from a 2:23:47 stinker in New York, the worst marathon of his career. He was old, broken down, over the hill.
Meb got a lead in the middle of the race. It grew. He was more than a minute ahead of the pre-race favorites, Dennis Kimetto and Wilson Chebet, but it seemed inevitable that they would chase him down when they decided to get rolling. While Kimetto dropped out with injury, Chebet started closing down the distance. The gap was down to thirty seconds. Twenty seconds. Ten seconds. 6.3 seconds with one mile to go. When a lead crumbles late in a marathon, the hounds always catch the hares. But then, a miracle happened.

World Relays Men's 4×400
The very first IAAF World Relays were held in the Bahamas, and ended with the Bahamas battling it out with the Americans. The stadium was rockin'.

NCAA Outdoor Championships Men's 5000 meters
Oregon's Edward Cheserek and Arizona's Lawi Lalang raced each other three times during the collegiate season and split their first two meetings. Cheserek scored an unexpected upset in the 5000 meters at the NCAA Indoor Championships, then Lalang won a seesaw battle in the 1500 meters at the Pac-12 Championships. The rubber match was the 5000 at the NCAA Outdoor Championships, and the last lap was tremendous.
Simpson vs Rowbury at Weltklasse
US distance running has progressed to the point that the 1500 meters at the biggest meet of the year featured two Americans literally flooring each other at the finish.

And the winner is…
Meb's shocker at the Boston Marathon. There are great races, and there are great stages, and then there was this. I found myself standing up and screaming at the television screen as Meb approached the final turns. It will go down as one of the greatest moments in the history of marathons and Boston sports.
Field Event Competition of the Year
No need to discuss nominees; the clear winner is any Bohdan Bondarenko vs Mutaz Essa Barshim high jump showdown. They met again and again and again and beat each other's brains out every time. They both probably kept each other from breaking the world record, because they had to take so many attempts at high bars just to win the competition.
Clusterf**k of the Year
Track and field has a bumper crop of nominees in 2014 for this ignominious award. Let's take a look at the unusually strong list of contenders.
The Albuquerque DQs
It's an unfortunate fact of life that everywhere and in everything, there is one set of rules for some people and another set of rules for everyone else. Power and privilege matter. One reason that sports are so massively popular is that they are a place where we expect otherwise, where everyone is held to the same standard. It didn't quite happen that way at the USATF Indoor Championships.
Contact occurred on the last lap of the women's 3000 meters between Gabriel Grunewald and Jordan Hasay, and a yellow flag went up. The officials conferred and decided that no foul occurred. Alberto Salazar, Hasay's coach, protested and was denied, then went to the jury of appeals and was denied. Absent any new and conclusive evidence, it's supposed to be over right then and there. But Salazar appealed again and this time Grunewald was disqualified and thus bumped off the US team for the World Indoor Championships. USATF's press release cited "additional video evidence" as the impetus for its reversal.
Various observers to the goings-on say that Salazar, a well-placed man in the powerful Nike corporation, bullied the jury of appeals as it was conducting its business (and that Paul Doyle, Grunewald's agent, also interfered with their deliberations). One well-placed individual who knows the officials involved said "the officials who made the decision and appeal are certain they made the correct call [to not disqualify anyone]…When it got kicked upstairs to women's chair [Sue Humphreys], that's when things changed." One of the IAAF's most senior officials told me that this video (approx. 10:09 mark) was "the best view of what happened" but would say no more, indicating to me that it was the only view of what happened—that no "additional video evidence" existed. And that video showed contact that wouldn't be cause for a DQ anywhere outside of the United States, and that it appeared to be at least as much Hasay's fault as Grunewald's.
The men's 3000 meters also ended up with a disqualification but they got the wrong guy. Salazar protested that Ryan Hill interfered with Galen Rupp, but officials got people mixed up and DQed last-place Andrew Bumbalough instead.
People were pissed. And I mean f***ing pissed. The general consensus was that Salazar's athletes were treated with kid gloves because of Salazar's perceived influence; true or not, the appearance of preferential treatment is among the most poisonous things in sports. Athletes were ready to walk off the track. Doyle threatened legal action and it looked like it had a pretty good chance of succeeding. It all sorted itself out when Hasay personally removed her protest and Grunewald was reinstated as champion. (Bumbalough was reinstated, but not until December's USATF national meeting.)
ARD's Doping Revelations
ARD, a German investigative journalism television show, exposed systematic doping within virtually all Russian sports and track and field in particular. It showed that coaches and national officials supply athletes with banned substances and practices, that positive tests regularly get buried, and that two-time World Marathon Majors champion Liliya Shobukhova was blackmailed to the amount of $600,000 to make a positive test go away. The program showed that the Russian Athletics Federation president and IAAF treasurer, Valentin Balakhnichev, was involved in all of this, as was Vladimir Putin.
The program also pointed to the IAAF ignoring suspicious blood tests carried out on more than 150 athletes between 2006 and 2008.
Predictably, the IAAF denied the allegations and the Russian Athletics Federation called them lies and threatened legal action. WADA is now investigating the IAAF. Balakhnichev has stepped down from his IAAF post pending the investigation, as has Papa Diack (son of IAAF president Lamine Diack) on the heels of a report that he extorted $5 million from Doha's ultimately unsuccessful 2017 World Championships bid committee.
USATF Board of Directors Does What It Wants
Bob Hersh has been USATF's representative on the IAAF Council since 1998 and has worked with the IAAF in various capacities since 1984. Last year he was elected as the IAAF's first vice president, which makes him the highest-ranking American ever in the 102 year history of the IAAF. He is universally respected and has built up very good relations in an organization that is even more political and relationship-based than the US Senate.
That position as nominee for IAAF Council is periodically up for re-election. It used to be chosen by the USATF membership, but that power was given to the Board of Directors in USATF's big 2009 reorganization. David Griefinger, former USATF general counsel, figured out that USATF President Stephanie Hightower was going to make a power grab and get that position from Hersh. She is being term-limited out as president in two years, but the IAAF representative position guarantees a spot on the Board of Directors. Anyone on the board could be elected as chairman, which is where the real power lies, so if successful in gaining Hersh's job then Hightower could remain in that position for quite some time.
At December's USATF Annual Meeting, Griefinger pushed through a new regulation that shared power in choosing IAAF representative. The membership would vote and the Board of Directors could only overturn that vote by a two-thirds majority. The membership voted: Hersh 392, Hightower 70. After everyone had gone home, it was revealed that the Board had voted: Hightower 11, Hersh 1.
USATF leadership has given its membership many middle fingers over the years, but I don't think there has been any bolder demonstration that they will do what they want and there's nothing the rest of us can do about it. Multiple lawyers have considered legal action and there is talk of recall votes at next year's annual meeting. But Hightower has managed to get this far despite her many detractors and she'll probably figure out how to weather this storm too.
World Marathon Majors DQs
Shobukhova couldn't keep that doping positive buried forever and in April it was announced that she was facing a ban due to biological passport abnormalities, with her results annulled from 2009 to present. That means her two World Marathon Majors titles in 2010 and 2011 would be annulled and series officials would seek a return of the $1,000,000 prize that came with them.
Just before the New York City Marathon, news leaked that presumtive women's WMM champion Rita Jeptoo had tested positive for a banned substance, throwing this year's series into doubt. The B-sample came back positive last week and the WMM will await her final hearing before awarding any money. Jeptoo also won last year, but will apparently keep it since none of those results will be anulled.
Outside of the Olympics, marathons are about the only things that generate domestic media coverage of track and field. Half of the World Marathon Majors are contested in the USA and are among the biggest annual sporting events in some of the world's biggest cities.
Gatlin vs Gay
The men's 100 meters gets an outsized amount of attention on the Diamond League circuit. The absence of Usain Bolt and Yohan Blake meant the headline names were Justin Gatlin and Tyson Gay. The headlines got a lot of negative responses because of these two athletes' pasts and presents.
Gatlin served a four-year doping ban from 2006 to 2010, but still maintains that he never knowingly took any banned substances and on Twitter he was, um, less than apologetic about his ban. (His tweets are now protected and I cannot share any examples.) The fact that he had a career-best year at the age of 32 only added to the fire.
Gay returned from a two-year doping ban that was knocked down to one year due to aiding USADA officials in their pursuit of his coach, Jon Drummond (who was recently hit with an eight year ban). Gay got a lot of grief for the shortness of his ban, but at least he had the decency to have a short and mediocre season. In defense of the USADA and WADA policy of shortening bans, I think it's worth pointing out that it's how things work in the criminal justice system; for example, Sammy "The Bull" Gravano participated in dozens of premeditated murders but only served five years in prison because he aided prosecutors in taking down the Gambino crime family. But it's not good for your sport when one of the nice things you have to say about it is a comparison to the Mafia.
And the winner is…
USATF Board of Directors' middle finger. Some of the other issues may be more problematic in the short term, especially the doping one. But I think the ouster of Hersh from the IAAF power structure will do great damage USATF's interests in the long term. The two biggest jobs for any USOC-related governing body are raising your NGB's position within its international governing body, and doing the same with regard to position within the pecking order of US Olympic sports. To say that Hightower lacks the political and business skills to meet that challenge is a serious understatement.
The Martin McGrady Award
This dubious award is for a combination of indoor excellence and outdoor irrelevance. Its namesake is universally acclaimed as the greatest ever at the once-standard indoor distance of 600 yards, but his outdoor career accomplishments amount to jack-squat. The nominees:
Marvin Bracy
Bracy, who left Florida State early to turn pro, dominated the domestic indoor circuit and won a silver medal at the World Indoor Championships. His best outdoor time was 10.14 seconds.
Genzebe Dibaba
Dibaba set three World Indoor Records over a span of fifteen days, then won as she pleased at the World Indoor Championships. She won a grand total of two races on the Diamond League circuit.
Nia Ali
Ali won World Indoor Championships gold in the 60 hurdles with a time of 7.80 seconds, good for #5 in US history. Slowed by a tweaked hamstring in her lead led, she barely squeaked into the final at the USATF Outdoor Championships where she proceeded to finish last. She scored no points on the Diamond League circuit.
Ivan Ukhov
Ukhov fits this pattern so well that the award might be renamed for him. He threatened the World Indoor Record and cleared 2.40 or higher three times. He won the Diamond League opener in May with another 2.40 jump, then never finished higher than third for the rest of the circuit.
And the winner is…
Marvin Bracy. I'm not aware of any injury reported for Bracy, which makes his indoor-to-outdoor dropoff completely inexplicable.
Biggest upset
The nominees…
Richard Kilty's World Indoor win
There was no reason to expect that Kilty could win the 60 meters at the World Indoor Championships. He finished just third at the UK Trials and only got on the British team when James Dasaolu withdrew due to injury. His PR of 6.53 indicated he'd have to be at the top of his game to make the finals. He PRed with 6.52 in the semis, then shocked the world with a 6.49 win in the finals.
Chanelle Price's World Indoor Shocker
Price was a high school star who never seemed to quite live up to expectations. She ran a then-record 2:01.61 for 800 meters as a high school senior in 2008 but never finished higher than third at the NCAA Championships (and only won a pair of SEC titles). In her first pro season, she didn't make the finals at the USATF Championships. But this year was totally different; she ran second at two major invitationals and set a PR in second at the USATF Indoor Championships. At the World Indoors she only made it to the final as a time qualifier, but led from the gun and held them all off for the win.
Meb's win in Boston
No further explanation needed here.
Devon Allen Wins Hurdle Double
Oregon's star wide receiver got a late start on track season because, well, he's a star wide receiver. He wasn't on anyone's formcharts as a potential scorer in the high hurdles at the NCAA Championships until he qualified out of the first round, and even after getting into the final he wasn't among the favorites. He shocked everyone with a win and a meet record; the old meet record was held by Aries Merritt, who now holds the World Record. It made Allen the third-fastest teenager of all time, behind only Dayron Robles and Liu Xiang, the world record holders before Merritt. He then went on to the USATF Championships and beat every single one of the nation's best hurdlers, becoming the youngest winner since Renaldo "Skeets" Nehemiah, the man generally considered as the greatest high hurdler of all time.
Gia Lewis-Smallwood Beats Goliath
Sandra Perković opened the season with the longest discus throw since the fall of the Berlin Wall, and threw even further two more times over the summer. She was undefeated coming into the Glasgow Diamond League meet and figured to be essentially unbeatable. Gia Lewis-Smallwood, who was just fifth at the Worlds in 2013, took the lead in the second round, lost it to Perković in the fourth round, then recaptured in with a PR in the fifth round. It stood up for the win, Perković's first Diamond League defeat since July of 2012.
And the winner is…
Gia Lewis-Smallwood. As much of a shocker as Meb's Boston win was, he's someone who has been to the mountaintop before. Lewis-Smallwood's win over Perković was a career breakthrough of immense proportions.
Best New Idea
The IAAF World Relays was the first new development of any importance by the IAAF in five years and a brilliant idea. The rest of the world finally got hip on something the USA discovered in 1895: relays kick ass.
Nelson Trophy
This is for outstanding contribution by a writer, official or administrator, and it's an easy choice. Hans "Hajo" Seppelt is the man who recently exposed Russia's massive doping system and the possibility that IAAF officials took bribes to cover up positive tests (see Clusterf**k of the Year).
Best Video Fail
These are all winners.
Penn Relays men's 4×400 cockup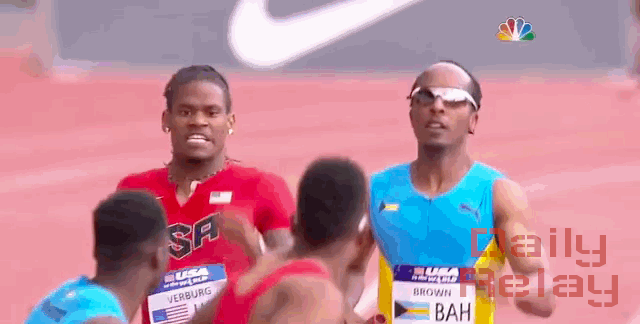 Full video from USATF.tv
Hurdle crash at the Colorado state meet

World Relays women's 4×1500 secret audio recording