No Comments
America's Track & Field Stadiums: Vermont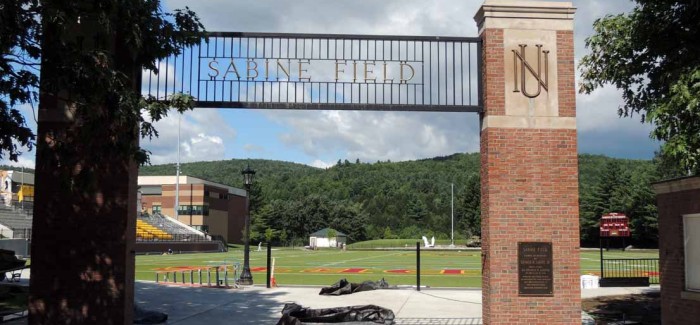 Jesse Squire | On 13, Apr 2016
Welcome back to our 50-part series on America's track and field stadiums and facilities. In anticipation of the Boston Marathon, this week we go to New England, and today we look at Vermont.
Largest: Sabine Field
Norwich University's Sabine Field seats 3,000, which makes it the largest track facility in Vermont. Of the largest track stadiums in each of the fifty states, this is the smallest. Despite the fact that Norwich does not compete in track and field, the stadium includes a full-size all-weather track. It is probably the only track facility in America to feature a World War II-era M4 Sherman tank, "Sabine Sally".
Track-specific: Livak Track
There are just a bare handful of track-only facilities in Vermont. So far as I have been able to determine, the University of Vermont's Frank H. Livak Track is the largest. It is in its fourth season of use and its permanent seating has a capacity of 350.
Most picturesque: Dragone Field
Just about everything at Middlebury College is gorgeous and its Dragone Field is no exception. Other than a grassy berm it has no seating to obscure views of the Green Mountains; its only permanent structure is the enclosed timing stand.