No Comments
America's Track & Field Stadiums: Ohio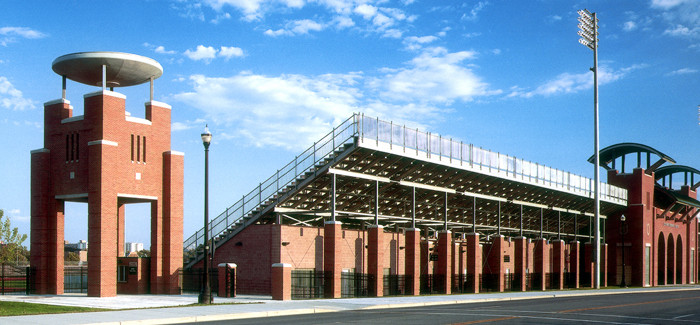 Jesse Squire | On 22, Mar 2016
The best track facility in Ohio is named after the "Buckeye Bullet".
With the indoor season now officially over, the focus moves outdoors. It's time to look at where you're going to be watching the action, in a fifty-part series on America's track and field stadiums and facilities.
I'm starting this series where I know it best, in my home state of Ohio.
Largest: Welcome Stadium
At 11,000 capacity, Dayton's Welcome Stadium is the largest stadium in Ohio with a track in it. Located on Edwin C. Moses Boulevard, it hosted the Ohio high school championships for a number of years. While large, it's just big metal bleachers around an artificial turf field and not a great place to watch a meet or run in one.
Track-specific: Jesse Owens Memorial Stadium
"The J.O." is listed as a capacity of 10,000 and it fills up every June for the annual state high school championships. It is not an IAAF-certified facility but wouldn't require much work to get there, and Columbus submitted a bid for the 2008 Olympic Trials with this stadium.
The field events are well-placed, with dual pole vault runways in one "D-zone" and an expansive high jump apron in the other, and dual long/triple jump runways along the backstretch. Throwing events could be held within the oval, but currently only the javelin throw is. The seating on the main grandstand has that steep pitch necessary to get a good view of all eight lanes.
Most picturesque: Selby Field
Ohio has a lot of beautiful small college stadiums, but the best is probably Selby Field on the campus of Ohio Wesleyan University. Opened in 1929, OWU calls it "the oldest facility in the nation constructed to Olympic specifications and remaining in its original configuration."
Honorable mention goes to Heidelberg's Hoernemann Stadium, a tight little bandbox tucked away in a Tiffin creek valley, and Denison's Deeds Field, because everything in Granville is pretty.
Gone but not forgotten: Ohio Stadium
Ohio Stadium's distinctive horseshoe layout exists because it was built to accommodate long 220-yard track straightaways (look at the foreground in the photo). It hosted the Ohio high school championships from its opening in 1923 until the track was removed in 2001. In the 1980s and 90s the state meet regularly drew in as many as 25,000 fans. The hundreds of local newspaper reporters who covered the state meets liked Ohio Stadium because it was the only place with a pressbox big enough to accommodate all of them.
Ohio's record attendance for a track meet was not at Ohio Stadium, though, but at Cleveland's Municipal Stadium. 50,000 came out to see a post-Olympic meet in 1932.