One Comment
5 Questions with Josphat Boit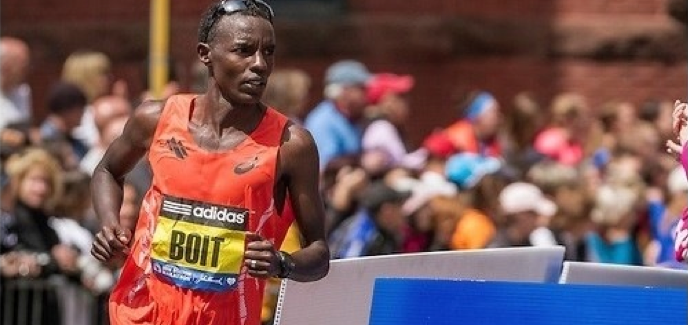 On

April 24, 2014

http://patprice.com
Welcome back to 5 Questions, where we pick the brains of people from all areas of the running scene. Today, we were lucky enough to catch up with Josphat Boit, who helped Meb Keflezighi break away in the 2014 Boston Marathon Monday. Check out his Facebook fan page and follow him on Twitter @Boit
5 Questions with Josphat Boit
1. Daily Relay: Congratulations on your strong run at Boston. The ending likely wasn't what you wanted, but how did it feel to be leading an event like that (and to PR in 2:12:52)?
Josphat Boit: Honestly, going into Boston, I could have bet you my house that I wasn't going find myself in the lead. But the way the race unfolded, I found myself ahead and it was like a dream… a really great dream.
2. Daily Relay: You know Meb and have trained with him. Had you two discussed strategy at all before the race? And did you speak during the race once you broke away?
Josphat Boit: I'm so happy and proud of Meb for his amazing performance. His win was well deserved. Before the race, Meb and I did not talk race strategy. But I do know that he likes to run consistent, without crazy surges, and he runs his own race. During the race, the Ethopians and Kenyans were looking at each other and throwing in small surges, to see who would take the pace. It seemed that they were ignoring the Americans and other elites. At one of the water stations, Meb kept his pace and I went with him. That is when we found that we had pulled away from the group. Then we just started working together automatically. We didn't really talk, but we do know one another and every once in awhile, Meb would give me a hand signal to stay close. The only thing that was actually said was when he asked me what the half-way split was and I told him.
3. Daily Relay: You have had some strong runs recently, specifically with a 61:31 at the World Half Championships. How did that race go in your opinion, and did that set you up mentally to compete at Boston?
Josphat Boit: This year has been really great for me. I have been healthy and running well. I was so excited to represent USA for the first time. I was also glad I got a PR at Worlds, but I was a little disappointed because I wanted to place higher and run even faster. That fueled me in Boston to smash my marathon PR. Going into the race, I talked with my coach (Andrew Kastor), and we thought I was fit enough to try to go for a 2:08-2:09 pace. For now, I guess I have to wait for the next opportunity to hit those times.
4. Daily Relay: You ran 2:13:14 last year for 2nd at the USA Marathon Championship. I'd have to think the goal now is to make the marathon team for the 2016 Rio Olympics. Is that your goal, and when did you get your citizenship?
Josphat Boit: Absolutely! Everything we have been doing is geared toward making that 2016 team. I got my USA citizenship at the end of 2012. It would be a dream come true to represent the stars and stripes at such a huge level!
5. Daily Relay: You've been training with the Mammoth Track Club. What is it like training up there and who have you been doing most of your runs with?
Josphat Boit: The Mammoth Track Club has just become the Asics Mammoth Track Club as Asics became our title sponspor. Andrew and Deena Kastor have taken the reigns and do a tremendous job coaching and organizing the team. As a new team, we are small but packed with tremendous talent. Right now, the team has three guys: Gabe Proctor (first American in the Asics LA Marathon with a 2:16), John Gilberson (a 28:30 10k guy) and myself; and four girls.
Training in Mammoth is amazing. There are so many trails that I can run somewhere new everyday. There are 8 mile loops, 10 mile loops, whatever you want, you can find it. There is also a new track to do speed work. We can run as high as 9,000 feet or we can go down 30 minutes and run at 4,000 feet. A lot of other elite groups and college and high school teams come here to train, so the small town is filled with runners, which is a really cool environment.
Mammoth is the place to be! I have only been living in Mammoth full-time for one year and I can already see big results.
6. Daily Relay: What is up next for you, and what is your ultimate takeaway from Boston?
Josphat Boit: I am taking a few weeks off and then I will probably hit some USA Championship road races, then a fall marathon, though we haven't decided which one.
In Boston, I learned that it feels great to lead. I know it will feel even better to lead at the end of the race! But I gave it my best and that is all I can ask of myself. And if an American can win Boston, it gives me confidence that we can win the other majors too.
If you enjoy 5 Questions, check out the archive of previous interviews over at Writing About Running