One Comment
5 Questions with Craig Engels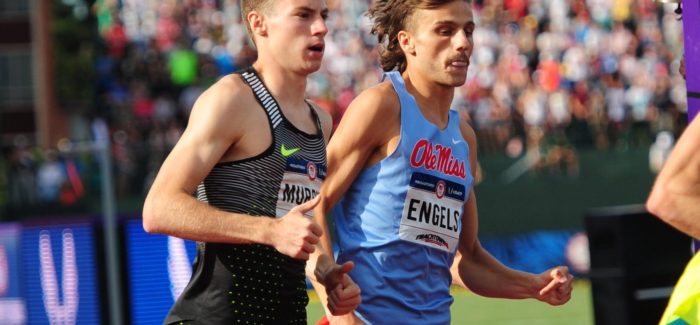 Pat Price | On 07, Jul 2016
Photo: Cheryl Treworgy (PrettySporty.com)
Welcome back to 5 Questions, where we pick the brains of people from all areas of the running scene. Today, we were lucky enough to catch up with Craig Engels, who is coming off a strong performance at the Olympic Trials Men's 800. He'll lace up for the 1500 prelims today. Follow him on Instagram (@craigathor) and Twitter (@craigathor)

Watch the Men's 800 Final above (courtesy of NBC Sports)
5 Questions with Craig Engels
1. Daily Relay: Congratulations on a big performance. 4th is not top 3, but a strong result nonetheless. What are your takeaways from the final?
Craig Engels: Thank you! You know, I was probably the only 4th place finisher at the Trials who was happy. This experience has just been out of this world, and I am so thankful for all the opportunities given to me this season, and to be running injury free. Going into the final, I didn't really have any set goals, because making it there was a big enough surprise for me. I decided to race as if I had nothing to lose, and prove to everyone why I was in that final. I was so pumped that last 100 meters when I had something left in the tank, but a little heartbroken that I was so close to making an Olympic team, with a couple of the best guys in the world. I wouldn't give this Olympic Trials meet away for anything, because my family was able to be there, and I gained unparalleled race experience.
2. Daily Relay: You came into the final after a successful protest in the semi final. What happened there?
Craig Engels: It's a little much to type in one paragraph, you would have to go watch videos from all angles, and talk to the officials about their decision. In summary, my coach protested the fall (as any coach would have), because we believed I had been impeded. Once our protest was in, it was out of our hands (and in the officials). After all was said and done, I was allowed in the final. I went home, feeling that they had made the correct decision, but after watching the videos from all angles and hearing both sides, I really believe that both of us should have been let in, or neither should have. I believe that I was impeded, and all the evidence shows that, but after hearing the officials explanation, I think the rules should have allowed him (Shaquille Walker) into the final as well, after he was impeded by another runner in front of him. Shaquille is one of the nicest guys I have ever met, and he will show the running world that he deserved a second chance, like I was awarded.
3. Daily Relay: The way you got here, from Reagan High in Winston-Salem to NC State, and now to Ole Miss, hasn't been straightforward, but you seem to be in a great place. What is it about your situation at Ole Miss that is working?
Craig Engels: I am able to train with some of the best guys in the country on a daily basis, with one of the best coaches in the country, so that makes the running aspect pretty smooth. Aside from running, Oxford, Mississippi is an amazing place to live, and shockingly beautiful. I have lived in a few places and traveled to hundreds, but Mississippi might be one of my favorite states in the country (aside from North Carolina, of course). The injury free running, mixed with the relaxed lifestyle, adds up to make an enjoyable atmosphere and stress free life.
4. Daily Relay: What are your plans immediately beyond this race?
Craig Engels: I have decided to run the 1500 meters on Thursday, July 7th, for one more shot at making an Olympic team. Racing 6 times in 10 days will be a challenge. This is the race I was looking forward to in the trials, so I am excited that I was bumped in.
5. Daily Relay: Any more summer racing planned?
Craig Engels: I will get a much needed break (unless I make the Olympic team that is) after the meet is completed, and then will get ready for Cross Country in the fall. I think that this stretch of racing will set me up well for next track season, and maybe I can come back strong for the World Championships next summer.
If you enjoy 5 Questions, check out the archive of previous interviews over at Writing About Running