No Comments
The Weekend's Best Matchups: Millrose and IAAF Indoor Tour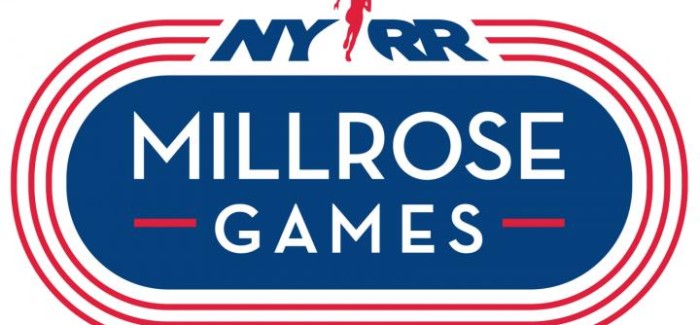 Jesse Squire | On 19, Feb 2016
With collegiate action scaling back in preparation for next week's conference championships, the weekend's best competitions are all in two meets that represent the culmination of the brief indoor invitational circuits.
One of them is the Glasgow Indoor Grand Prix, the final stop on the inaugural IAAF World Indoor Tour. The other is a name known to all sports fans, the historic Millrose Games.
As far as the best matchup of the weekend? Like The Highlander, there can be only one.
Nick Willis vs Matt Centrowitz
Men's Wanamaker Mile, NYRR Millrose Games
New Balance Armory Track & Field Center, New York
Saturday, 5:50pm
Meet website
Live coverage on NBC Sports Network from 4:00pm
These are two of the best milers in the world (in fact the two fastest of 2016) and a pair of rivals who know each other well. Last year's Wanamaker Mile was a thrilling duel between Willis and "Centro" over the last 150 meters, with the latter coming out ahead by just 0.09 seconds.
Glasgow Indoor Grand Prix
Emirates Arena, Glasgow, Scotland
Saturday, 12:00pm local time (7:00am ET)
Meet website
Webcast info
The final stop on the IAAF Indoor Tour is in Glasgow. The featured matchups, in chronological order…
Men's pole vault: Shawn Barber vs Thiago Braz
12:30pm local time (7:30am ET)
Barber, the 2015 World Champion for Canada, has scaled some big heights this winter and beaten the best, but he's been inconsistent and also lost to second-tier talent. Brazil's Braz is riding a hot streak and currently is #2 in the All-Athletics rankings.
Men's 1500 meters: Ayanleh Souleiman vs Bethwell Birgen
1:51pm local time (8:51am ET)
Birgen has run well indoors and put up some fast times in a pair of second-place finishes, but Souleiman is coming off a world indoor record in the 1000 meters.
Women's 800 meters: Melissa Bishop vs Joanna Jozwik
2:21pm local time (9:21am ET)
Bishop broke the Canadian indoor record on Wednesday in Ireland, while Jozwik posted the world leader last Friday in Poland.
Women's 60 meters: Dafne Schippers vs the clock
2:42pm local time (9:42am ET)
Locals will be pulling for new British record holder Dina Asher-Smith, but realistically Schippers has no peer in this race. She's improved to 7.00, a time bettered just thrice since the turn of the century. Consider the PR of sprint superstar Shelly-Ann Fraser-Pryce, 6.98, and you'll understand the zone the Dutchwoman is approaching.
Women's 60 Hurdles: Keni Harrison vs Nia Ali, maybe
3:51pm local time (10:51am ET)
When I say "maybe", I don't mean that Harrison is unbeatable, despite the fact that she's run the year's four fastest times. This is the hurdles which means anything can happen. By "maybe", I mean Ali, her best competition on the start list, might be there and might not. She's also on the start lists for the hurdles at the Millrose Games, just five hours later, and can't be in both places now that the Concorde is no longer in service. This is just one of the many examples of how track and field wants to be treated as a professional sport but does not act like it.
Men's 60 meters: Kim Collins vs Michael Rodgers
4:02pm local time (11:02am ET)
Similarly, Trell Kimmons is on the 60 meter start lists in both Glasgow and New York, but even if he's here he isn't one of the favorites. That falls on Collins and Rodgers, the top two men in the World Indoor Tour standings over 60 meters.
Men's 3000 meters: Mo Farah vs Augustine Choge
4:13pm local time (11:13am ET)
This is the meet's headline race. Farah's last race in Scotland, January's Great Edinburgh Cross Country, saw him finish second. So in 2016 he already has as many losses as he had in all of 2015, and Choge has a pair of big wins under his belt. Farah is the favorite as always, but this time not quite as big as usual.
NYRR Millrose Games
This meet is not part of the IAAF World Indoor Tour but is good enough that it should be, and remains the highlight of the domestic indoor season. USATF.tv will webcast the undercard races and NBC Sports Network will broadcast live from 4:00pm to 6:00pm. In order, the highlight matchups:
Men's 800 meters (3:07pm): Duane Solomon vs Brannon Kidder
This is a really good race and I'm surprised to see it on the "undercard". Solomon is a veteran half-miler who ran a very good 1000 meters last week, but surprisingly his indoor PR at 800 meters is significantly slower than that of Kidder, a senior at Penn State.
Women's Pole Vault (3:58pm): Demi Payne vs Sandi Morris vs Katerina Stefanidi
New world indoor record holder Jenn Suhr is not here, but these might be the next three best vaulters of 2016.
Women's 60 Hurdles (4:00pm): brianna Rollins vs Nia Ali Janay DeLoach
Rollins's strong start to the 2016 season makes her the favorite. Both Ali and DeLoach were right behind her in Boston last week, but will Ali be here or in London?
Men's 60 Hurdles (4:05pm): Omar McLeod vs Jarret Eaton
McLeod is the fastest in the field based on 2016 times, running it at Arkansas on their "fastest track in the world." Eaton ran his best time this year in Saskatoon, which is definitely not the fastest track in the world, so the race may be closer than it otherwise would appear. How much of an underdog is Eaton? He's unsponsored and represents the "Basic Track Club".
Women's 60 meters (4:11pm): Tianna Bartoletta vs Remona Burchell
This is a faceoff between Bartoletta, a former US champion at 60 meters, and Burchell, a former NCAA champion.
Women's 5000 meters (4:28pm): Molly Huddle vs Emily Infeld
This is the most underappreciated batlle of the weekend. Huddle and Infeld are the top two American distance runners right now (according to the ARRS competitive rankings), although both are just opening their indoor seasons and may not be truly sharp. Huddle is competitive with nearly anyone in the world at any distance from 3000 meters to the half marathon, and Infeld had a breakthrough season with a Worlds bronze last year. Infeld hasn't raced indoors for year and Huddle has never raced at the Armory, period.
Men's Long Jump (4:30pm): Marquis vs Marquise
Marquis is Marquise Dendy, America's rising long and triple jump star and 2015 Bowerman Award winner as the top athlete in college track. Marquise is Marquise Goodwin, the Buffalo Bills wide receiver who has made a highly competitive return to track and field and just missed qualifying for last year's World Championships.
Men's 400 meters (4:50pm): Bralon Taplin vs Vernon Norwood
This is a matchup of world leaders, Taplin at 400 meters and Norwood at 300 meters (run last week in Boston).
Men's 3000 meters (4:56pm): Ryan Hill vs Evan Jager
This is the deepest field of the evening, featuring pretty much all of the top American and Canadian 3k/5k type runners save Galen Rupp and Bernard Lagat. Two stand out, Bowerman Track Club teammates Hill and Jager. Some of Hill's greatest successes have been in indoor 3k races, and Jager has become such good steeplechaser that even the best Kenyans must treat him with great respect.
Women's Wanamaker Mile (5:21pm): Shannon Rowbury vs the clock
You can never tell how things are going to play out, but Rowbury looks head and shoulders above the field and has mentioned making a try for the American record, Mary Slaney's 4:20.5 from 1982(!).
Women's 800 meters (5:34pm): Ajee Wilson vs Laura Roesler vs Brenda Martinez
Wilson was one of the world's best half-milers before injury prematurely ended her 2015 season. She won her return to action two weeks ago at the Armory Invitational. There she fought off a late charge by Roesler, who similarly lost time to injury last year. Martinez is another American middle-distance ace who broke her indoor 1500 meter PR last week in Boston.