No Comments
Q&A: Ashley Higginson wants it to feel like 'senior year'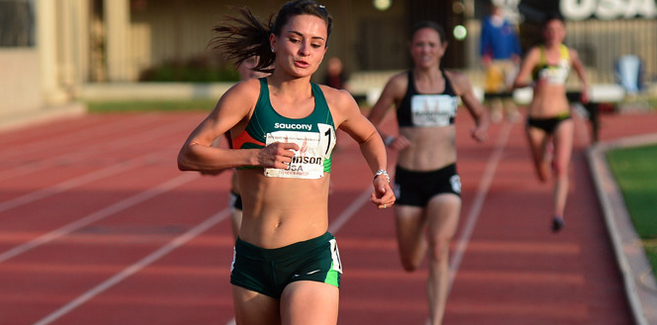 Daily Relay | On 10, Nov 2015
Photo: TrackTownPhoto
This is one of a pair of Q&A's we're running today on steeplechasers who went to Princeton and run for the New Jersey*New York Track Club. We spoke to 2013 World Championships competitor and 2015 Pan Am Games gold medalist Ashley Higginson ahead of her appearance in last Saturday's Dash to the Finish 5K in New York.
Higginson, who finished third in the race in 16:16, talked with us about her 2015 season, her long-time teammate Donn Cabral, America's improvement in the steeplechase and more. We start by discussing her role as coach of the young runners in the Hunterdon Lions Track Club.
How do you like coaching?
The kids that I'm coaching are really young. They're middle-school age or younger, so fifth to eighth grade. It's been a really cool experience to watch — to fall in love with a sport that I hardly knew existed at that age. I fell in love with running probably more like late middle school into high school. So, to watch kids be like that exuberant — I usually come to practices and workouts and am confused: I don't understand how they want to do it. Running wasn't fun at first for me.
We end every day with freeze tag or sharks and minnows, and it's always funny how it's really mentally hard for kids that age to get through a farklet, but the minute we play freeze tag, they can run for eight miles.
In 2015, you set personal bests across multiple distances – 5,000m meters (15:18.53) and the mile (4:34.32) – and also won a gold at the Pan Am Games in the steeplechase, but you finished fifth in the event at Trials and missed out on the World Championship team. Do you come out of your season with any regret?
I wouldn't say I have regret. I don't know that I always look at it in the most positive light, but finally, I've found some solace in the fact that I improved dramatically last year — like my PRs in the 5K were significantly better. I gained strength that I didn't have and gained speed that I didn't have.
Now it's about taking those tools that we worked for and really focusing those energies on what I want to accomplish, and that's the steeple. I maybe lost sight of that at times last year, and I graduated from law school [at Rutgers] last year. There's a million excuses you can give yourself, but this year that's not really what it's about. It's about training really hard and believing in your system and kind of going very inward with your training — and falling in love with it again. So you won't be sad at the end of it all.
How does the Dash to the Finish Line 5K fit within your season and your goals for the next year?
In one sense, it's definitely a reminder of good habits, even if it's just a buildup, even if it's a race to start getting you back into the groove of things. There's nothing like a hard effort and wanting to compete to make you get set and get back on your schedule and kind of remember the little things.
It's just a nice way to sort of get into the little day-to-day lifestyle of a runner. For the last couple weeks, people take your off-time for granted a little bit. They expect you to show up at the family party and at weddings and all those other things, which are so fun, and they're such a wonderful distraction, but now it's time to learn how to say no again and get to bed and things like that
It's also really cool for me to start in New York. My first race as a professional athlete four years ago was this race — Dash to the Finish. This year has already been pretty internal and retrospective and full circle, so to start at the beginning again is kind of cool for me. I'm excited to at least start it in the city I love. I love New York. I love NYRR. I love this marathon, and hopefully one day I'm running it.
Your teammate, Donn Cabral is also running Dash to the Finish. As someone you went to school with and now are on the same team with, what's your relationship like?
I've been teammates with Donn since we made a junior world team together in [2008] in Bydgoszcz, Poland. And then he came to Princeton my sophomore year, and we were teammates there for three years.
We definitely have learned to mutually respect each other. I think we go about our processes different. I know just how hard he works and how hard he cares. He's so sincere, and that is something I've tried to put into my running a bit more, maybe more than he realizes — he's really made an impression on me with his sincerity.
But it's also just been cool to kind of go out together and sort of see him as a younger-brother figure in college, because I was just a year older, but now him growing up and just crushing it and that we come from the same programs is exciting for me.
Why do you think American women have improved so much at the international level in the steeplechase?
There's a lot of reasons. Obviously, 2012 was only the second time that women's steeple was in the Olympics. So it's obviously just gotten more attention on that front. I think that you really have to credit some of the athletes for paving that for us. I mean Jenny Barringer [Simpson] started as a steepler, and she's just the best of the world — or one of the best in the world now — in the mile. And the same goes for Anna Pierce [Willard]. She went out and ran huge times.
More than anything is this idea that people finally respect that it doesn't take this person who's an OK runner and decides to steeple to be a great steepler. It takes a girl who has an "A" standard in the 15 or 5K, like all the top girls have. It just takes an overall athlete and someone who doesn't short-change any of her training.
Do you still plan to retire from elite running after the Olympics and focus on the legal profession, or might things change depending on how your year goes?
Things change, but at the same time I want this year to feel like that senior-year type feeling. Because I like testing the waters at the law firm and seeing what that's about. It's about giving this year the respect it deserves with my heart and what I want out of it. Obviously, things can change. I just know that I really love this sport right now, and I would never want to feel like I hate it, that that's why I'm leaving. Right now seems like a good time to think about the future in my work and maybe into different events or longer events or road events. For now, it's obviously the most serious time for running ever.
Why do you love running?
More than anything, it's one of the most humbling things I've done in my life. The people you meet are so wonderful, and they humble you, continuing to do things to make you better. My coaches, [Frank] Gags [Gagliano] and Tom Nohilly are devoted to just seeing us be better people and better athletes. I think it's just that recognition that people, in spite of your own self-doubts sometimes or in spite of yourself, people care and want to see you do well.
It's just an amazing community for that, and it's just one that I always want to be a part of. It just makes me a better person more than anything else. More than your athletics or your goals or how good of an athlete you can be, it just consistently reminds you how lucky you are to know those people.