2 Comments
Five Things We Learned in Paris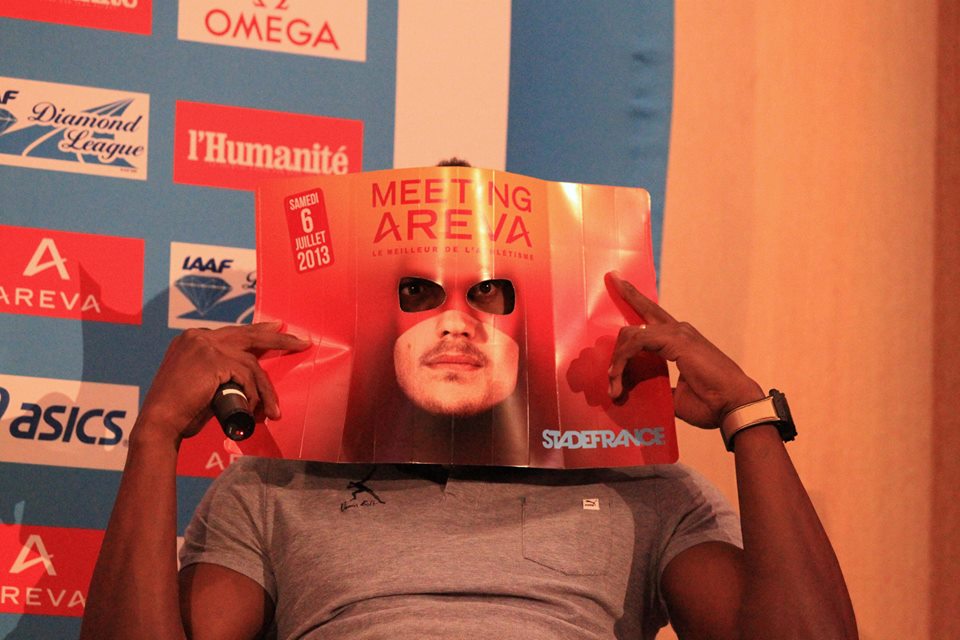 Jesse Squire | On 06, Jul 2013
There may be a good reason that Usain Bolt is hiding from Tyson Gay. (Photo courtesy IAAF Diamond League Facebook page.)
Five quick thoughts on today's Diamond League meet in Paris…
Gay has a chance at Bolt.
In my preview of the weekend's action, I said that the top matchup was one of comparison between Tyson Gay and Usain Bolt. Their only real competition is each other, so a win by each was more or less a foregone conclusion. Gay ran 9.79 (+2.0 wind) in somewhat chilly conditions in Lausanne on Thursday, while Bolt ran 19.73 (+0.2 wind) in warmer conditions in Paris today. Those are basically equal performances, and each has areas in which they need to improve. Gay still is not starting as well as he needs to, and Bolt lacked his signature overdrive down the stretch.
I would still say that Bolt is the favorite in both sprints when the two finally meet, at the World Championships in Moscow. Bolt retains the championship belt until he's beaten and he has a habit of coming up big in the biggest races. Remember last year, when Yohan Blake looked more than ready to claim the crown, but Bolt must have changed into his Olympic uniform in a London phone booth because he came out like Superman.
A Kenyan is going to win the steeplechase at the Worlds.
I know what you're thinking: we learned that today? A Kenyan (or ex-Kenyan) has won every World and Olympic men's steeplechase since 1988. It's among the most dominant winning streaks in international sports.
But no winning streak can last forever. France's Mahiédine Mekhissi-Benabbad showed himself as a serious challenger today. He boldly took the lead at the bell over Ezekiel Kemboi and Paul Koech, but Kemboi retook the lead on the backstretch and won in a world-leading 7:59.03. Mekhissi-Benabbad broke Bob Tahri's European record with 8:00.09. Only three active steeplers have ever run faster, and two of them (Koech and Mateelong) don't appear to be in that kind of form any more.
The key to winning gold medal in any distance race is finishing speed, and that's where the difference between Kemboi and Mekhissi-Benabbad lies. Kemboi put 10 meters on the Frenchman in the last 200, even while holding back a bit in order to take no chances on the barriers. After the finish he was his usual self, playing to the crowd before jumping into Mekhissi-Benabbad's arms and patting him on the head, as if to say, "Great run, but I can beat you any time I want." And remember, the rest of the Kenyan steeplers weren't in Paris but in the Rift Valley, preparing for the national championships.
Tirunesh Dibaba is in top form.
The "Baby-Faced Destroyer" won the 5000 today in a world-leading time of 14:23.70. It's her third-fastest ever and best since 2008. That, combined with her final lap of 62 seconds, suggests that she's in close to the best form of her life (despite scratching from April's London marathon with injury). Countrywoman Meseret Defar ran 14:26 earlier this year, so we might have yet another classic showdown between these two rivals at the Worlds.
There is a sudden interloper who might make it a three-way battle. Almaz Ayana was close to Dibaba (thus the need for that 62-second last lap) with a huge PR of 14:25.84, good for sixth on the all-time world list. She was previously known as a steeplechaser, and ran 9:35.08 just two days ago in Lausanne. Considering that, her run today can only be called a shocker.
The men's 400 situation looks unchanged.
LaShawn Merritt is rounding into form nicely. He ran 44.09 today, his best time since 2009 (when he was World champion) and the best he's run this early in the season since 2008 (when he was Olympic champion). He's making very good improvement and looks like he could go back under 44 seconds, which would be a remarkable achievement. The only athletes who have done it at Merritt's age or older are Michael Johnson and Butch Reynolds, the two fastest of all time.
But…
Kirani James continued to improve and he beat Merritt today. He did break 44 seconds, only the second time he's ever done it. He was just 0.02 seconds off his PR, set in the Olympic final last year, so he's well ahead of where he was at this point last year. Merritt is improving but James is improving at least as much.
The 110 hurdle picture is clearer now.
The seven biggest men's high hurdle races of the year (the US championships and six Diamond League meets) have had six different winners. Until today, there was no clear favorite for the Worlds, and it would have been hard to narrow it down to even three favorites. Today there was another new winner and no world leading time, but the fact that it was Aries Merritt is probably making all the other hurdlers cuss. The Olympic champion and world record holder was untouchable over the last half of 2012 but has been held back so far this year by recurrent hamstring injuries. Today was his best race of the year and he beat all the leading contenders (save Orlando Ortega, who has been inactive since the Pre Classic). If Merritt really is on his way back, then he's the overwhelming favorite for Moscow gold.