2 Comments
College Track Issues & Answers: Big New Stars and Team Battles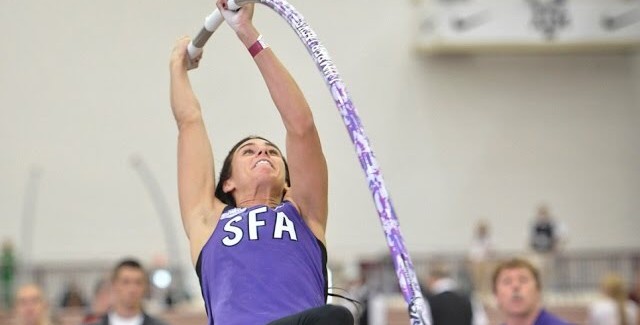 Jesse Squire | On 27, Jan 2015
For some roundups of the weekend in college track, the USTFCCCA has you covered with their Weekend's Best Moments, By the Numbers, Athletes of the Week, and a compilation of the weekend's leading marks. There are new team rankings too, the USTFCCCA's national rankings and Track and Field News' dual meet rankings.
My job is to add meaning to what's happening in college track. Here are my random thoughts, news and views.
Another Pole Vault Record
News came on Saturday afternoon that the collegiate record in the women's pole vault was broken yet again. Stephen F. Austin's Demi Payne cleared 4.75 meters (15' 7") to break the 4.63m (15' 2¼") record she set last week. Well, actually she broke it twice, since she cleared 4.65m (15' 3") on the way. That means we've had four new college pole vault records in a span of eight days; recall that Arkansas' Sandi Morris started the deluge on January 16 with a 4.61m (15' 1½") mark.
There's a lot of takeaways from this. One is rather obvious: Payne is really, really good and the heavy favorite to win the NCAA title. That's a big statement considering that the field she faces includes two former record holders, the above-mentioned Morris plus Texas' Kaitlin Petrillose. That should be taken with two grains of salt, though. One is the inconsistent nature of the event. The dreaded no-height can strike anyone at any time—it even happened to the great Sergey Bubka in the 1992 Olympic final—and even an inopportune loss of timing can cost anyone a win.
The other is the venue in which Payne was competing this last Saturday, namely the Albuquerque Convention Center. That runway has given up an awful lot of high vaults over the last few years. It's where Petrillose set her record last year, a mark that is still 10cm (4") higher than any other of her young career. It's where Jen Suhr set her indoor World Record two years ago, which is again 10cm higher than anything else she's ever done. Kylie Hutson and Mary Saxer's career indoor/outdoor PRs were set there too. Something is giving vaulters a bit of a boost, most likely the altitude.
Even so, this is a big vault on absolute terms. It's the world leader and ties Payne for #3 on the all-time US lists. We suddenly have a seriously world-class athlete competing in college track, and that brings up another point.
How We Watch College Track
Most people watch college sports as fans of a particular college. You cheer for one team or against another based on your allegiances. To a great degree, that's what makes college sports as we know it possible. Joe Posnanski, my favorite sportswriter of all time, summed it up in speaking about college football:
College football only works on this grand scale, I believe, because it's about the colleges. The alumni connect to it. The people in the town connect to it. The people in the state connect to it. People are proud of their connection to the University of South Carolina and Clemson, they are inspired by Alabama and Auburn, Penn State and Notre Dame and Stanford, they identify themselves through Missouri and Wisconsin and Florida and Texas A&M. The players matter because they chose those schools, they play for those schools, they win for those schools and they lose for those schools too. Everyone, of course, wants them to be the best players available, and some are willing to cheat the current system to get those players. But soon the players move on, and the love affair continues, just as strong, just as vital. The CONNECTION is what drives college football.
Most track fans who follow the college end of the sport do not subscribe to this particular view. They're interested in the individuals and the team stuff isn't big for them…well, it isn't and it is.
Many—not all, but many–of us track fans watch the college meets almost like the minor leagues for Team USA. Are these going to be the next group of stars that fill the US teams for the Worlds and Olympics? Will they win medals when they get there? Will they be gold? (Viewed through this lens, it's easy to see why some get worked up about foreigners in the NCAA.)
There was a time when athletes would go straight from a college uniform to a national team uniform to the top of the podium, all in the same season. That's exceedingly rare these days; the last one I can think of is Jeremy Wariner back in 2004. But when that was the norm, in the 60s and 50s and earlier, college track mattered on a national scale because it wasn't the minors. It was the majors. Of course 40,000 people came out to see Ohio State take on USC in a dual meet in 1936 because the Buckeyes had Jesse Owens. Of course the press flocked to every college meet Kansas ran in from 1966 to 1969 because the Jayhawks had Jim Ryun. It didn't have to be just those two; back then, college track was always producing the next Olympic star and in short order.
So in this early part of the indoor season, we've got two athletes competing in such a way that I'm thinking, hot damn, these folks are LEGIT. Like they could make a Worlds impact this year and maybe a bigger Olympic impact next year. That's big for college track.
One of them is Payne; if she can clear 4.8-anything at the Worlds, that's probably good enough to be on the podium and it might even win (no one has gone over 4.89 at the Worlds since 2005). That's only a small improvement from where she is right now.
The other is Trayvon Bromell. The Baylor sprinter tore up college track last year and became just the seventh freshman ever to win the NCAA 100 (and, as far as I know, the youngest of the seven) and broke the world junior record. He's the best young sprint talent to come through the US system since Justin Gatlin. But no matter how amazing sprint prodigies are, though, they never become world-beaters unless they make big improvements from there. Bromell's early season results show big improvements from the same point last year.
Bromell's best 60 meter time during the 2014 indoor season was 6.65 seconds at the Rod McCravy Memorial in January, a time he matched at the NCAA indoor championships. His slowest time this year is 6.61, and he hit a new PR of 6.54 at Saturday's Rod McCravy Memorial. By itself that time is good but not stunning, but what really matters is the improvement. I mean, the best 100 meter sprinters are rarely great at the 60—it's the last half of the 100 that makes or breaks you and stunning acceleration rarely sets up well for that—but since Bromell has already droped his by 60 time by 0.11, it suggests that he's going to be significantly better at the 100 than he was last year.
Bromell's best official time last year was 9.97, and he hit some big wind-aided marks as well, 9.77 and 9.92. Looking at that plus this year's improvement, 9.90 doesn't seem out of the question in 2015. Guys this young don't do that very often. Only one man has ever run 9.90 or better before his 21st birthday, namely Yohan Blake. Just five more did it before they turned 22, and two of those are Usain Bolt and Asafa Powell. Bromell turns 21 on July 10.
A Rivalry Restored
Long ago I looked at the top of the Big Ten standings and wondered why Minnesota and Wisconsin didn't face off in a dual meet every year. It's a great rivalry in football and maybe even better in hockey, and both teams have more than adequate indoor facilities for a home-and-home series.
This year it finally happened, their first head-to-head meeting since 1978. I asked the coaches about how it came back, and it was all Mick Byrne's idea. Here's what the Badger head coach told me:
This is something I've wanted to do for a few years now. When I took over for coach Nuttycombe in August of 2013, I immediately contacted Minnesota to chat about the possibility of this dual. It took a year for us to clear our schedules and make it happen. We all feel that this is good for our teams, our fans, and for our sport. It is head-to-head competition in a 2 1/2 hour meet, that ends with a winner, a team champion…When we go to the Big Ten championships it is all about scoring points for your team. How do you do that? It is simple; you beat people. This dual meet also makes a ton of sense because Wisconsin and Minnesota have established rivalries in many sports.
The all-time series of indoor and outdoor duals dated from 1900. Going into the meet, Wisconsin led the men's standings with 73 wins to Minnesota's 22 and led the women's by a 3-0 tally, but Minnesota swept the meet this time. "The big winner Saturday was the sport of Track & Field. We packed the facility and the energy in the building was awesome," Byrne said. "The feedback from the fans was very positive with most comments speaking to the 2.5 hour schedule, and the one-heat, head-to-head competition between two rival schools. Our student-athletes loved the experience, despite losing."
One thing that worried me from the moment the heat sheets were released was the absence Sarah Disanzo, Wisconsin's new star distance runner. In his weekly press conference on the Monday before the meet, Byrne said "all our top athletes are going to compete. We signed a contract and in the contract that's part of the deal…No one gets a bye unless they're injured or we're redshirting them." Did Disanza's absence then mean injury?
No. Apparently "all of our top athletes" wasn't an absolute. "We shut Sarah Disanza down after her 5k in Boston and it just didn't make sense to rush her back for Saturday," according to Byrne. "All-hands-on-deck doesn't mean doing things that are not smart for your big guns."
Byrne did mention something else that became increasingly apparent this weekend.
Big Marks in Little Meets
"I always say; learn how to compete and enjoy racing, and then the times/distances will come," Byrne told me in an e-mail.
One of the long-held thoughts on dual meets and other smaller competitions is that it's hard to get a big mark in a little meet. Right now the data suggests it's not so clear cut. Look down the NCAA D-I qualifying list at TFRRS and you'll see an awful lot of marks from dual, triangular, and quadrangular meets. Some notables:
*Sandi Morris (Arkansas) and Michael Lihrman (Wisconsin) broke collegiate records in rivalry dual meets
*Edward Kemboi (Iowa State) ran 1:46.94 (#2 on 800m list) at the Iowa Big 4 Duals, winning by 2.36 seconds
*Shelby Houlihan (Arizona State) ran 9:03.71 (3000m list leader) at the Texas A&M Quadrangular, winning by over 27 seconds
*Omar McLeod (Arkansas) ran 7.76 (#2 on 60H list) vs Texas, winning by 0.19 seconds
*All of the top 3 men's high jump marks came in triangular or quadrangular competition, as did the women's list leader
And the top ends of the field event lists are peppered with marks from duals, triangulars and quadrangulars.
In the 70s and earlier, World, American and collegiate records were set in dual meet competition with regularity. The reason they haven't lately is that those kinds of meets all but disappeared. Now that they're coming back, we're seeing big marks in them again.
None of this is to suggest that good, tough competition doesn't help provide fast results. It does. But the primary variable in producing a fast time or a big distance is the athlete, and the second most important are the conditions–the facility, the weather, and so forth. Competition is that extra little bit, and sometimes it isn't necessary.
Mid Majors Topping the Power 5
A few meets this weekend matched up some "mid-major" teams against teams from the "Power 5" conferences, and the little guys came out ahead in two of them.
The Notre Dame Invitational is traditionally a quadrangular but became a six-way affair this year when Eastern Michigan and Purdue were invited after not being able to gain entry to their first choice of meets. The Eagles came out on top of the men's competition over such major-conference teams as Michigan State, Notre Dame, and Purdue. "This is certainly a nice win for us," head coach John Goodridge said. "I'm pleased with our overall competitive effort, but we have room for improvement…We had a good lead with a few remaining events and Michigan State came back at us." The Eagles will make an impact on the national scene; they boast stars such as Tyler Brown, who was 8th in the 400 at last year's World Juniors and currently sits #2 on the collegiate qualifying list, and Donald Scott, who broke the track record in the triple jump (and a track record at Notre Dame is a major accomplishment).
Over in Ames, Iowa, the second annual Big 4 Duals took place between the state's four Division I programs, and Northern Iowa swept the women's competition over Iowa and Iowa State.
Next week: the big Armory Track Invitational brings together some of the top college talent on the east coast, and more big matchups will happen in other parts of the country too.