No Comments
College Recap: Penn and Drake Relays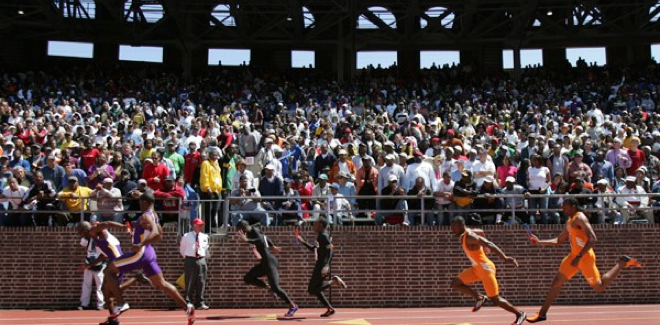 Photo: VisitPhilly.com
Two meets dominated the weekend's track and field action. In his always-excellent Monday Morning Run, Kevin Sully laments the fact that Penn and Drake are always on the same weekend. I see it differently; I doubt they'd both be as great as they are without being in direct competition.
What were the top stories in college track coming out of this weekend's big relay meets?
Emily Lipari
The Villanova senior anchored her Wildcats to a sweep of the distance relays at Penn, and she did it in ways that will make her one of the legends of Franklin Field.
Thursday's distance medley relay saw Villanova run the same quartet that won last year's Championship of America race, and it worked out well. The first three legs did what a team is supposed to do when you have a hammer on the end: just keep it close. Third leg Nicky Akande said, "we've watched [Lipari] run so many times I didn't doubt her."
Stanford's Aisling Cuffe got the baton with about a ten meter lead on Villanova, but Lipari immediately surged to close the gap, stayed close until the last 150 meters despite a hard pace from Cuffe, then kicked away to a win. It was the third in a row for Villanova (and Lipari and teammate Nicky Akande), and the 13th women's DMR win in Wildcat history. Oregon, rated among the favorites, faded to fifth.
"It was a nice déjà vu," said Villanova head coach Gina Procaccio. "This is the relay that I was the most worried about because it is the most prestigious… Oregon always scares me. They have incredible athletes… I always tell them it's our turf. I don't care what anybody's doing it's our turf and we know how to win."
Friday's 4×1500 meter relay followed much of the same script. Stanford gave a small lead to Cuffe, Lipari closed the gap, sat on her for the rest of the race, and sprinted to victory off the last turn. It was a record 9th win in the women's 4×1500 Championship of America, but the first in 14 years.
Lipari summed up the Penn Relays and Villanova's special place in it: "When you come here you just get a lot of Villanova support and you hear everybody in the stands, every corner you hear people screaming for Villanova…Everybody's in the hurt box and everybody wants to do this for each other…"
Saturday's 4×800 meter relay was the biggest showdown of the three distance relays at Penn. On paper, Oregon was not only the team to beat but looked darn near unbeatable because so many Ducks have run such fast times. But that appeared to be the case a year ago, when Oregon and Villanova battled to a new record time in one of the greatest collegiate relays ever. Lipari somehow got past Oregon's Laura Roesler to get the Wildcats a win.
This time Lipari wasn't the hunter but the hunted, getting the baton with a big lead and slowly being reeled in by Roesler, the reigning NCAA indoor champion and one of the fastest collegians of all time. Lipari was caught on the second lap but not passed, and she pulled away at the end for yet another win.
"I am more comfortable running from behind because I like to see how everything is shaping up but if my teammates are going to give me a two to three second lead I have to be prepared to roll with it," said Lipari. "I always have the mindset that I have to go into every race with no expectations and just be prepared for anything and everything."
"I don't even know what to say about these girls anymore," said Procaccio. "They ran with big old Villanova hearts."
Lipari finishes her collegiate career at the Penn Relays with six Championship of America titles, anchoring five of them. Add these wily wins to her equally wily win at this year's NCAA Indoor Championships and you have a runner who fits the mold of a Matthew Centrowitz or Meb Keflezighi: one who doesn't always run fast times, but who always finds a way to win. Other perennial champions show utter and complete domination, which can get boring. None of Lipari's wins are boring.
Edward Cheserek
Few seniors have dominated an entire year of collegiate running like Cheserek has. He won the NCAA cross country championship in an upset win, then won the NCAA indoor titles in the 3000 and 5000 in upset wins. By the third of those wins, the conventional wisdom changed. They weren't upsets any more, he's just better than anyone else.
After this weekend's Penn Relays, it's clear that he's just plain better than everyone else. He anchored the Ducks to a win in Friday's distance medley Championship of America, kicking with such authority from 300 meters out that fellow duck Laura Roesler tweeted:
I feel like I was just in a track video game where someone waited to use their last boost til the very end

— Laura Roesler (@lroesler5) April 25, 2014
So a long-distance guy opened a can of whoop-ass on some of the best milers. A freshman long-distance guy. And Oregon already has a top miler, the defending NCAA 1500 meter champion, a guy who has lost only once at Hayward Field in his life (and only then with a broken foot). That's Mac Fleet, who coach Andy Powell decided should run leadoff. That's right, the best miler in the NCAA didn't run the mile leg on the relay because Oregon has someone else who's better. Yikes.
On the next day, Saturday, Oregon brought out more firepower in the 4 x mile Championship of America. Freshman Sam Prakel ran a "tactical" leadoff leg of just 4:11.4, and then Cheserek ran a "tactical" first 1000 meters before getting bored and blowing the race wide open. He went from running in the lead group to a lead of about 20 meters in just a lap and a half. After that, All-Americans Eric Jenkins and Mac Fleet made the lead bigger and bigger. The Ducks won by a straightaway.
After puttering around for over a mile and a half, Oregon's winning time was only 6.43 seconds off the national collegiate record–which just so happens to be the Oregon school record. Take a look at who made up that national record-setting team: a Worlds medalist and an almost-Olympic medalist (Matthew Centrowitz), possibly the USA's greatest unrealized middle-distance talent of the last several years (Andrew Wheating), a national half-marathon team member (Shadrack Biwott), and an Olympic silver medalist (Galen Rupp). That's a helluva relay, and any team that draws comparison is headed to big things.
Cheserek is a beast, plain and simple.
Trayvon Bromell
As far as I'm concerned, the biggest college story coming out of the Drake Relays is the continued excellence of Trayvon Bromell, Baylor's freshman sprinter. He won the 100 meters and ran an impressive anchor leg in a Baylor 4×100 victory. He hasn't been beaten during the outdoor season. It's hard to say whether he's the favorite for the NCAA title right now; he hasn't faced any of his major rivals during the outdoor season and probably won't until the NCAAs. But he's not making any mistakes.
TV coverage improving
I am usually a harsh critic of television production for domestic track meets, especially of ESPN's horrid broadcasts of SEC and NCAA championship meets. The coverage given to the Penn and Drake Relays this weekend was much better. Not just better than those execrable ESPN jobs, but better than most domestic TV broadcasts have been for a while.
For one, there was more of it. Saturday saw two and a half hours of live Penn Relays coverage followed by two hours of live Drake Relays coverage on NBC Sports Network. Friday night saw a two-hour high-quality USATF.tv webcast from Drake, which was more or less a live transmission of a show that immediately ran tape-delayed on Universal Sports (to be repeated ad infinitum). While the emphasis was on the pros in these broadcasts, there was significant time allotted to college relays.
Especially at Penn, the amount of racing that made it to the screen was greater than the norm. The stale format is preview a race, show the race, dissect the race, interview a winner gasping for air, go to commercial, and repeat. NBCSN occasionally broke out of that format. For example, at one point they showed three consecutive college men's 4×100 relays followed by the high school boys' 4×100 championship. We are almost never given two races in a row, much less four. And when they showed the start of the men's college 4 x Mile relay, a 16-minute race, I was sure they would cut to commercial before it ended. I was pleasantly surprised that they didn't.
The broadcasts generally communicated the feel of each meet, too. The Penn Relays are a meet that has virtually no down time with a loud and raucous crowd. The Drake Relays are smaller and less crazy but the crowd still has appreciation for what they are seeing. Both of these came across on the broadcasts.
The Drake Relays broadcast managed to (partly) fix one of my big beefs: getting the on-screen graphics into the 21st century. This is test for a sports graphic: can you understand the broadcast if watching it in a noisy bar? The Drake Relays broadcast partially passed that test, but the Penn broadcast failed it.
The Drake on-screen clock finally included text identifying the event and whether we were on the first, second, third or fourth leg. The Penn Relays broadcast completely lacked those text add-ons of event, legs and/or laps, and I can't see why.
Oregon's Relays
If I had told you on Wednesday that Oregon's women would not win a single event at the Penn Relays, would you have believed me? Yet that's exactly what happened.
Thursday's distance medley relay was a long shot as the Ducks don't have a high-quality miler, and that makes things difficult in the DMR. The Oregon coaching staff had originally said that steeplechaser Megan Patrignelli would run anchor, but superstar half-miler Laura Roesler ran instead and she couldn't hang with those who are more experienced at the distance.
The Ducks came into Philadelphia with the nation's fastest time in the 4×100 relay, 43.31. They ran nearly as fast in Friday's Championship of America final, 43.33, but were soundly beaten by Texas A&M (43.11) who took their 6th straight title in this event.
Saturday saw two more tries in relays, the 4×800 and 4×400. The 4×800 team fell prey to Villanova's spirited running–and heck, they Wildcats are the de facto home team at Franklin Field. But that took a lot of starch out of Roesler, who is a key member of the 4×400 relay. She had to come back and run again just 90 minutes later and didn't quite have it. By the time Roesler got the baton, though, the Ducks were well in arrears of Texas. The Longhorns lost the NCAA indoor 4×400 and the team championship to Oregon by a whisker, but here they flattened the opposition and with a new meet record and the 5th-fastest time in collegiate history (3:25.05).
Oregon's women have won the NCAA indoor championships five times in a row now but haven't won the outdoor title in any of those years. Maybe this weekend doesn't have anything to do with the NCAA title; to Villanova, their foil in the 4×800, Penn is the national championship. But the big differences in the results achieved by the Duck men's and women's teams this weekend only furthers the notion that the men stand a much greater chance of grabbing that brass ring, the national championship, in June.
History
If there's one thing you get when going to the Penn or Drake Relays, it's a sense of history. They are among the oldest athletic events in the nation. The old brick structures of Drake Stadium and Franklin Field give you a feeling of permanence, that these things have stayed the same for a very long time.
The Penn Relays have seen success in recent years by prominent Pennsylvania universities: Villanova of course, but also Penn State and even a little by Penn itself. The other major program in the state, Pittsburgh, hadn't shared in the winning. The Panthers fixed that in last race of the meet, the College Men's 4×400 meter Championship of America. They took advantage of off days by Texas A&M and LSU and anchor Panther Brycen Spratling ran one of the great races of his life, maybe his greatest. He got the baton with the smallest of leads and extended it for the win.
Pitt's entire 4×400 squad was well aware of the significance of the 4×400 in 2014. It was 75 years since the last time that Pitt won that event at Penn, and Pitt greats such as Herb Douglas and Arnie Sowell had been assembled at Franklin Field in celebration. That last Championship of America team had been anchored by "Long" John Woodruff, who had already been an Olympic champion at 800 meters. And John Woodruff, Jr., saw this new team win.
Hy-Vee Cup
Among the new things that Hy-Vee's massive sponsorship deal brought to the Drake Relays was the Hy-Vee Cup, a collegiate team scoring competition across the five most popular relays. Illinois swept the competition last year.
It appears that the competition is something that teams are taking seriously, as are the fans and media. This is a good thing in several ways. For one, it extends a common theme across many events and several days. For another, it offers teams a chance to win something. These days, when virtually nothing is scored besides conference and national meets, even very good programs can go years without actually winning something as a team.
One need look no further than this year's women's champions, the Baylor Bears. The last time they won a team competition was more than three years ago, when they won UT-Arlington's Bobby Layne Invitational.
The other thing that makes team competition interesting is that it makes more than first place important. The men's team score was tight going into the 4×400 relay, with Arkansas trailing Illinois by just two points. The Razorbacks won the event, but the Illini's anchor, Stephon Pamilton, pulled second place out of his hat. The two teams tied for the championship.
Jamaican Universities
Jamaican high schools have been coming to the Penn Relays for a long time and they win a lot. That's nothing new, and you would expect nothing less. After all, they have been training in favorable weather throughout the long American winter and have already peaked for their national high school championships.
Jamaican universities winning at Penn? That's new. It's not unprecedented, but the Jamaicans won more Championships of America this year than in any other. U Tech won the men's 4×100 and 4×200, and missed the Penn Relays records by just 0.03 and 0.40 seconds respectively. They also won the women's sprint medley relay, the first-ever foreign victor in that event. Top-8 finishes were also recorded by UWI Mona (men's 4×100) and G.C. Foster (women's 4×200). More of the island's talent is staying home instead of coming to the NCAA, so expect more of this in the future.
Home teams
The home teams are nominally Penn and Drake, but the crowds treat several universities like they're home teams. Villanova did its usual job with the distance relays, winning four championships between their men's and women's programs. A fast-improving Penn team won twice, taking the men's high jump (Maalik Reynolds) and men's mile (Thomas Awad). Even Temple sort of had a champion, as temple student Ajee Wilson anchored the USA's distance medley relay to a come-from-behind win.
Over at Drake, anyone from Iowa is treated like the home team. Des Moines native Katie Flood anchored two Washington Huskies relays to wins, and Iowa's women won their first-ever Drake title in the women's 4×100 with a dramatic come-from-behind anchor leg by Brittany Brown.
"The crowd was what really pumped me up," Brown said. "They really led me the whole way. I love the whole Drake Relays atmosphere. It's my first time being here and I really loved it."
Next week: rivalry week in college track.