No Comments
Bolt doubles up, Felix breaks new ground, Taylor second all-time: Breakfast in Beijing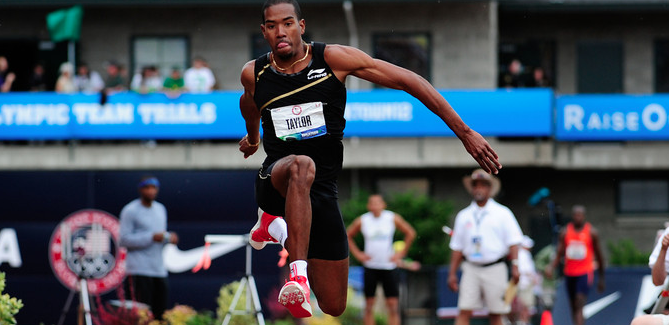 Kevin Sully | On 27, Aug 2015
Today on Breakfast in Beijing, I get some help from my friend and fellow podcaster, Jason.  He's also been forging these early mornings on the west coast so we decided to Gchat about the meet in real-time in case anyone wondered what two sleep-deprived people watching an internet stream think about the World Championships.  Enjoy!
me: I'm up, I'm up!
Jason: Me too, kinda
me: Weird waking up and not hearing about a complete US disaster in the earlier events.
The US advanced two to the finals in the women's 200 and the men's 110m hurdles. Not groundbreaking results, but getting people through to the finals never can be assumed.
Jason: Well it's the 800m semis so get ready!
me: Don't count out Martinez, aka Mar-tin-ez the way our commentators pronounce it.
Jason: Well she just finished 6th so I might. I'm assuming our feeds aren't synced up
me: I think they are, I was just being optimistic. Molly Beckwith-Ludlow is last chance for a women's mid-distance (800/1500) medal for the US.
Jason: And we just spent two years talking about how great they were…..
me: They are objectively better than they were in 2013, but in those championships they had two medals and a bunch of finalists. This year, probably no medals and only Shannon Rowbury and Jenny Simpson made finals.
Jason: They are definitely better and deeper just hasn't manifested in medals
me: When does the meet officially go from underperformance to disaster for the US?. For me, I'm holding out until they don't sweep the women's 100m hurdles.
Jason: Even if everything goes great from here on out we are already in disappointment territory. They have to crawl their way out of disaster
me: Is that a line from a movie?
Jason: If it isn't yet it will be, Liam Neeson will be saying it in a trailer next week. Maybe Morgan Freeman…. The US went from having a co gold medal favorite to no one in the final of the women' s 800
me: Heat two looked like heat one, close finish for the auto qualifying spots and no American in the picture.
Jason: The depth in the women's 800 worldwide is insane and Wilson is the only one I would have trusted to run sub 1:59 consistently.
me: I thought two to the finals was doable. Margin from 1st to 8th so small. We interrupt this discussion of the 800m to let you know a world record attempt is coming…
Jason: Is Dibaba throwing the hammer now?!?!
me: No record, but easy win for Anita Wlordzarczyk. This year will go down as the year I remembered Wlordarczyx's name without having to look it up.
Jason: I still can't even spell Ksczcot name…
Wait, was that right?
me: I'd have to look it up. I think it's two z's.  Sum in this last heat. Kenya rolling since the meet began. They caught another break last night when Ayanleh Souleiman went out in the first round of the men's 1500m. I guess that qualifies as a break for everybody other than Djibouti.
Jason: That was a bummer. Maybe your prediction from two years ago will come through, Kenyan sweep.
me: US sweep….They're due. Provided nobody falls, loses their shoe, false starts or gets injured.
Jason: I do love Centro's chances to medal.
me: Looked very smooth again last night (this morning).
Jason: These 800m semis are insanely fast.
me: Sum, third?
Jason: Yep there's going to be some 1:58s who don't make the final
me: Regardless, she's through. Melissa Bishop runs a national record in a semi. Canada just showing off now.
Jason: Good for them, they are giving me a good feed to watch, more than the US.
me: Prediction for women's 800m final: everyone runs 1:58, 8-way tie for the win.
Jason: I'm thinking it's one of those races where we get 6 personal bests.
me: Or they all run 2:03 because they are exhausted from the semis
Jason: Definitely possibility. Definitely* possibility…it's 5:30am
me: Track fans live in a perpetual state of exhaustion. Hands down the most tired group of fans in all of sports. They have to wake up at odd hours to watch the big meets. And most of them run themselves so they're worn out to begin with.
Jason: That's a good point, it's good to know I might be in the worst shape of anyone watching this.
me: Big one from Christian Taylor in the triple jump.
Jason: And he was WAY behind the line
me: He left 11.5 centimeters on the board, which is awesome technology by the way. That they are able to pull that up instantly.
Jason: 18.21!! American record! Something good happening for the US!. Until Pichardo jumps a world record.
me: "Cometh the hour, cometh the man." They are reusing the Bolt line from the 100m final.
me: 8 centimeters off the world record. Second gold for the US. Nelson Evora bumped Omar Craddock for third so they get a gold, but lose a medal in the form chart. Women's 400m on the track. There were fast times in the men's 400m, time for Felix to break 49.
Jason: That would be awesome, what was your pick for winning time?
me: 49.2. But I'll be stupidly bold and go 48.99
Jason: I had 49.5. I'm going to not be bold at all and pick 49.4. It has been a fast track…I hope you're right.  Cometh the hour, cometh to Felix 400m Island!!
me: She's lined up inside of Ohuruogu. With the way those two run she'll probably make up the stagger in 50 meters.
me: Felix going at Van Niekerk pace….
Jason: That was impressive
me: CHANGE THE SCHEDULE
CHANGE THE SCHEDULE
Jason: DOUBLE
DOUBLE
me: 49.26, big personal best for Felix.
Jason: Yeah, over three tenths. I feel dumb picking 49.5s.
me: It's almost like she focused on another event for most of her career….Probably a bit faster if she didn't go out as fast?
Jason: She was so far ahead after 50m.
me: Good point by the commentator, about Jamaica's 4 x 4 hopes.
Jason: They just went 3-6 in the final. That could be a hell of a rave
or race
Might be a good rave too, I'm not sure..
me: US has Francena McCorory and Sanya Richards-Ross fresh in the bullpen.
Jason: Wish McCorory could have made the open 400m. Medal ceremony in the women's hammer throw…..I like that you get a stuffed owl with your medal.
me: Not just any stuffed owl, an official Beijing 2015 stuffed owl. Shaunae Miller ran really well for silver, huge personal best. Great track for 400s.
Jason: If there are any drug busts in 10 years do you have to give back the owl?
me: The owl becomes automated and pecks you to death.
Jason: Seems fair, have to think outside the box.
me: Men's 200m on the track
Jason: Who you taking?
me: Commentator asks, ""Can Gatlin not fold like a deck chair?"
Jason: I love how blunt they are
me: I think the lane draw is key here. Gatlin is inside Bolt so there won't be any surprises like there were in the 100m. That makes me lean deck chair….
Jason: He's inside Zharnel Hughes as well so that's good for him.
me: What do you think?
Jason: I have Gatlin. He's still been better all year outside of one 100m race. Granted the most important one but still….I think if he runs to form Bolt can't keep up.
me: Part of me still can't believe this race is happening, too good to be true…
Jason: I'M NERVOUS FOR SOME REASON.
me: No false starts, injuries.
Jason: WOW. OK i was completely wrong.
me: Yeah, let's erase all that stuff we wrote earlier.
Jason: That was vintage Bolt. We can say Gatlin gave away the 100m but Bolt completely took the 200m
me: That wasn't close. 19.55
Jason: RUN THROUGH THE LINE BOLT! Gatlin still didn't run that well but it didn't matter
me: Gatlin's run 19.5 this year
Jason: I thought he would run better but Bolt jogged the last 20 meters and ran 19.5
me: ……and with it, saves track and field again!!!
Jason: Everything is better now!
me: At the Pre Classic, Gatlin beat Anosa Jobodwana by .36, tonight .13
Jason: Yeah, maybe he peaked a little early in the season?
me: It wasn't a complete choke, but he definitely underperformed based on his yearly performances
Jason: When almost the entire field runs a season best and you aren't even close that's not ideal. Bolt still ran much faster than I thought he was capable in the 200m.
me: 1-3-4-5 all ran season's best or personal best. Will this make people hate Gatlin less? Or will they hate him more?
Jason: No, they definitely hate him more had he won.
me: 4 x 1 chances? I still like the US, but now I just feel like my head is in the sand.
Jason: The US depth is slightly better still right?
me: Based on 100m final, yes
Jason: But this Bolt makes it much more exciting.
me: Baton passes though and the presence of Bolt. A better night for the US on Thursday, two golds and a silver for this plucky nation in the northwestern hemisphere.
Jason: No real massive disappointments. No one making the 800m final is moderately shocking but not without Wilson or Montano having a shot…
me: US back atop the overall medal standings, take that Kenya
Jason: We will defy the odds!
me: We got a scrappy bunch over here
me: ………And a cameraman on a segway just knocked over Bolt.
Jason: How long until someone accuses Gatlin of trying to take him out?
me: It's Tonya Harding/Nancy Kerrigan……..but on a segway.
Jason: Really poor timing by Gatlin if so……Before the race Justin, BEFORE.
me: Enjoy your second Thursday….evening session starts in less than 12 hours!