No Comments
The Weekend's Best Matchups: Monaco Diamond League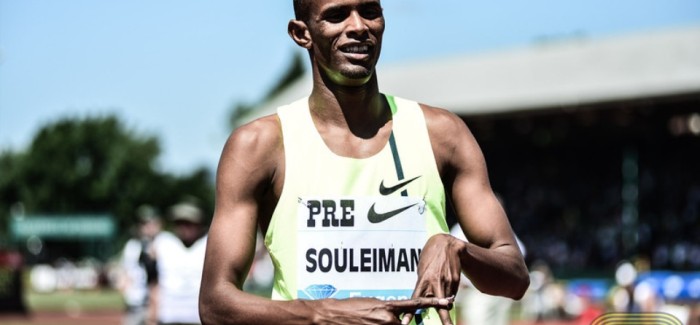 Jesse Squire | On 17, Jul 2014
The Diamond League resumes on Friday afternoon in Monaco, the land of the rich and famous.
You can see the meet live on Universal Sports TV, or on webcasts provided by Universal Sports, Watch Athletics, or Trackie.ca.
You can follow the live results via the official website.
And the best matchup of the weekend?
Kiprop vs Souleiman vs Kiplagat
Men's 1500 meters, 8:35pm local time (2:35pm ET)
This may be the most-hyped race in the entire meet, and for good reason. Asbel Kiprop is one of the fastest 1500 runners of all time and just ran an 800 meter PR (and world leader), and there is talk of an attempt at Hicham El Guerrouj's world record of 3:26.00. But I'm not sure that Kiprop is even the favorite to win the race. After all, he has just one major 2014 victory at this distance, and that was two months ago (the Diamond League opener in Doha). He was a well-beaten seventh in the Bowerman Mile at the Prefontaine Classic.
Ayanleh Souleiman and Silas Kiplagat has run pretty fast too, and they're far more consistent that Kiprop. Both have a pair of Diamond League wins, Kiplagat has three DL runner-up finishes, and Souleiman won the world indoor title. And those three aren't even the only contenders in this race; Kenyan "teenager" Ronald Kwemoi won the Diamond League meet in Lausanne (over Kiplagat) plus the Kenyan selection meet for the Commonwealth Games. If you only watch one race in this meet, the men's 1500 is it.
And the best matchups of the rest of the meet…
Valerie Adams vs win streak
Women's shot put, 12:30pm ET
Valerie Adams is riding a win streak stretching to 52 meets overall and 22 meets in the Diamond League. The only athlete who has ever beaten her in the Diamond Leauge, the notorious Nadzeya Ostapchuk, probably should be serving a lifetime doping ban. Someday Adams will be beaten, and maybe it's Friday. But don't bet on it.
Fabiana Murer vs Yarisley Silva
Women's pole vault, 1:45pm ET
So far this year, Murer and Silva have separated themselves from the rest of the world's pole vaulters. Murer won the last two Diamond League meets, in Glasgow and New York, and has the year's best mark. Silva has a single Diamond League win (Rome) but has finished in the top three in all the DL meets and won the World Indoor Championships too.
Zuzana Hejnova vs Kaliese Spencer
Women's 400m hurdles, 2:03pm ET
Hejnova won the Diamond Race and the World Championships in this event last year, but this is her first major race of the year after sitting out injured for the first half of the summer. She faces off against Spencer, whose only Diamond League loss this year was in the season opener in Doha. A possible spoiler is Kori Carter, who ran the year's best time while winning the US Championships last month.
Summer Slam
Men's high jump, 2:05pm ET
Is this the meet where the world record is broken? And if so, who breaks it? Nearly half of all the men who have ever jumped 2.40 meters (7′ 10¾") have done it this year and all in this meet. Despite the stunning depth of competition, Bohdan Bondarenko has lost just once this year and seems to be in control of the event in 2014. The only man who has been able to beat him is Mutaz Essa Barshim, the world indoor champ, but he's been jumping well enough that he could beat Bondarenko to the record.
LaShawn Merritt vs Isaac Makwala
Men's 400 meters, 2:25pm ET
Makwho? Botswana's Isaac Makwala recently broke the African record at 400 meters with 44.01. He could be the next star in the event, and it looks like Merritt could have his hands full here.
Rudisha vs Aman vs Amos
Men's 800 meters, 2:15pm ET
David Rudisha was the virtually unbeatable half-miler and took the world record to another level, but he came up hurt last June and has been a mere mortal in his return this year. Mohammad Aman took over the event in Rudisha absence, but Olympic silver medalist Nijel Amos could be the heir apparent to the event. He's the world junior record holder with his 1:41.73 at the 2012 Olympics (behind Rudisha's stunning world record) and basically quit the sport last year, but has come back strong and won the Prefontaine Classic, the deepest race of the year so far (and the only other 2014 race in which these three have faced off).
Linda Stahl vs Barbora Spotakova
Women's javelin, 2:30pm ET
Stahl holds the world's best throw and won the New York stop on the Diamond League tour, but Spotakova is the only thrower with two Diamond League wins so far this year.
Sifan Hassan vs 5k runners
Women's 5000 meters, 2:55pm ET
Hassan has stamped herself as one of the world's best at 1500 meters after a couple of big wins, most notably in the Paris Diamond League meet where she ran the year's fastest time (and fifth-fastest in Diamond League history). She'll try the 5000 meters in this race and is up against some top competition. The two to watch are Mercy Cherono and Genzebe Dibaba. Dibaba dominated the indoor season with three new world records (1500, 3000 and 2 miles) but Cherono has beaten her twice during the outdoor season.
Behind them is a race that Let's Run is calling "the real US Championships" as it includes Molly Huddle, Shannon Rowbury, and Kim Conley. Huddle has been running extremely well on the roads and she might be able to be a factor at the front of the race.
Eunice Sum vs Ajee Wilson
Women's 800 meters, 3:25pm ET
Sum has gone through the season undefeated and while she's not yet run an impressively fast time she does know how to win. 20-year-old Ajee Wilson might be the runner to knock her off. She's won her last two races, getting faster and faster along the way, and finished second to Sum in their last head-to-head matchup. The field includes four Americans, Wilson plus Worlds medalist Brenda Martinez, NCAA champ Laura Roesler, and Molly Beckwith.
Justin Gatlin vs Tyson Gay
Men's 200 meters, 3:35pm ET
Much of the hype surrounding the race between these two in the Lausanne Diamond Leauge meet was because they both have served doping bans, leading to a lot of angst and vitriol. I think it's a mistake to say that both cases are exactly the same–a topic I'll look at in more depth at a later time–but expect more of the same here. This is a bit of a different animal, though, being over 200 meters. It's a distance that Gay is probably better at than 100 meters, or at least was before he suffered a series of injuries between 2008 and 2011, and it's a distance that Gatlin has mostly avoided since leaving college. Diamond Race leader Alonso Edward could surprise them both…but I doubt it.
The Diamond League meet in Monaco is not the only high-level action this weekend.
Meeting Madrid
The IAAF's second-tier World Challenge tour resumes on Saturday with the 32nd edition of the Meeting Madrid.
Meet website
Dilshod Nazarov vs Mostafa Al-Gamel
Men's hammer throw, 7:00pm local time (2:00pm ET)
This is one of the meets in the IAAF's Hammer Throw Challenge. Nazarov is currently in second and Al-Gamel is in sixth, but that could change. The Hammer Challenge simply totals the three best marks of the season for each thrower. To overtake first, Nazarov would have to throw over 83 meters, which would be a new world leader. But since Al-Gamel's third-best mark is so weak (68.27m), he could very easily zoom up to third or even second right here.
Jenny Simpson vs 800 runners
Women's 800 meters, 8:15pm local time (3:15pm ET)
Simpson, the Worlds silver medalist at 1500 meters, is dropping down to the 800 meter distance and taking on some high quality competition. Her top competition includes sub-2:00 runners Lynsey Sharp (UK), Molly Beckwith (USA) and Rosemary Almanza (Cuba), plus the enigmatic Caster Semenya.
Other meets this weekend
The KBC Night of Athletics meet is in Heusden-Zolder (Belgium) on Saturday.
Meet website
Webcast link
The Sainsbury's Anniversary Games will be on London's Horseguard Parade Grounds and Mall on Sunday.
Meet website
Webcast link