No Comments
The Monday Morning Run: Recapping the College Conference Championships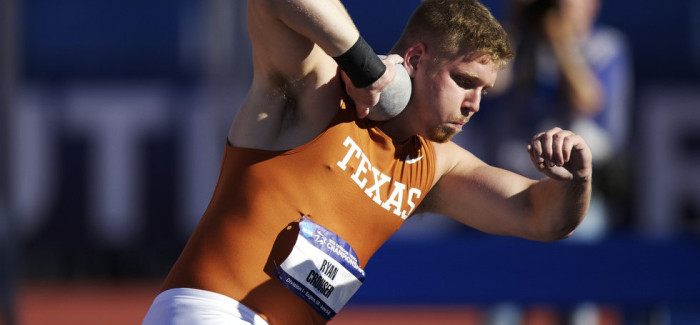 Jesse Squire | On 29, Feb 2016
Is Ryan Crouser finally over his injury problems just in time for an Olympic buildup?
The Monday Morning Run is usually about pro track and field action, but there wasn't much of that this weekend.
What we did have a lot of was college track. Most NCAA Division I conferences held their championship meets. As is usually the case in college sports, this gives us dozens of conferences and hundreds of teams, so we can only hit the highlights. The USTFCCCA has a comprehensive breakdown of all conference championships.
Here are the weekend's highlights in a topical format.
Outstanding team performance, men: Arkansas
The SEC is the deepest, toughest conference in college track. Going into the weekend the USTFCCCA team rankings gave it the #1, #3, #4, #5, #8 and #10 teams. Most years the SEC Championships is a tight battle for the win, but not this year. The Arkansas Razorbacks won by 22 1/6 points, only failing to score in the pole vault and weight throw.
Outstanding team performance, women: Arkansas
Same as above, except the Razorbacks won the women's championship by 43 points.
Outstanding single performance, men: Ryan Crouser, Texas
Crouser was a superstar thrower coming out of high school and initially continued to improve in college, but injuries have taken their toll. He looks like he's finally back into the swing of things now, though, as he won the Big 12 shot put with 71' 3½" (21.73 meters), a world leader by more than six inches. He's out of outdoor eligibility, meaning that the NCAAs in two weeks will be his final collegiate competition.
Honorable mention goes to TCU's Ronnie Baker, who ran 6.51 to win the 60 meters at the Big 12 Championships. It's the fastest low-altitude time in college track in seven years, and ties him with Kim Collins at #2 on the world list. Collins also ran for TCU, but so long ago that Baker was six years old when Collins won his NCAA titles.
Outstanding single performance, women: Angel Piccirillo, Villanova
The Wildcats' middle distance ace broke the collegiate record for 1000 meters at the Big East Championships with 2:40.82. This fact requires a couple of follow-up questions.
#1. Wait, they run the 1000 at the Big East Championships? How many conferences do this?
In Division I it looks like them, the Big 12, the Ivy League and that's it.
#2. How much meaning does it have given that it's a rarely-run distance?
I have no idea. The old record was set by Duke's Kate Van Buskirk in 2011, the year she went on to finish second in the NCAA indoor mile (losing to Jordan Hasay on a kick). Adding a level of complexity is the fact that indoor times are heavily influenced by the quality of the facility; a fast track can make someone look better than they really are. Is Staten Island's new Ocean Breeze facility one of those tracks? I guess it's too new to really know.
Outstanding weekend, men: Justin Knight, Syracuse
While this is Knight's second year in college track, it's only his first indoor track season and so far it's going well. At the ACC Championships he narrowly got outkicked on the anchor leg of the distance medley on Thursday, then narrowly outkicked the competition in Friday's 5000 and Saturday's 3000.
The way in which he won these races suggests to me that if anyone can beat Edward Cheserek at the NCAAs, it will be Knight. Cheserek has only lost a few important college races: the Pac-12 1500 and NCAA 5000 two years ago, and last year's Penn Relays 4xmile. In all three cases he was unable to drop the competition and was beaten on a sprint to the line. His usual mode of operation is to make a big move with 200 or more meters to go, one that blows the race wide open. If Knight can weather that storm, it gives him a chance, but that's a very big "if".
Outstanding weekend, women: Akela Jones, Kansas State
Jones won the 60 hurdles, high jump, and long jump at the Big 12 Championships and added a third leg on the runner-up 4×400 for good measure. The marks were awfully good — she high jumped 6' 4" (1.93m), a collegiate leader; she long jumped 22' 1 ¾" (6.75), which ties for the collegiate lead; and she hurdled 8.00, which puts her fourth on the collegiate list.
Fantastic Finish: ACC Womens' Championship
Clemson was the pre-meet favorites here, but entering the 4×400 relay the score was Clemson 77, Miami 75, Notre Dame 74. Miami led by the second exchange and pulled away over the last three legs, but Clemson could salvage a tie for the championship if they could finish second. Notre Dame's Margaret Bamgbose caught Clemson's Deja Parrish on the final homestretch.
Upset, team: Big 12 Men's Championship
The USTFCCCA team rankings suggested that the Big 12 men's championship would come down to #6 Texas and #7 Texas Tech. #16 Oklahoma State looked like a long shot, especially considering that the Cowboys are hardly a balanced team. Going into the 4×400 relay, they only events in which they scored were the 60, the long jump, and the distance races, but they scored so heavily in the distances that they led the team scoring. Oklahoma State won the B-heat of the 4×400 which made them the "clubhouse leader" over Texas by 9½ points, setting up the classic "gotta win this race to win the meet" situation. Baylor beat the Longhorns in the fast hear, giving the team title to Oklahoma State by a scant 1½ points.
This is the Cowboys' second Big 12 championship in three years, which poses a problem for would-be reformers. A few major college track programs put all of their efforts into cross country at the expense of track and field – in essence, to be nationally competitive in the fall, they throw away the winter and spring. There has been discussion of trying to put an end to this. Oklahoma State is one of those programs that is all but distance-only. Yet somehow they have twice beaten an entire conference of comprehensive programs, including one of the nation's best-funded (Texas).
Upset, individual: SEC men's pole vault
Maybe this isn't a huge upset, given that the pole vault is an event plagued by inconsistency, but Tennessee's Jake Blankenship was a huge favorite, since he's gone far higher than any other collegian this year and scored at every NCAA Championship since 2014. His opening height of 17' 4½" (5.30m) was cleared by only three other men in the competition, but when the bar went to 17' 9¾" (5.43m) he wasn't up to his usual self and couldn't clear the bar.
The win went to Texas A&M's Audie Wyatt with a school record of 18' 1" (5.51m). Blankenship's result, 17' 4½" (5.30m), is his worst result in a final since he won the 2014 Penn Relays with the same height.
Meet that no one seems to care about winning: MPSF
The Oregon Ducks are the #1 team in the USTFCCCA men's rankings, yet they finished fourth at the MPSF Championships. They rested their top distance runners, including Edward Cheserek, and used this more as a last-chance qualifier for the NCAAs. And why not? It's not an official conference championship and the team will have many demands placed on them in the next three months. The Duck women did win the meet, but that's more a reflection of their depth and their greater reliance on power/skill-oriented events.
Great race: MPSF men's mile
Despite what I wrote above, there were some great races at the MPSF Championships, none greater than the mile. Washington's Izaic Yorks and Stanford's Sean McGorty staged a fantastic duel, with Yorks coming out the winner, 3:53.89 to 3:53.95. Once again, indoor times should always be taken with a grain of salt, but those are the fastest indoor miles ever run by collegians outside of the Millrose Games.
Also worth mentioning is that Oregon's Devon Allen continues to improve in his return to hurdling after knee surgery. He won his event in 7.60, which was a huge PR and ties him for #1 on the collegiate list.
Big news: SEC withdraws from Penn & Drake Relays
It was announced on Saturday that the SEC's coaches voted to withdraw from the Penn and Drake Relays and create their own relay meet on that same last weekend in April, effective 2017. Lots of speculation has flown as to their motivations, but one that has not been mentioned widely is the reason why most of the conference is skipping those meets this year in favor of an invitational at LSU: conference travel restrictions in the week before final exams.
My thoughts on the matter? I don't think they'll be missed. Neither meet will have any trouble filling their lanes. Furthermore, they're not the behemoth that everyone makes them out to be. The most popular races at Penn are the middle distance events, ones that the SEC hasn't won since 2010. Even the sprint relays, the SEC's strength, are increasingly the domain of the Jamaican college teams.
As for the SEC relay meet, I doubt it will gain much traction. It's taken a very long time and a lot of hard work to turn the Penn, Drake and Texas Relays into the huge fan favorites they are, and you can't just flip a switch and make something new that attracts as much interest. My best guess is that this new meet will rotate among the 14 conference members, which will likely prevent the development of any tradition or fan base, and 14 different athletic directors will have a once-a-decade promotional effort with a short learning curve and no ability to fix their mistakes the next year. As for TV coverage on the SEC Network. . .well, their production companies haven't yet figured out how to make an interesting track broadcast and I don't expect them to start anytime soon.
My best guess is that in two or three years' time, the SEC coaches will start wondering why they're running a 4×200 or 4×800, events not contested at the NCAA or SEC Championships, instead of running four athletes in the 200 or 800, where they can get qualifying marks. Soon after that I would expect the meet to devolve into just another college invitational. All the while, their recruiting efforts will feel the effects of not being at the center of the action.