No Comments
NCAA Championships Day 2 Update, Day 3 Viewer's Guide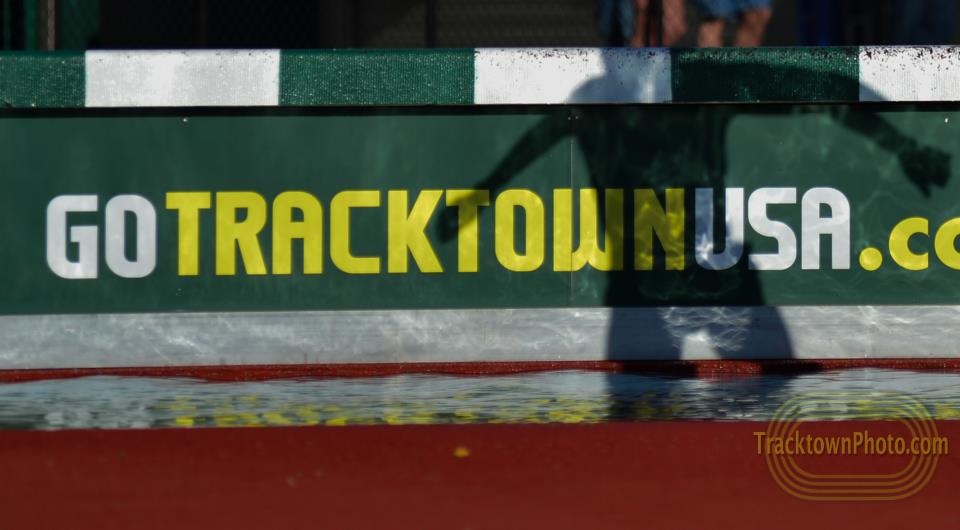 Jesse Squire | On 13, Jun 2014
What happened yesterday at the NCAA track and field championships? And what should you be looking for today? We have it all in our quickie guide.
Remember, today's television broadcast will be on ESPNU from 7:30 to 9:30pm (Eastern time).
Your key links for the championships…
Live Results are at FlashResults.com.
Most every piece of information you could need is at the USTFCCCA's National Championship Central.
Track and Field News has event-by-event formcharts and predicted scores for men and for women.
Second day update
With semifinal qualifying rounds now complete, the chases for the team championships are a bit more clear.
Oregon's men are favored to win their first outdoor championship in thirty years. The Ducks lead with 26 points, have finalists in the 200, 400, 1500, steeplechase and high hurdles, and should score well in the 5000 and javelin. Greg Skipper pulled down five points in yesterday's hammer throw and Dakotah Keys had a remarkable final three events in the decathlon to come roaring into third place. A still-pending DQ in the 4×400 semis is the only real misstep the Ducks have made. Florida looks good for second and is ready to pounce if Oregon starts making mistakes.
The women's championship looks like a tight three-way race between Texas, Texas A&M and Florida. The Ducks got a very unexpected six points from Laura Bobek in yesterdays' discus which brought them back into contention.
Event recaps
Emma Bates (Boise State) won the women's 10,000 meters in a great battle down the stretch against Elinor Kirk (UAB). More from Let's Run.
Matthias Tayala (Kent State) put up a PR in his final attempt of the hammer throw competition to go from third to first. More from the Youngstown Vindicator.
Maicel Uibo (Georgia) passed defending champ Johannes Hock (Texas) in the concluding 1500 meters to win the decathlon. More from GeorgiaDogs.com.
Shelbi Vaughan (Texas A&M) took command of the discus on her third attempt after two opening fouls and won by more than nine feet. More from AggieSports.com.
Marquis Dendy (Florida) hit the 8 meter mark (26′ 3″) on the nose and scored ten points for his Gators in the long jump. More from the Independent Alligator.
By the numbers
9,165 and 9,903
The announced attendance totals for the first two days of the meet. These are very good numbers and, to my knowledge, the second-best ever for a Wednesday and for a Thursday at the NCAA Championships. By recent Oregon standards for NCAA Championships, though, these are very average numbers.
51 and 37½
Points scored by teams from the Mid-American Conference and Big Ten Conference, respectively. The MAC even momentarily beating the B1G is surprising, especially considering that half of the MAC doesn't even compete in men's track. On the other hand, the Big Ten hasn't won an outdoor NCAA team championship since Dewey defeated Truman.
Today's events
Women's Heptathlon
First event at 12:30pm local time (3:30 ET), runs until 8pm ET
This is turning into a great battle between defending champion Lindsay Vollmer (Kansas) and superfrosh Kendell Williams (Georgia). Williams set a collegiate record for the heptathlon hurdles yesterday and has a solid lead on Vollmer but things should even up over the last three events.
Women's Pole Vault
3:15pm local time (6:15pm ET)
The Favorite: Kaitlin Petrillose (Texas) won the NCAA indoor title and approached the collegiate record and hasn't been approachable since.
The Challengers: Sandi Morris (Arkansas) and Annika Roloff (Akron) would probably be first in line if Petrillose falters.
Team scoring: Texas is counting on ten points here. Oregon has an entrant but is not likely to score.
Men's High Jump
3:20pm local time (6:20pm ET)
The Favorite: Nick Ross (Arizona) is the class of the field
The Challengers: The Ivy League has a tough pair in Maalik Reynolds (Penn) and Montez Blair (Cornell).
Team scoring: Texas A&M has an entrant but it would be an upset if he scored.
Women's Triple Jump
3:25pm local time (6:25pm ET)
The Favorites: Shanieka Thomas (San Diego State) is the reigning indoor and outdoor champion but Ciarra Brewer (Florida) has put up distances this spring that make her a threat to win.
The Challengers: LaQue Moen-Davis (Texas A&M) and Tori Franklin (Michigan State) were third and fourth last year.
Team scoring: Florida and Texas A&M are the only top teams with entrants.
Men's Discus
4:00pm local time (7:00pm ET)
The Favorite: Defending champion Julian Wruck (UCLA) was untouchable last year but no longer appears that way.
The Challengers: Andrew Evans (Kentucky), Chad Wright (Nebraska), Rodney Brown (LSU) and Mason Finley (Wyoming) are the leading candidates to knock off Wruck.
Team scoring: None of the top teams have entrants.
Men's 400m Hurdles
4:33pm local time (7:33pm ET)
The Favorite: Michael Stigler (Kansas) was runner-up last year.
The Challengers: Keyunta Hayes (UTSA) and Miles Ukaoma (Nebraska) are the other two fastest finalists.
Team scoring: None of the leading teams have finalists.
Women's 400m Hurdles
4:41pm local time (7:41pm ET)
The Favorite: Keni Harrison (Kentucky) is the top returner from last year and has run significantly faster than anyone else.
The Challengers: SEC runner-up Janeil Bellille (Texas A&M) and Big Ten champ Kiah Seymour (Penn State) are the closest to Harrison.
Team scoring: Texas A&M has two strong finalists and could the Aggies could help themselves a lot in this event.
Men's 100 meters
5:00pm local time (8:00pm ET)
The Favorites: Superfrosh Trayvon Bromell (Baylor) has run some eye-popping wind-aided times, but Dentarius Locke (Florida State) was just 0.02 off winning last year.
The Challengers: Aaron Brown (USC) has international experience for Canada and broke a national record two weeks ago. Clayton Vaughn (UT Arlington) is mostly unknown but should not be ignored.
Team scoring: Texas A&M has Shavez Hart and Florida has Antwan Wright but neither is expected to score big points.
Women's 100 meters
5:07pm local time (8:07pm ET)
The Favorite: Jenna Prandini (Oregon) is a slight favorite.
The Challengers: Remona Burchell (Alabama) won the 60 meters indoors. Olivia Ekpone (Texas A&M) beat Burchell at the SEC Championships, and Big 12 champ Morolake Akinosun (Texas) could factor in as well.
Team scoring: Oregon needs ten points out of Prandini to stay in the hunt for the championship. Texas has one finalist, Texas A&M has two.
Men's 800 meters
5:15pm local time (8:15pm ET)
The Favorite: Brandon McBride (Mississippi State) is the fastest high schooler in North American history–he beat Nick Willis while still a schoolboy–and as a sophomore he is coming into the form that we all expected.
The Challengers: Eliud Rutto (Middle Tennessee) and Patrick Rono (Arkansas) are the only runners given much chance against McBride.
Team scoring: Ryan Schnulle will score for Florida, but how much?
Women's 800 meters
5:25pm local time (8:25pm ET)
The Favorite: Laura Roesler (Oregon) has a PR nearly two full seconds faster than anyone else's and dominated the indoor championship final.
The Challengers: Amy Weissenbach (Stanford) is the only returning scorer besides Roesler, and Megan Krumpoch (Dartmouth) is the only other indoor scorer who made the final.
Team scoring: Oregon needs ten points out of Roesler.
Women's Steeplechase
5:25pm local time (8:25pm ET)
The Favorite: Olympian Shalaya Kipp (Colorado) returns from a redshirt year to reclaim the title she won in 2012.
The Challengers: Rachel Sorna (Cornell) and Leah O'Connor (Michigan State) are fast enough to be within striking range.
Team scoring: None of the teams in championship contention have finalists.
Men's 400 meters
5:50pm local time (8:50pm ET)
The Favorite: Indoor champ Deon Lendore (Texas A&M) is expected to add the outdoor title.
The Challengers: Mike Berry (Oregon) and Brycen Spratling (Pitt) seem like they have been around forever.
Team scoring: Texas A&M needs ten points out of Lendore, and Oregon would breath easier if Berry put a lot of points on the board. Florida could pull themselves into the title picture if Hugh Graham and Najee Glass come up big.
Women's 400 meters
6:00pm local time (9:00pm ET)
The Favorites: Courtney Okolo (Texas) broke the collegiate record at the Big 12 Championships, and Phyllis Francis (Oregon) broke the indoor collegiate record at the NCAAs.
Best of the rest: Kendell Baisden (Texas) is one of the worlds' best U20 quarter-milers.
Team scoring: This is a big event for Texas with three finalists, and Oregon is hoping for big things out of Francis.
Men's 5000 meters
6:10pm local time (9:10pm ET)
The Favorites: Freshman Edward Cheserek (Oregon) goes for his fifth NCAA title in as many tries, and senior Lawi Lalang (Arizona) goes for his eighth career win.
Best of the rest: Kennedy Kithuka (Texas Tech) was a beast last year but faded late in Thursday's 10k. Second and third in that race, Shadrack Kipchirchir (Oklahoma State) and Mo Ahmed (Wisconsin) are running here too, and Kirubel Erassa (Oklahoma State) could make a difference.
Team scoring: Oregon hopes to score big here. Besides Cheserek, the Ducks also have Parker Stinson, Trevor Dunbar and Eric Jenkins.